G.SKILL Flare X Series 16GB DDR4 3200MHz AMD Memory Kit Review
By
G.Skill Flare X DDR4 Memory For AMD Ryzen Platforms
Picking out the right DDR4 dual-channel memory kit for an AMD Ryzen processor can be a daunting task as there are hundreds of kits on the market to pick from and not all work well with AMD's latest AM4 platform. The good news is G.Skill has come out with the Flare X and FORTIS DDR4 memory series that were both designed specifically for AMD Ryzen platforms. This means you can cut through all the BS and hassle of trying to find a kit that will work and just purchase one of these new kits from G.Skill and go about your day.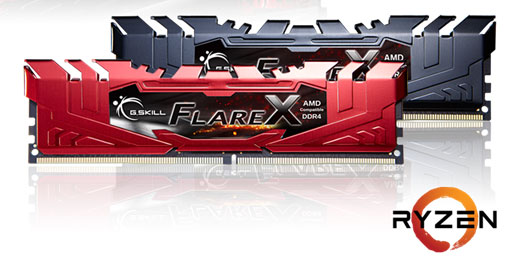 The new G.Skill Flare X series DDR4 memory kits use carefully selected IC chips specifically tested and validated on the AM4 platform to ensure the best compatibility and stability for systems with the AMD Ryzen CPU. The Flare X memory modules have an aggressive anodized aluminum heatspreader and are aimed at gamers, overclockers and pretty much any system builder that needs extreme performance DDR4 memory. Clock frequencies on the G.Skill Flare X series are available in 2133MHz, 2400MHz, 3200MHz in both 8GB modules and 16GB models. G.Skill also has plans to bring a 3466MHz 8GB module kit to market down the road for those that are looking to overclock on an AMD X370 or B350 motherboard that has an external clock generator that allows for memory operation beyond 3200MHz clock speeds.

G.Skill Flare X Series 16GB (2 x 8GB) Kit Pricing w/ Black Heat Spreaders
For those that are looking for something a little more cost effective, the G.Skill FORTIS series was fitted with a less flashy heat spreader yet is still AMD-tuned for quality, reliability and compatibility. This series is only available in 2133MHz and 2400MHz clock frequencies, so if you needed a 3200MHz or faster kit you'll need to look to the G.Skill Flare X series and pay a little extra to get those tighter binned memory ICs.

G.Skill FORTIS Series 16GB (2 x 8GB) Kit Pricing w/ Black Heat Spreaders
Pricing on the G.Skill Flare X and FORTIS DDR4 memory kits don't make much sense to us. For example, of the four FORTIS memory kits the fastest model with the tightest timings costs less than the other models. When purchasing a memory kit why even bother with the other models when the best memory kit costs the least? Some of the Flare X memory kits actually cost less than the FORTIS memory kits at the same clock speed and timings, which is also odd seeing how that is supposed to be the premium series.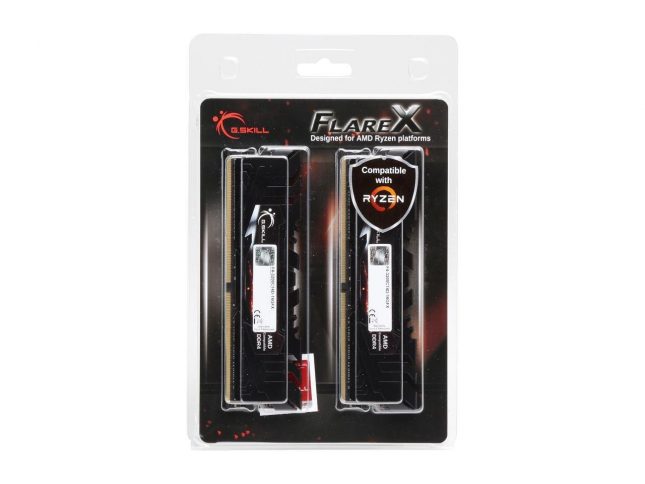 Our friends over at G.Skill in Taiwan send us the G.Skill Flare X series 16GB DDR4 3200 MHz CL14 memory kit in black (part number F4-3200C14D-16GFX) that is currently available for $186.99 shipped from Newegg or $221.50 shipped from Amazon. You'll pay a premium for this 3200MHz memory kit due to it being clocked 33% higher than the next fastest kit that is 2400MHz.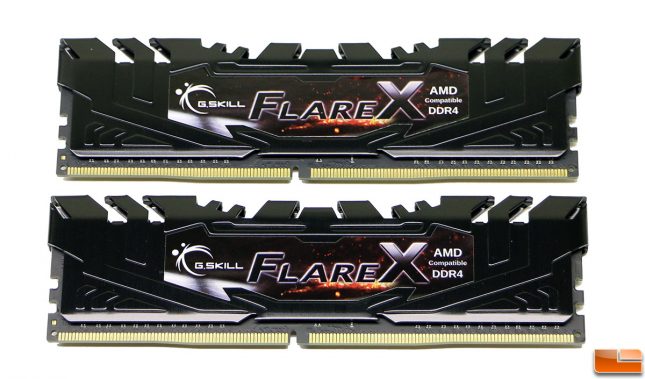 The timings on this DDR4 3200 MHz (PC4-25600) memory kit are 14-14-14-34 at 1.35V, which is actually pretty aggressive for a kit of this speed. The DDR4 2133MHz and DDR4 2400MHz kits by G.Skill don't even come from the factory with CL14 timings, so it appears that tighter timings is one way G.Skill is trying to differentiate and justify the price on this kit from the slower models in this series. The large heatspreaders put the modules at 40mm (1.58″) in height, so be sure your heatsink fan (HSF) will work if you are using a custom aftermarket air cooler.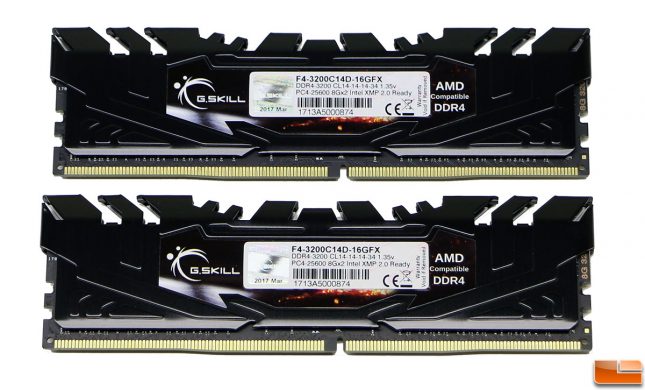 On the back side of the modules you'll find the product label that contains the serial number for the limited lifetime warranty, date of manufacture, model number, timings, voltage and more.
The G.Skill Flare X 16GB 3200MHz CL14 memory kit (f4-3200c14d-16gfx) comes with two Intel XMP 2.0 memory profiles (called A-XMP in AMD land) that you can enable in the UEFI on AMD B350 and X370 motherboards that support XMP memory profiles. Many users don't feel comfortable setting memory timings, clock speeds and voltages, so you can avoid that scary process and just enable one of the pre-set memory configurations. Profile #1 is designed for 2933MHz with CL14 timings and then Profile #2 is designed for 3200MHz with CL14 timings. Profile #1 worked on our system flawlessly, but we had some issues with Profile #2 being stable without manually doing some voltage tweaks to the CPU core voltage and advanced DRAM voltages. This really defeats the purpose of having XMP memory profiles and an AMD Ryzen compatible memory kit, but we'll save our gripes on that for the conclusion.
Let's take a look at the AMD Ryzen 5 1600X powered test platform and then get into the benchmark results.