G.Skill ECO 4GB DDR3 1600MHz CL7 Low Voltage Memory Kit Review
By
The G.Skill ECO DDR3 Series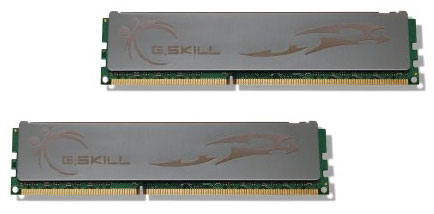 So-called "Green" products are all the rage lately and G.Skill has decided to cash in on this trend with their ECO series of DDR3 memory modules. Designed for Intel's Core i5 and Core i7 Lynnfield processors, the ECO series operates at a low 1.35vdimm versus your typical 1.65vdimm modules. This particular kit, the F3-12800CL7D-4GBECO, sports 7-8-7-24 timings at 1600MHz while scraping by with a meager 1.35vdimm. It feels like only a year ago we were blasting 2.3vdimm through DDR3, now we are down to 1.35vdimm!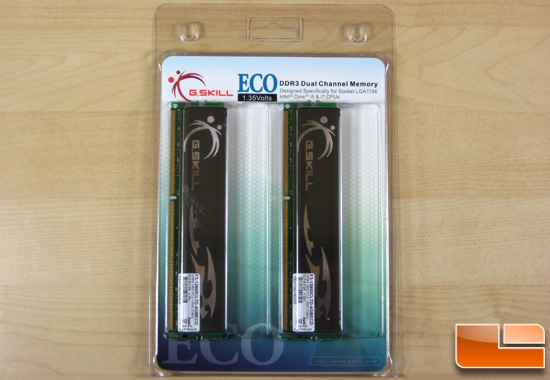 Through the systematic shrinking of manufacturing technologies and binning of memory chips, G.Skill is able to offer a large line of ECO memory kits that sport the power sipping 1.35vdimm that make this kit so interesting. Back in October 2009 G.Skill posted a news post indicating there would be six 4GB memory kits available covering DDR3-1333 and DDR3-1600 with CAS7, 8, and 9 supported. Checking today on Newegg there are now 10 kits available including four 8GB kits that give the consumer a slight price drop for buying memory in bulk. Compared to other 8GB memory kits the ECO actually have competitive timings even with their 1.35vdimm making the ECO even more attractive.
Key Features
2GB density per module
DDR3 240-pin DIMM
PC3-12800 (1600 MHz)
7-8-7-24 2N Timings
1.35 Volts
Optimized for the Intel P55 platform
Lifetime Warranty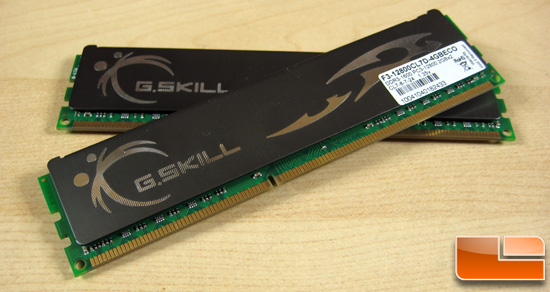 Since this is a low voltage kit and I'm an overclocker at heart the first thing that came to my mind was overvoltage scaling! First up though is a quick peek at the kit, the heatspreaders, and the lovely Georgia pollen that is currently covering my desk. Then we'll tear into the kit and see what it can really do when it is pulled off that harsh voltage diet.