Future Look: The Optimus Organic LED keyboard
By
The Optimus OLED Keyboard Will Change Keyboards Forever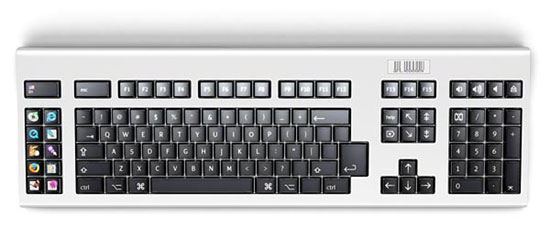 We usually don't write articles on upcoming products, but after coming across the Optimus Keyboard we thought is was worth a first-look. At first glance the keyboard looks like a normal QWERTY keyboard, but don't let the looks deceive you. This is actually the first keyboard that have run across that is made with organic light-emitting diodes (OLEDs) on every key. Never heard of OLEDs? You are going to hear the term more often as they are brighter and more colorful than both LCD and Plasma screens, plus they don't require power-draining backlights. Let's take a look at how this new keyboard is going to impact the lives of millions.
The Multi-Lingual Typer:
Have you ever wanted to have a fully customizable keyboard without having to purchase kits and extra keys? Since each key has its own individual screen they can display any image on any key instantly. This means that one keyboard can be customized to feature Chinese, Arabic, hieroglyphics, Cyrillic, Ancient Greek, Georgian? and so on to infinity: notes, numerals, special symbols, HTML codes, mathematical functions. Below is an image with the keyboard using English and Russian characters.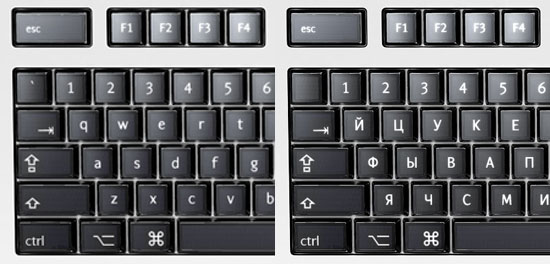 The Gamer:
Ideazon, the maker of the ZBoard Keyboard (US $40), must be worried about this upcoming keyboard as it will be a gamers dream. Unlike the ZBoard, which requires the purchase of the individual keysets for each game you play, the Optimus does not require any additional purchases. This can add up quickly if one plays a number of games as the individual keysets run $20-25 when we looked up pricing on a Battlefield 2 keyset. The idea of buying a universal base and custom keyboard solutions is about to end with the introduction of OLED keyboards. Since each key has an OLED display it is not game dependant. Below is an image of the Optimus keyboard setup to run Quake.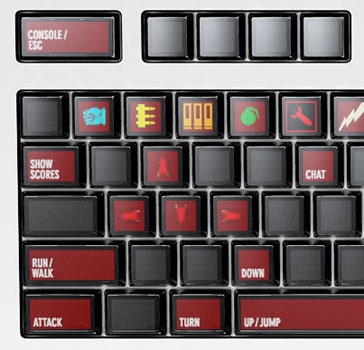 Final Thoughts:
The days of the plain and dull keyboard are hopefully coming to a close. With new innovative ideas like the Optimus keyboard by Artemy Lebedev nearly everyone that uses a computer will benefit from the new design. The only downfall to the new Optimus Keyboard is the cost. Right now the keyboard is still technically a prototype and the cost is hovering around US $200 to produce this keyboard. The good news is that the keyboard is slated to go into mass production next year and launched in the Summer of 2006, which should allow the price of the "new" technology go down. Organic Light-Emitting Diodes still have a price premium on them, but I'd pay the extra dime to be able to create my own keyboard icons. Changing the icons on your keyboard can be changed just like on your desktop meaning the ESC key can look like anything you want. Other good news is that the keyboard will be OS-independent with an open-source keyboard (SDK will be available). In closing I'll leave you with a close-up of the keys and their color icons.