Free Charter Spectrum WiFi Internet Hotspot Speed Tested in St. Louis
By
If you live in an area where Charter Communications offers Spectrum Business internet you'll likely begin to see window clings like the one below when you walk into various businesses. Charter Spectrum WiFi allows anyone within the range of the wireless router to connect to the internet for free! The service also costs nothing extra to the Charter Spectrum Business owner and Charter promises no slow-downs on your network or security concerns as it's running on an entirely separate part of the router. Basically, this is a perk for Charter customers as they will be able to access the internet in literally thousands of businesses across the country for free without needing to use up their mobile data plan.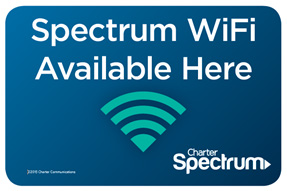 To enable Charter Spectrum WiFi you'll need to have new hardware, which is currently being given to all new Charter Spectrum Business customers that have a public patron area (areas with foot traffic, seating or waiting areas). Not all businesses are eligible for Spectrum WiFi due to this requirement.
We swung by the O'Fallon, Missouri Charter Communications Retail Office and noticed they had the service, so we were able to try out Charter Spectrum WiFi.
Signing into the Spectrum WiFi is simple. You first need to turn on WiFi on your wireless device and then choose SpectrumWiFi from the list of available networks. You then need to sign in with your Charter ID to access the network. All Charter Spectrum Internet residential or business customers will be able to sign into Spectrum WiFi locations. After youve signed in the first time, youll be automatically connected the next time youre near a Spectrum WiFi access point.
Non-Charter customers can also get in on the action with a 30 minute free trial that you can sign up for. You'll need to input in your name, e-mail and phone number for the 30-minute trial and then Charter will text and e-mail you a five digit pin number that you need to enter to gain network access. This can be done once every 30 days per device.
It should be noted that the Charter Spectrum WiFi login page uses secure 128-bit encryption, but once connected, you are browsing on an open connection with no encryption. This means you should use the service as you would any other public network as it is unsecured and not one you'd likely want to do your banking on.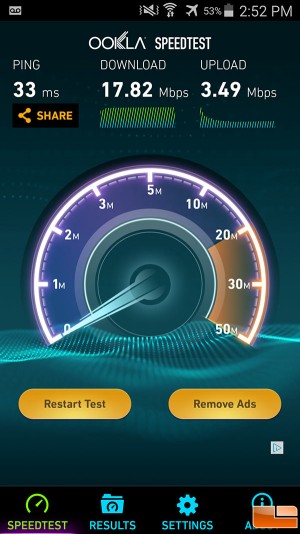 Charter doesn't advertise the speeds of the Spectrum WiFi network, but we used the Speedtest Android App by Ookla to run some tests. From what we can tell the internet speeds are capped around 18Mbps down as we couldn't get any faster than that on any of our devices and servers that we tried. The upload speeds were around 3.5Mbps. These are very respectable speeds for a free service that doesn't cost customers or businesses anything.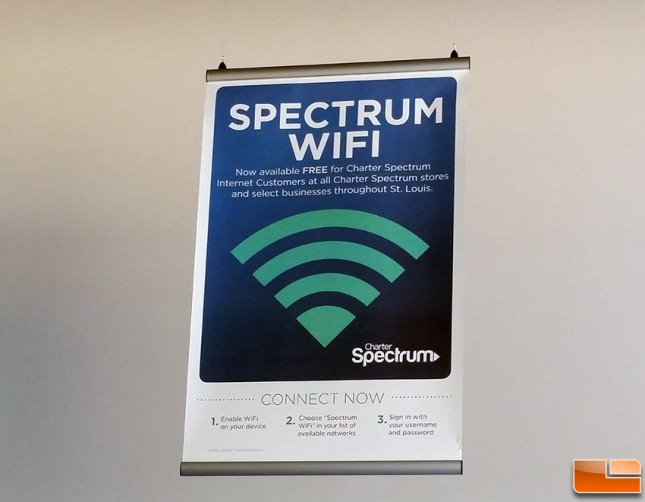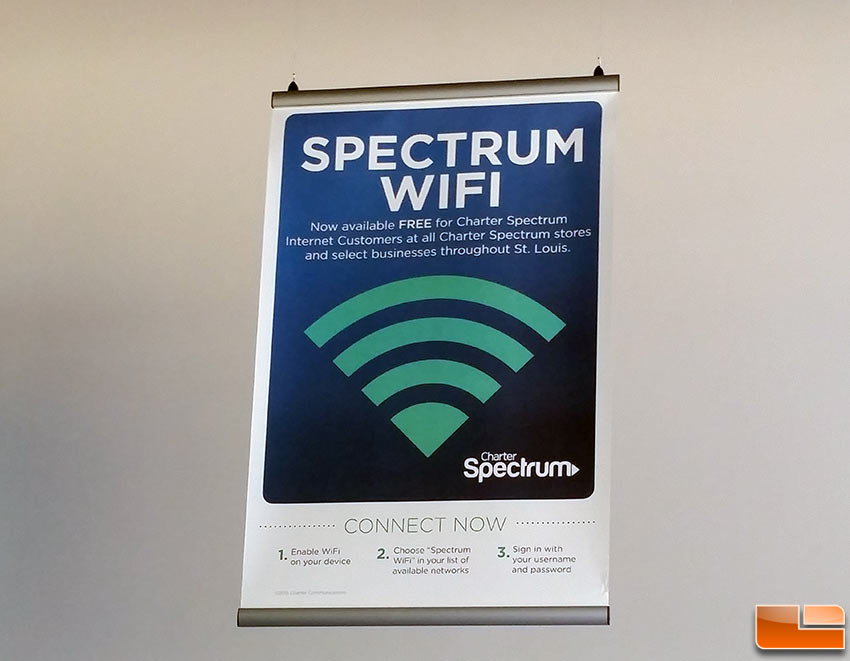 Charter Spectrum WiFi appears to be rolling out to St. Louis right now with other areas being rolled out shortly thereafter. We have a feeling Charter Spectrum is going to be a bit hit with businesses that want to offer wireless internet to waiting customers as they don't need to do anything to their existing infrastructure. From what we have been told Charter will install all the hardware needed when Charter Spectrum Business internet is installed at that location and then have a toll free number for customers to call if there are connection issues. That number is 888-362-7044 for residential customers and 800-314-7195 for business customers in case you needed it. The other great thing about this service is that small businesses can offer guest internet services without having to worry about PCI compliance for credit card systems!
Charter Spectrum WiFi is easy to use, offers respectable speeds and is free to use for both Charter customers and non-customers. What is there not to like about it?
Update June 18th 2015 – We just heard from Charter and learned that there a $99 setup charge for existing customers who would like to add this service.
"Any company that has a waiting area (physicians, salons, etc..) is the primary target for Charter Spectrum WiFi. Its a free service for those who qualify, however, there is a $99 setup charge if we are adding the service to existing customers. For new customers, there is no charge if the tech can install the service along with a standard internet order."