First Look: Corsair Individual Sleeved Modular PSU Cables
By
Corsair Individually Sleeved PSU Cables
Corsair usually makes a ton of noise when they launch new products, but for some reason the company silently launched a new product line on Facebook yesterday that went unnoticed by most tech sites. Corsair has announced individually sleeved modular cables! We've seen sleeved cables released by other companies over the years, but there is a twist to the Corsair launch. Rather than just buying a whole bunch of cables individually, Corsair decided to releasing 'upgrade kits' in that are power supply specific. We bumped into Corsair at the FX GamExperience down in Dallas, Texas today and got a chance to check out the cables in person.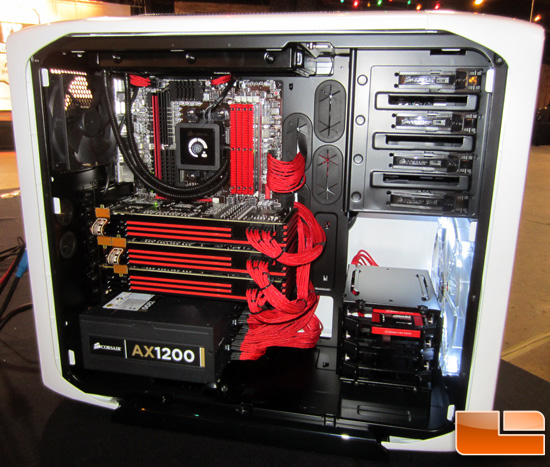 Corsair is initially releasing these individually wrapped PSU cable kits for the following power supplies:
Gold AX1200
AX850/AX750/AX650
Professional Series HX / Enthusiast Series TXM Series
If you happen to have one of these power supplies you are in luck and get your choice of black, blue, red and white colors for the kit. When it comes to pricing the kits range from $79.99 to $99.99. At first this sounded like a large sum of money and a bit on the excessive side, but the kits come with all of the cables for the power supply.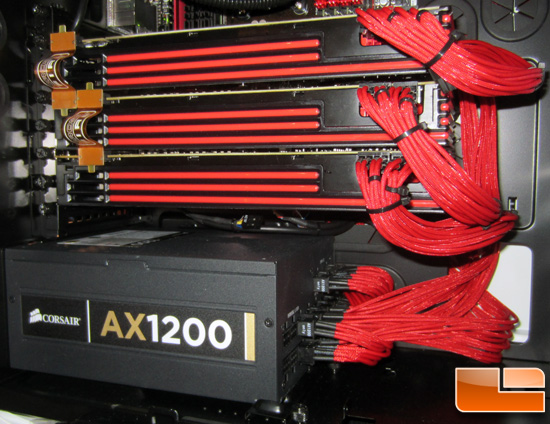 Corsair Gold AX1200: 16 Modular cables:
One (1) ATX Main Mother Board Power Connector 24 pin (20+4)
Two (2) EPS/ATX 12V Power Processor Connector 8 pin (4+4 split)
Six (6) PCI-Express Connector 8 pin (6+2 split)
Four (4) Serial ATA, SATA, Power Connector
Three (3) Peripheral Flat Power Connectors (4pin)
When you break down the overall cost of each cable the pricing isn't out of line. NZXT offers a line of premium cables and most range from $7.99 to $9.99 each, so if you pieced together your own kit you would end up spending between $130 to $160. Corsair acknowledged that you can't buy individual cables from them right now, but that may change down the road. For example the Corsair 600T case that they had on display was running three AMD Radeon HD 7970 video cards in CrossFireX, but if you wanted to run a fourth you'd be out of cables!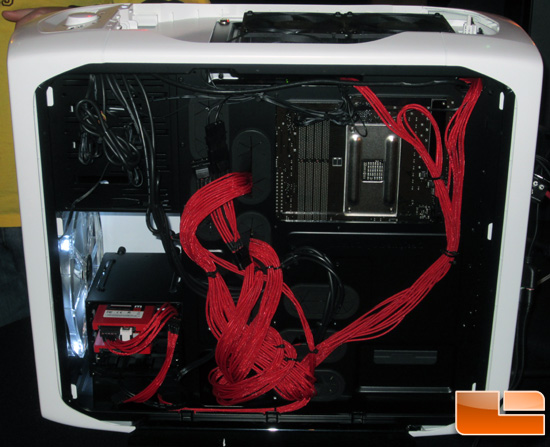 You might be wondering what the back of the motherboard tray looks like with all these individually sleeved cables, so we grabbed a quick picture of that. As you can see everything is nice and pretty on the back side as well thanks to Corsairs cable routing system that allows wires and cables to be tucked behind the motherboard and out of the airflow path. The case pictured above it the Corsair 600T in white and with the black interior and in our opinion the red PSU cables look awesome in it!