First Look: ASUS Radeon HD 7970 DirectCU II Top Video Card
By
ASUS HD7970 DirectCU II Graphics Card
When we were at the Consumer Electronics Show our readers wanted to see some custom AMD Radeon HD 7970 video card solutions, but sadly most companies weren't showing them off. This weekend we ventured down to Texas for the FX GamExperience and noticed that ASUS was showing off their upcoming AMD Radeon HD 7970 DirectCU II TOP edition video card! ASUS informed us that the card just arrived in the United States on Friday and was hand flown to Texas just for the event. This is the first public showing of this highly anticipated video card and we'll just start off by saying that it looks great and that it will be available to buy in less than three weeks.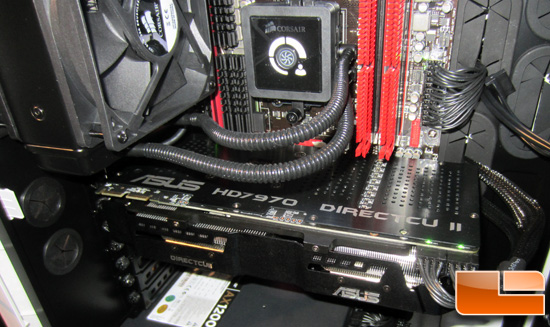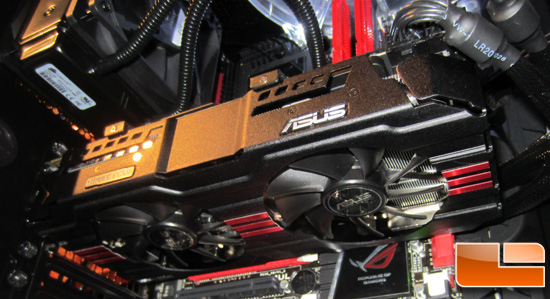 From the sounds of it, once the ASUS HD7970 DirectCU II Top edition video card is released it will be replacing the ASUS HD7970-3GD5-3DI2S that is based on the AMD reference design that is currently available. This was news to us as we thought they would both co-exist. ASUS said that pricing is not set in stone on this card yet, but they expect it to be around $20 more than the reference design. We know the ASUS reference version is $559.99 on Newegg, so expect this card to be around $579.99 when it comes out in the weeks ahead.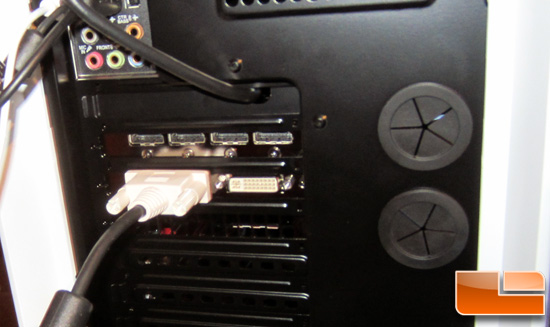 The ASUS HD7970 DC2 Top video card takes up three PCI slots like previous versions, but we noticed that the video connectors are a little different on this custom card. ASUS decided to go with two dual-link DVI and four full sized Display Port video outputs on this board. They did this to support six monitors and that is good news for those with AMD Eyefinity6 cards from years ago that want to update to a newer DirectX 11 graphics card.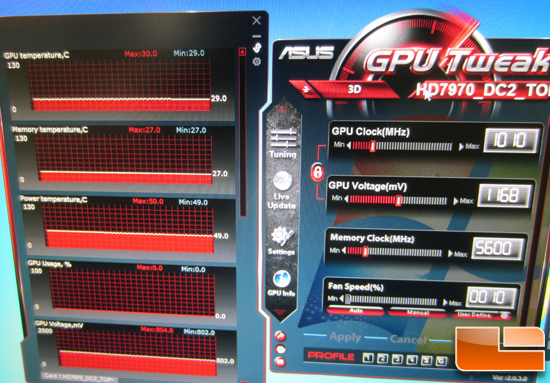 We heard rumors what the clock speeds would be on this card last week and it appears those rumors were incorrect. ASUS showed us that the stock clock speeds on this card are 1010 MHz on the core and 1400 MHz on the 3GB of GDDR5 memory. The AMD Radeon HD 7970 reference card has a core clock frequency of 925 MHz and a memory clock frequency of 1375 MHz, so the clock speeds are substantially higher on the ASUS card.
Many of our readers are interested in this card due to the improved thermal performance, so we have some numbers that you'll be happy to see. Keep in mind that ASUS was showing the card off inside a case with the door off and at a exhibit hall. At an idle the ASUS HD7970 DirectCU II bounced around an impressive 29-30C. ASUS also did some overclocking with us and got it up to 1220 MHz with very little effort. We didn't spend too much time overclocking the card with ASUS since we were at a public event and were hogging the PC.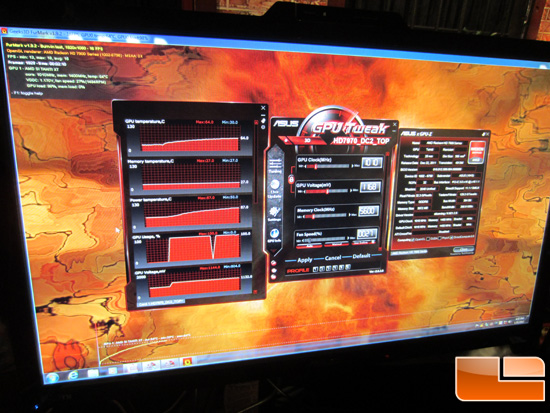 To get some load temperatures ASUS let us stress test the card with Furmark v1.9.2 at a resolution of 1920×1080 with the utilities burn-in test.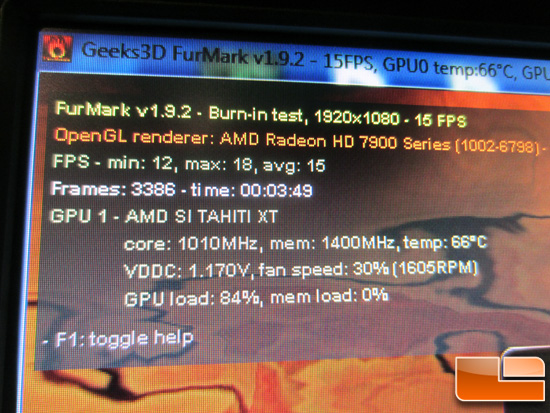 We ran Furmark for about five minutes and the highest the temperature got was just 66C and that was with the fan running at just 30% (~1600 RPM) in auto mode. At idle the fan spins at just 10%, so the fan noise with this card was amazingly low. It was hard to judge how quiet it really was with hundreds of people in the room, but ASUS said it was quieter than the AMD reference cooling solution and as you can see it also runs much cooler. In our review of the AMD Radeon HD 7970 reference card we hit 83C in this benchmark! It looks like ASUS has reduced the temperature by ~17C with the DirectCU II GPU cooler!
Here is a quick video of ASUS showing us the card at the AMD FX GamExperience this weekend with some more details. In addition to doing the video with us ASUS also gave us access to all of the press photos for this card, which you can see on the next page.