Fall IDF 2005: Day 1 Highlights
By
Fall IDF Bring Winds of Change

Intel kicked off day one of the Intel Developers Forum (IDF) in San Francisco with an enormous amount of information and left the press with a busy night of articles to write. Since time is always of the essence we figured that a nice bullet point list will quickly get the highlights from the first day of the forum driven home.
Intel multi-core roadmap remains on track (Paxville MP & DP has been accelerated)
Next generation micro-architecture is optimized for power efficiency
Intel finally tells the press that the trademark VIIV is for future 64-bit systems
Intel will stay with Socket 775 for future processors (Pressler & Conroe)
Intel announces Hyper-Threading is a thing of the past and won't be on many future CPU's
Intel shows new digital home capability assessment benchmark tool
Intel to launch Yonah mobile processor during CES 2006 in Las Vegas
ATI's Crossfire dual graphics solution is compatible with the Intel 955X chipset
Dolby showed off the first ?Dolby Certified? Intel-based PC
As you can tell months worth of rumors and speculations came to an end today! This is the most information Intel has ever thrown at us for day one. Now that the main points have been touched on we will go a bit further in depth and show some slides and photos from the exciting first day.
The Multi-Core Movement:
Intel's move to multi-core processors is going smoothly and the chip firm believes that by the end of 2006 that 70% of all shipping processors will be multi-core. By the end of 2007 this percentage is expected to rise all the way up to 100% if all goes as planned. Looking at the public roadmap that Legit Reviews got today at IDF we can see that in mid to late 2007 we can expect to see four cores on desktop and mobile processors. Intel stated that they currently have a total of 15 multi-core projects in the works right now. The roadmap also does not show the Pentium Processor Extreme Edition after 2005.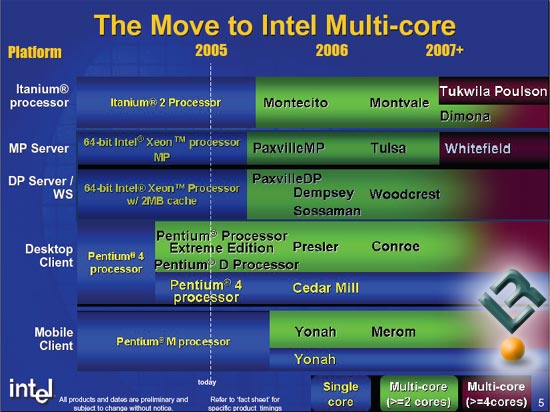 Platform Scalable Micro-Architecture:
Looking at the micro-architecture slide we can see that in the second half of 2006 Intel plans to have the 65nm process on all of their flagship processors for each platform. The new scalable micro-architecture will feature 14 stage efficient pipeline and up to a rumored 4mb cache size. The Intel Conroe processors are going to have a target Thermal Design Power (TDP) of only 65W, which is a far cry from the 130W TDP that is found on the Intel 840 processor. The lower TDP will allow for even smaller desktop systems, so if you are a fan of Intel SFF's then the coming desktop platforms should allow for new designs and advances. Rumors have it that the Conroe family of processors will be used in Macs, but only time will tell. We are not clear on how many cache sizes the Conroe family processors will come in either, but you can expect at least two different sizes.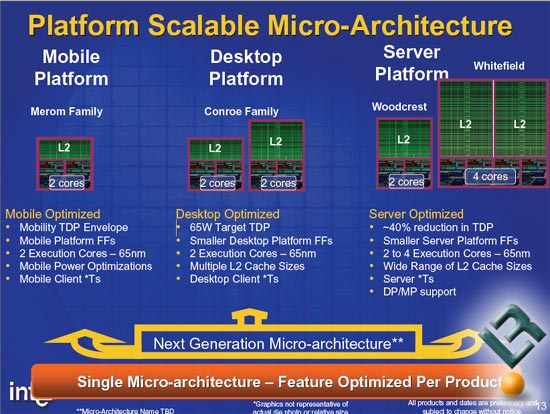 Before we call it a night let's take a look at Moore's Law. Intel noted that Moore's Law is still in effect even though the transition to dual core processors has already taken place. If this is the case this is what the future holds for upcoming processors:
2012 ? 22nm ? 32 billion transistors

2014 ? 16nm ? 64 billion transistors

2016 ? 11nm ? 128 billion transistors

2018 ? 8nm ? 256 billion transistors
If that doesn't make you think then here is another interesting comment that we were told today. Intel claims that consumers will see processors with 1 to 2 teraflops of performance by 2010. It seems so far away, but before you know it we will be rating performance in teraflops!