EVGA iCX Technology Examined On The GeForce GTX 1080 FTW2
By
EVGA found themselves highly motivated by last years thermal issues that they encountered on many GeForce GTX 1070 and 1080 models. The enthusiast community was alleging that many EVGA branded GeForce GTX 1070 and GTX 1080 cards were exploding due to improper VRM cooling. Catastrophic failures on luxury high-end graphics cards ids something that is taken very seriously by everyone and it was determined by EVGA that VRM (Voltage Regulator Modules) temperatures exceeding 110C during stress loading. EVGA was not covering the VRM with any thermal pads or heat spreaders as they truly believed that the VRMs were capable of tolerating these increased loads. EVGA ended up resolving the situation by sending out VRM pads available for free to any consumer that requested them and issues a BIOS update that updated the fan curve for reduced PWM temperature. The heat issue tarnished EVGA's reputation, but the EVGA design team and internal engineers learned that one temperature sensor on just the GPU package is no longer enough. It is no longer wise to rely just on the GPU temperature alone when the PWM and memory chips on many graphics cards now run hotter than the GPU itself.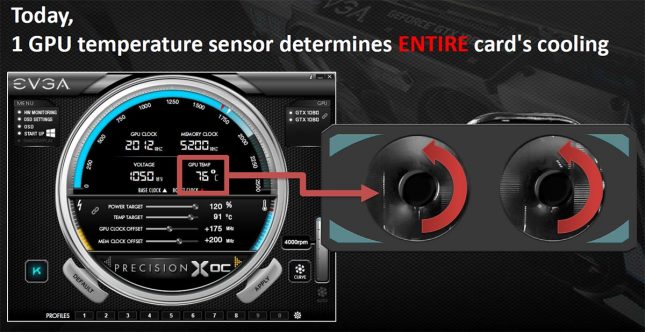 At CES 2017 we saw EVGA showing off GeForce GTX 10 series cards with iCX cooling. EVGA stated that iCX cards featured patent pending technology that would allow you to game safely and with complete peace of mind, but did not elaborate on the details. We've since learned that EVGA's top brass went back to the engineers and took a fresh look at all the different cooling technologies that they had been working on in recent, but never actually had enough time to implement.

Things have been pretty quite with NVIDIA on the high-end graphics side for board partners, so that gave EVGA the time they needed to go back to the drawing board and make what they feel are much needed improvements to their graphics cards that will help them stand out from other manufactures. That result is iCX and there are 11 new patents (granted and pending) that are involved in bringing iCX to market. EVGA has iCX technology on two GeForce GTX 1080 models, three GeForce GTX 1070 models and four GeForce GTX 1060 cards.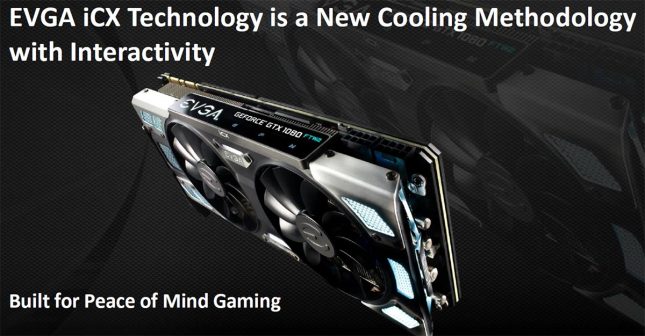 EVGA iCX Technology was created for the following reason. "With PC gaming growing, it is important to provide 'Peace of Mind Gaming' to the user. With EVGA's new iCX technology, users can have a better understanding of their cards operation. This includes temperature monitoring on key components (not just GPU), interaction with other devices and better cooling with asynchronous fan control providing better overclocking capabilities. With EVGA iCX technology, a new era of PC gaming is coming."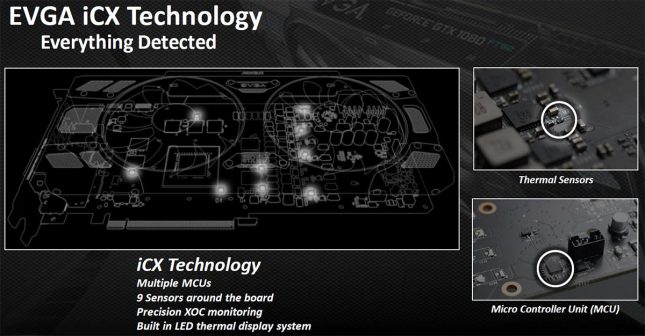 EVGA iCX Technology stands for interactive cooling technology. EVGA has designed a new PCB from the ground up that now includes 9 additional temperature sensors around the board in addition to the one that already comes on the NVIDIA GPU. This means that EVGA iCX cards have a total of 10 sensors. EVGA uses two micro controller units (MCUs) to monitor/controller everything. One MCU is on the cards PCB and the other is located on the LED module up top.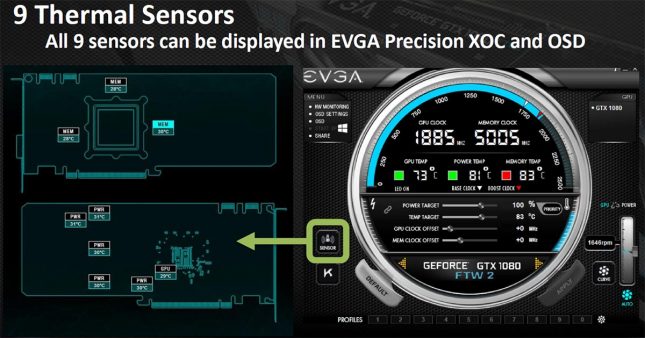 The card has built-in EVGA Precision XOS monitoring and an LED thermal display system. This is a new level of interactivity of the vitals of a graphics card as there have never been this many thermal diodes on a retail graphics card before.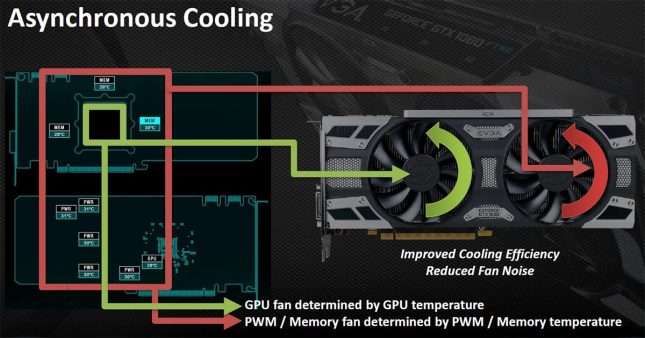 With EVGA iCX technology you can now have two fan curves as they run asynchronously! This means that the left and right fans runs independently. The left fan is based on the GPU temperature and the right fan is based on the power or memory temperature (whichever is hotter).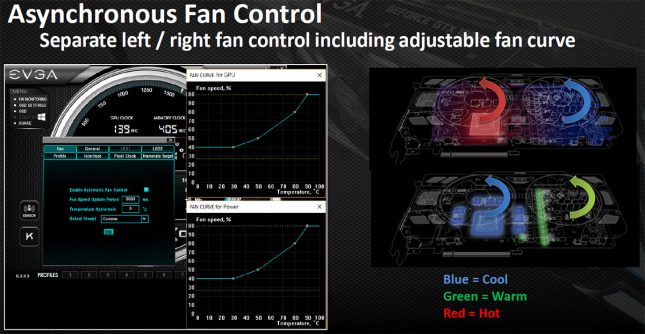 By using the EVGA Precision utility you can now control each fans profile and you can also display the cards thermal properties of all 10 sensors in real time. Running the fans at different speeds also reduces the noise level from the GPU cooler as the different noises from each fan help cancel one another out, rather than being amplified.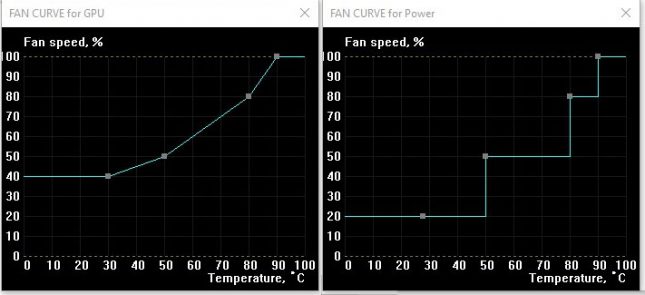 Here is a quick look at how you can set one fan curve for the GPU and then a totally different one for the power or memory.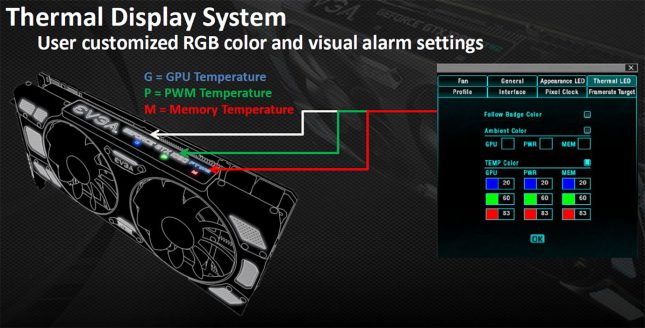 EVGA has also implemented a Thermal Display System that you can enable in Precision that has three indicators for the GPU Temperature, PWM Temperature and Memory Temperature. If you want to enable this feature there will be G, P and M displayed on the cards top LED plate and you can set the low/middle/high temperature for each area of the card.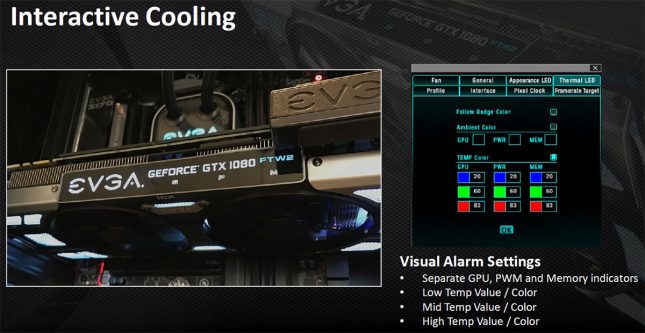 You can then go into Precision and set a 'thermal alarm' for each indicator. For example, if you wanted the 'G' for GPU on top of the card to turn red if it reaches over 60C you can do that.
EVGA did more than just put some thermal sensors on the PCB and allow asynchronous fan control. EVGA also went back to the drawing board for the heatsink and the baseplate and backplate are no longer just plates. EVGA has gone back to the drawing board and die-cast them to be form fitted to where they make contact to every single critical component on the board. Previous cards baseplates might have absorbed some heat, but they were not designed to be heat sinks the the baseplates on the new iCX series.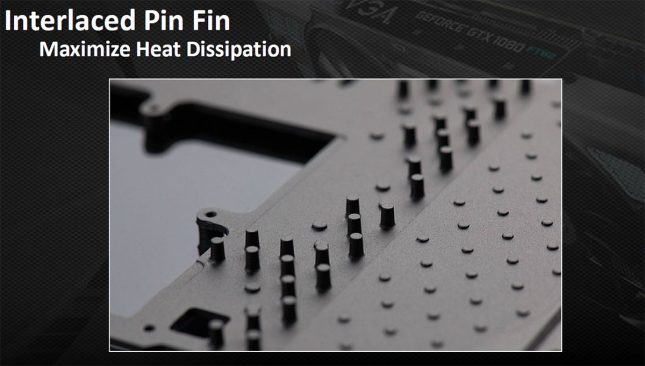 They also are using interlaced pin fins to increase the surface area on the baseplate to aide in heat dissipation. Most companies wouldn't consider doing pin fins with heat pipes as the raised fins cause contact issues and each model would need to be designed from scratch.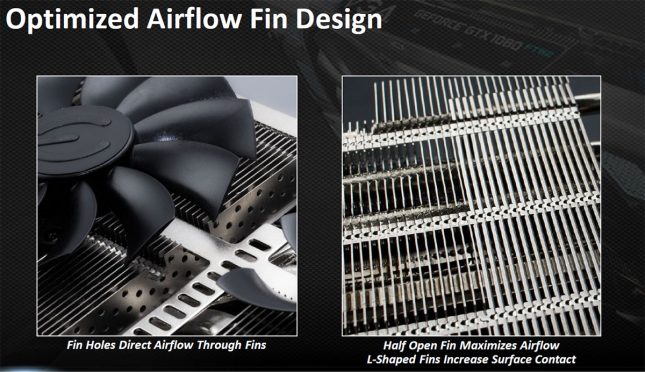 EVGA also punched holes in the aluminum fin arrays on the heatsink itself to even out the air pressure underneath the fan for improved airflow and lower noise levels. Before the airflow could only go down, but now it can go out in any direction. The last little detail that EVGA did on the fins is to actually half close some of them in areas that need to make contact with a thermal pad on the PCB itself.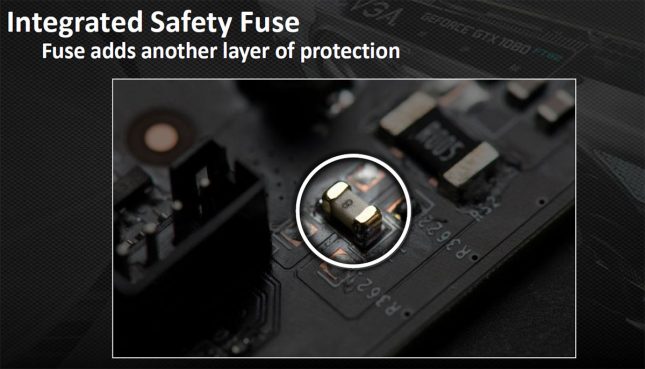 EVGA also placed an integrated safety fuse on the iCX boards that was designed to protect the card if too much power is delivered to the card. This will keep board from blowing up, but if the fuse blows there is no way an end user can replace it and it must be returned back to EVGA as an RMA to be repaired. EVGA did not place an LED light or anything on the board to let you know if the fuse is blown, so hopefully down the road they implement an LED or audible alarm if the card has failed. EVGA Precision will detect the blown fuse, but if you only have one video card in the system you won't be seeing Precision as your card would no longer be usable.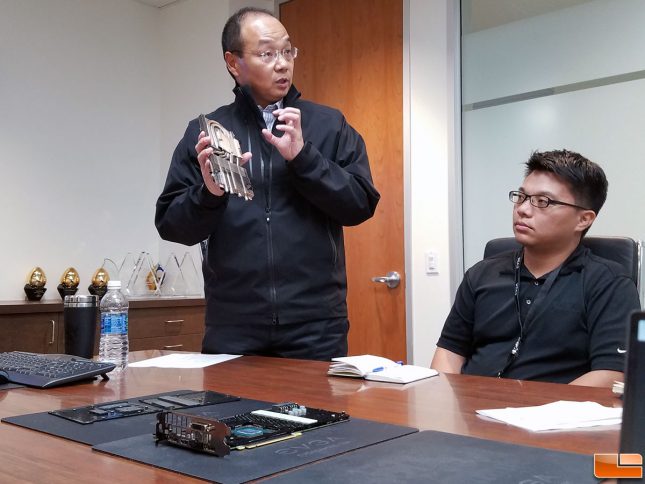 We were able to take apart the EVGA GeForce GTX 1080 FTW2 to better show you these new features and you can take a look at those images in the gallery below. As you can see EVGA iCX Technology is much more than just a new cooler!
So, just how much better is EVGA iCX cooling versus EVGA ACX 3.0 cooling? EVGA provided a look at temperatures on the EVGA GeForce GTX 1070 SC with the ACX 3.0 cooler versus the new EVGA GeForce GTX 1070 SC2.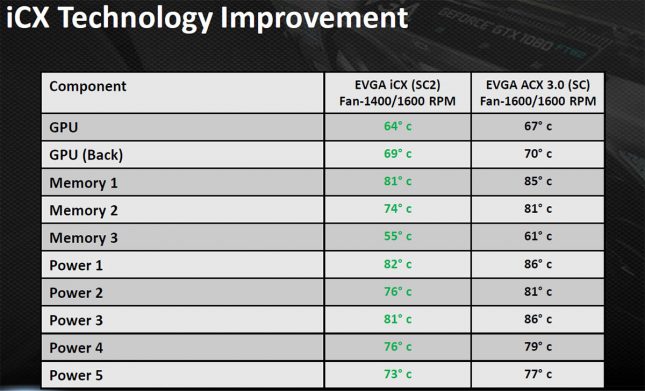 As you can see from the slide above the new iCX card is 1-7C cooler in each of the zones they tested. The GPU itself had the lower temperature drop, while the memory and PWM areas both greater benefited from the iCX technology, which makes sense as that was where EVGA wanted to make improvements. It should be noted that these temperature drops came with one of the fans running slower on the iCX card, so it also happens to be quieter.
When we were visiting with EVGA we were shown a demo of a GeForce GTX 1080 FTW running on one machine with the EVGA GeForce GTX 1080 FTW2 running on an identical system right next to it.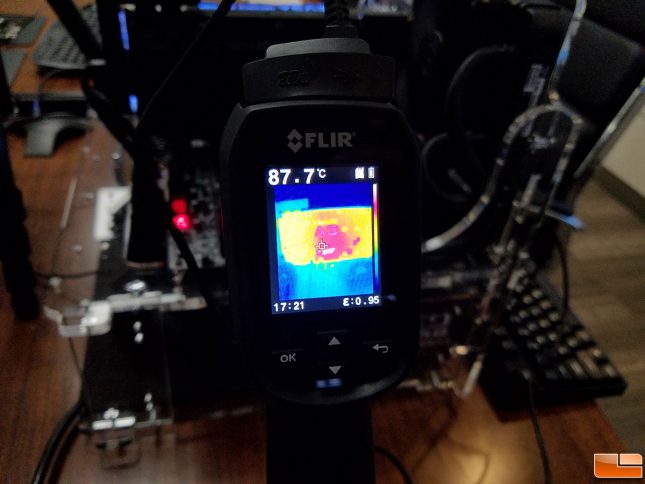 Looking at the back of the card with a FLIR camera we can see the 1080 FTW ACX 3.0 with the latest BIOS (Performance Curve) tops out at 87.7C.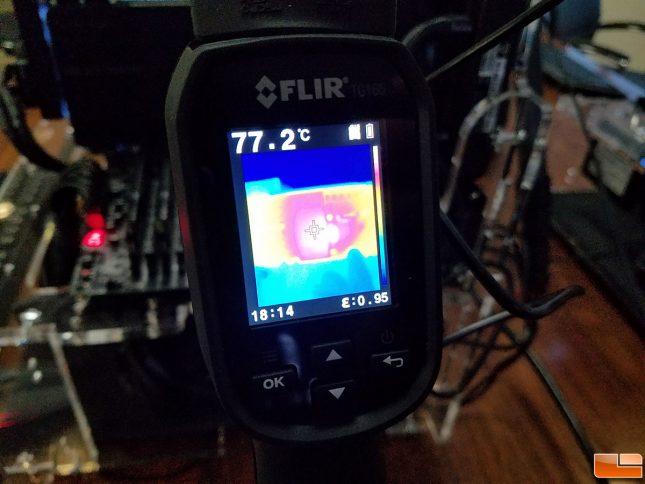 The new EVGA GeForce GTX 1080 FTW2 iCX topped out at 77.2 running the same exact workload in the same room (ambient temperature) and that is pretty impressive 10C drop thanks to all the features found in iCX.
Comparision of the EVGA GeForce GTX 1080 FTW ACX3.0 / iCX:
| | | | |
| --- | --- | --- | --- |
| | iCX | ACX3.0 Silent Curve | ACX3.0 Performance Curve |
| GPU Temp | 72 | 79 | 72 |
| Acoustic (dB) | 28.27 | 29.5 | 34.07 |
| Fan RPM (rpm) | 1700 | 1620 | 1915 |
What the pictures above don't show is that the EVGA GeForce GTX 1080 FTW2 not only runs cooler on the back of the card, but the noise level is almost 6 dB lower than the previous model with the latest BIOS! The EVGA GeForce GTX 1080 FTW2 features a slightly different VRM setup as well, so some of the components are different and don't make for a perfect comparison between generations. This is why EVGA included ACX 3.0 on a Superclocked card versus an iCX Superclocked 2 card in the presentation slide deck as the VRM setup was kept the same.
Let's take a closer look at EVGA Precision XOC (build Reviewer7) on our GeForce GTX 1080 FTW 2 graphics card. As you can see there are now three temperatures that are shown underneath the GPU and Memory clock speeds. The highest temperature from each of the three zones is what is being shown. We've used several Precision XOC builds this week alone, so EVGA has been working hard to add features and they plan on adding even more features in future versions.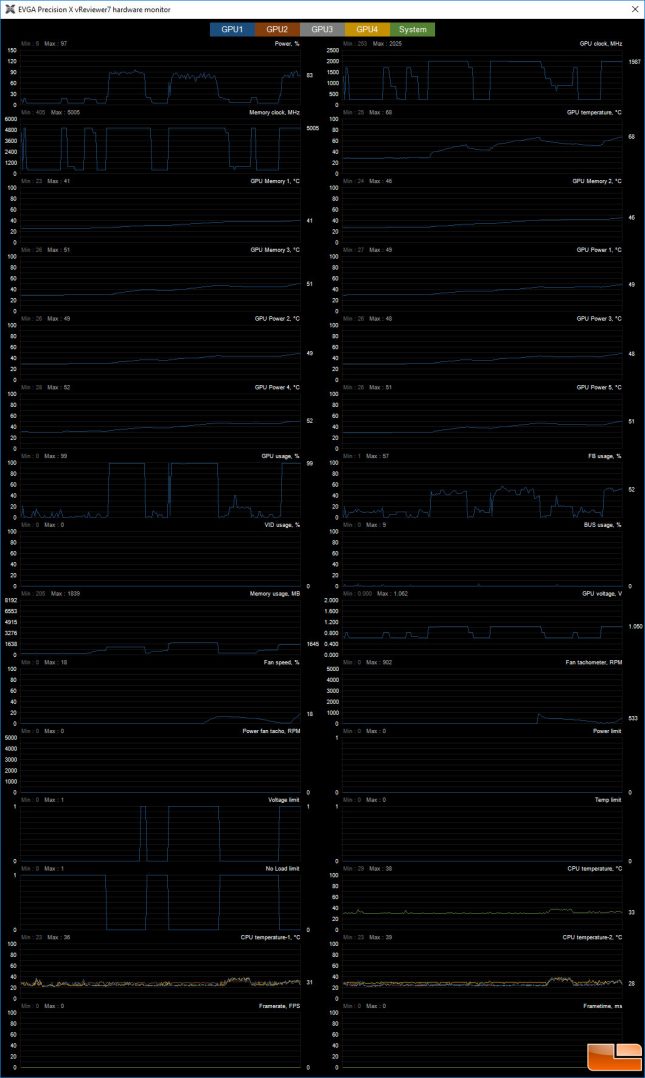 Do you like to look at sensor readings? This is what the hardware monitoring button opens up on the EVGA GeForce GTX 1080 FTW2!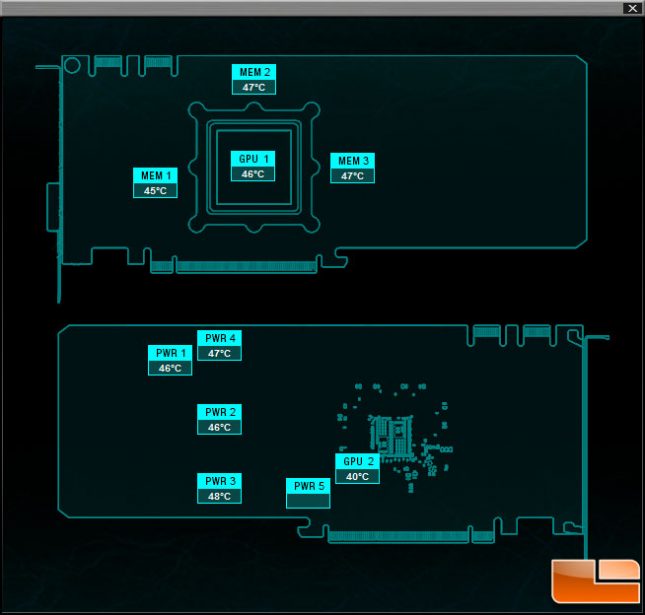 Clicking the sensor button gives you the 10 temperature sensor readings on the GeForce GTX 1080 FTW2 and the location of where that each sensor is located on the PCB. This worked pretty good on our board, but for some reason PWR 5 was not reading on this menu on our particular setup even though it was showing fine in HW Monitor. EVGA is looking into that issue and hopefully it will be resolved in a future update.
When you click on 'CURVE' another window pops open with eight tabs for all the fan speed setting adjustments. Above the fan curve button is a button that will allow you to link the GPU and Power fans together if for some reason you'd like to run them together at the same speed. The GPU fan didn't start spinning until it reached 67C on our EVGA GeForce GTX 1080 FTW2 card, which is impressive. We were able to run 3DMark Fire Strike Extreme and the fan only kicked on during the last test (combined benchmark).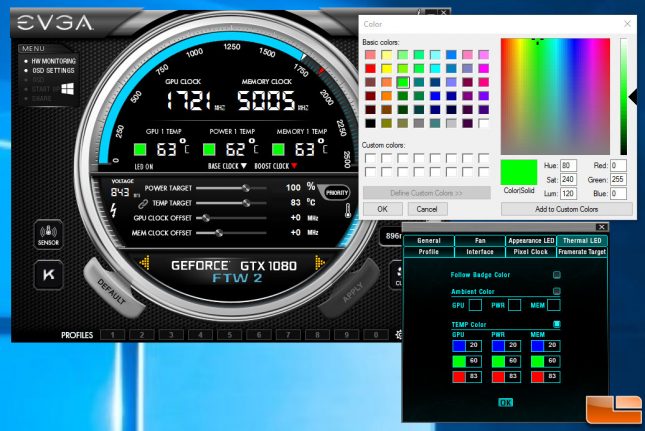 The default settings for the Thermal LED sensor have the GPU, Power and Memory showing blue from 20-59C, green from 60-82C and then red for anything over 83C. Since the temp target of the GPU being 83 we backed ours down a bit to have more colors being shown while gaming. You can also go in and adjust the RGB LEDs to be whatever custom color you like!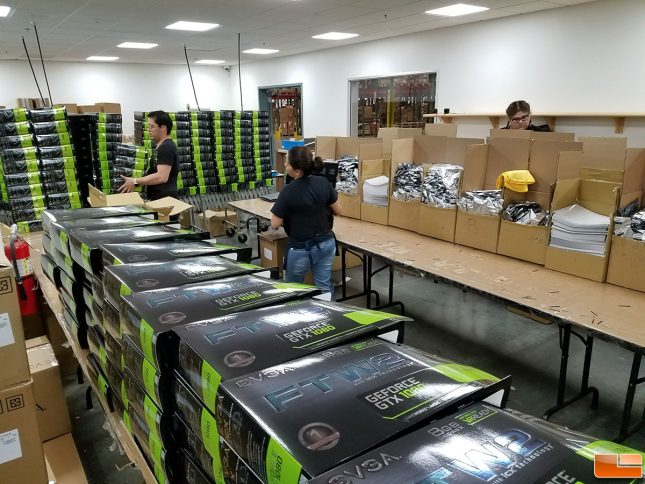 If you have an EVGA GeForce GTX 1070 or GeForce GTX 1080 graphics card with an ACX cooler and want an iCX card you are in luck. EVGA is allowing those users to directly upgrade from anACX to an iCX model for $99 with the ACX to iCX upgrade program. The new EVGA iCX models include the GeForce GTX 1070 SC2 (model: 08G-P4-6573-KR), the GeForce GTX 1070 FTW2 (08G-P4-6676KR), and the GeForce GTX 1080 FTW2 (08G-P4-6686-KR). These won't be replacing the GeForce 1080 and GTX 1070 FTW/SC lineups with the ACX 3.0 cooler as EVGA expects the iCX cooler to be sold at a $30 premium over an ACX 3.0 model.
Amazon today has the EVGA GeForce GTX 1080 FTW2 priced at $679.99 shipped with the GeForce GTX 1080 SC2 priced at $649.99 shipped. The EVGA GeForce GTX 1080 FTW Gaming ACX 3.0 is priced at $609.99 and the EVGA GeForce GTX 1080 SC Gaming AXC 3.0 is priced at $589.99, so there is a $60 to $70 retail difference between an ACX 3.0 and iCX model. ACX owners might feel a bit irked by having to pay $99 to be able to upgrade to an iCX model, but that isn't bad for those that got a GTX 1080 in the summer of 2016 as you can upgrade your 8 month old card to the latest model for a somewhat reasonable price if you want the iCX model features. If not, just hang onto your ACX model and wait for the 1080 Ti with the GP102 GPU to come out or the next generation GPUs to hit.
We'll have a normal full review of the EVGA GeForce GTX 1080 FTW2 in the weeks ahead, but wanted to show you today what EVGA's new iCX Technology is all about. EVGA firmly believes that iCX Technology will help them rise above other companies brands and they will continue to innovate and create new hardware and software in the future. We agree that GPU temperatures are not a major concern today, unless you are on a blower fan style card, so to shift the focus onto the power and memory temperatures makes sense. EVGA wants gamers to know that they have fully redesigned a handful of cards to become part of the iCX series and those cards will give gamers peace of mind when it comes to temperature. Not a bad way to recover from the VRM overheating issues of 2016 by coming out with a much improved product that looks like it has the ability to win over the gaming community!
EVGA iCX Technology is not JUST a Cooler.
EVGA iCX Has 9 Thermal Sensors and Multiple MCUs – All 9 sensors can be display in EVGA Precision XOC and OSD.
Asynchronous Fan Control Separate left/right fan control including fan curve
A New and More Efficient Way to Cool GPU fan determined by GPU temperature. (Left Fan) Power/Memory fan determined by Power/Memory temperature. (Right Fan)
Full Control with EVGA Precision XOC Each sensor can be monitored in real time and displayed in PXOC OSD.
Interactive Cooling with Thermal LED Display System User customized RGB color and visual alarm settings
Optimized Airflow Fin Design Fin holes direct airflow through fins. Half open fin maximized airflow and L-Shaped fins increase surface contact
Die Cast and Form Fitted Baseplate and Backplate Makes direct contact with all vital components. Maximize heat dissipation with increased surface area on baseplate.
Peace of Mind Gaming An EVGA ONLY fuse adds another layer of protection to your card and system.
You can learn more about EVGA iCX Technology by visiting this landing page – www.evga.com/icx.