EVGA GeForce GTX 780 Superclocked ACX Cooling Video Card Review
By
EVGA GeForce GTX780 w/ ACX Cooler
When we reviewed the NVIDIA GeForce GTX 780 video card last month we were impressed by what what it could do and we just had the NVIDIA reference design on-hand to come to that conclusion. Today, we will be looking at our first add-in board partner card, the EVGA GeForce GTX 780 3GB Superclocked with ACX cooling. This card retails for $659.99 shipped and features higher clock speeds and a greatly improved cooling solution. Not bad, considering it retails for only $10 more than the base model!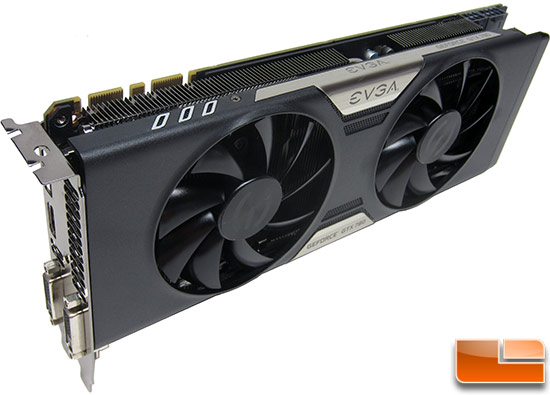 When you first look at the EVGA GeForce GTX 780 Superclocked with ACX cooling video card you can see that it is certainly not using the reference cooler. EVGA has developed a new GPU cooling technology in-house called Active Cooling Extreme or ACX for short. This cooler will be available on both EVGA GeForce GTX 770 and 780 series cards, so you'll be hearing about this cooler a bunch in 2013!
EVGA GeForce GTX 780 w/ AVX Cooling Key Features:
Ultimate GPU Cooling – 15% average lower GPU and Memory temperatures give you the low temperatures needed for extreme overclocks, and with GPU Boost 2.0, it ensures your card maintains the maximum boost clock possible.
No Compromise Heatsink Design – An increase of 40% in heatsink fin volume distributes heat evenly and efficiently.
Low Noise Levels – The dual fan design dramatically increases airflow, meaning the fans only need tos pin at a much lower RPM, reducing noise levels significantly. In fact, it is 15% quieter on average!
Double Ball Bearing Design – The EVGA ACX cooler features a double ball bearing design, meaning the fans have an average lifespan of 12 Years! This is 4X longer than the competitors sleeve bearing fans.
Superior Blade Design – EVGA even went as far as crafting each individual fan blade with the utmost in quality. The fan blades on the EVGA ACX cooler are 700% stronger and weigh 25% less than competitor's versions. This makes the fans 20% more efficient by requiring lower power levels.
Dual Slot Design – No need to worry about bulky heatsink designs that cover unnecessary PCI-E lanes, the EVGA ACX cooler is a dual slot design, the optimal size for all forms of NVIDIA SLI.
Dual Cooling Subsystems – Minimizing air turbulence between fans, this makes sure the airflow is distributed evenly, and reduces noise level.
Reinforcement Baseplate – This helps to maintain a straight PCB, and helps lower mosfet temperatures by 7% and memory temperatures by 15%.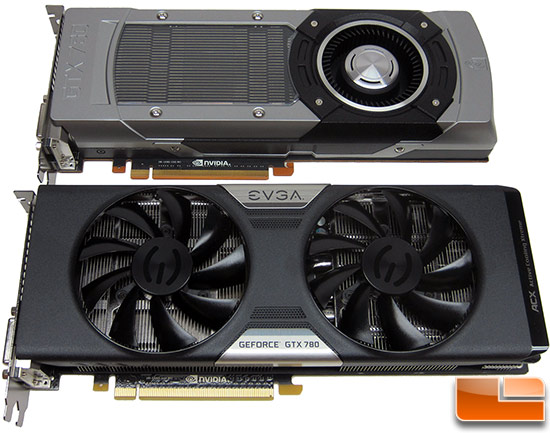 Some of you might not know what the NVIDIA GeForce GTX 780 reference card looks like, so here is a shot of the NVIDIA GeForce GTX 780 reference card with it's single fan blower style GPU cooler and the EVGA GeForce GTX 780 Superclocked w/ ACX Cooling that we'll be looking at today. This is a "Superclocked" card, so right off the bat you should know that it has been overclocked from the start. The EVGA GeForce GTX 780 Superclocked with ACX cooling comes with a base clock of 967 MHz a boost clock of 1020 MHz. The NVIDIA GeForce GTX 780 reference card is clocked at 863 MHz base and 902 MHz boost, so this is a 12-13% clock increase on the 2304 CUDA Cores! EVGA opted not to overclock the 3GB of GDDR5 memory and it operates at 6008 MHz (effective) like the reference card.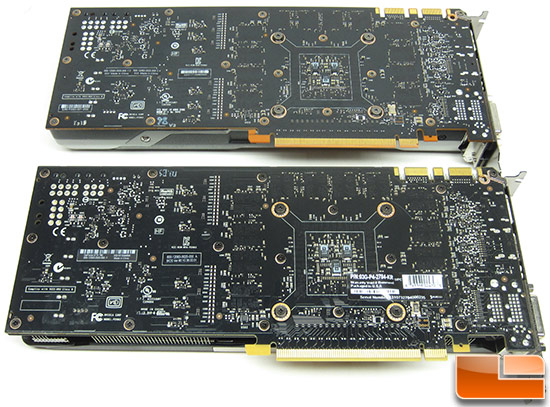 EVGA also didn't touch the Printed Circuit Board (PCB) and used the same exact PCB as the NVIDIA reference design. This means it features single 8-pin and 6-pin PCIe power connectors to supply enough power to the 250W TDP card and a pair of SLI connectors for 3-way SLI support. The EVGA GeForce GTX 780 Superclocked w/ ACX is 10.5″ in length.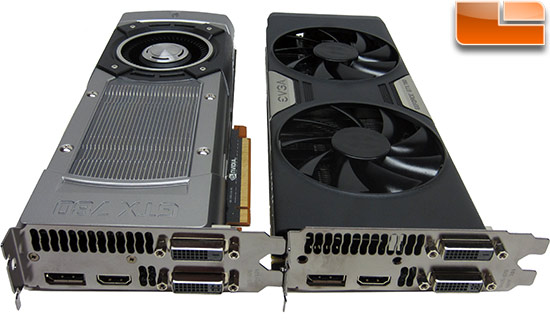 Display outputs include two dual-link DVIs, one HDMI and one DisplayPort 1.2 connector. This video card easily supports 4K resolution monitors and supports up to four monitors concurrently. This is great for those wanting to run NVIDIA Surround or NVIDIA 3D Vision Surround technology.
Let's move along and take a closer look at the EVGA ACX Cooler!