EVGA GeForce GTX 750 1GB SC Video Card Review
By
EVGA Superclocks The GeForce GTX 750 1GB Graphics Card
When NVIDIA released the GeForce GTX 750 Ti and GeForce GTX 750 we were only sampled the GeForce GTX 750 Ti and the majority of the reviews on launch day were on the GeForce GTX 750 Ti. We were impressed by the NVIDIA reference design as well as the add-in-board (AIB) designs that we took a look at in our launch article. It left us wondering how the NVIDIA GeForce GTX 750 would perform though as the it uses the same GM107 'Maxwell' GPU, but with one of the five Streaming Multiprocessors (SMM) disabled and is only available with 1GB of GDDR5 memory. Each SMM has 128 CUDA Cores, so with one SMM disabled there are just 512 CUDA cores available instead of the 640 CUDA Cores on fully enabled GM107 GPU. Disabling the SMM also reduces the number of functional texture units down to 32 from 40, but the number of ROPs remains the same at 16. Will a 20% reduction in CUDA cores drastically impact performance?
NVIDIA GeForce GTX 750 Series Cards:
NVIDIA GeForce GTX 750 Ti 2GB $149
NVIDIA GeForce GTX 750 Ti 1GB $139
NVIDIA GeForce GTX 750 1GB $119
The NVIDIA suggested retail price for basic GeForce GTX 750 1GB video cards is $119, which is ~17% less than the GeForce GTX 750 Ti. It sounds like the price versus performance value of the GeForce GTX 750 1GB is basically the same as the GeForce GTX 750 Ti, but can you make up for that with some overclocking?
Reference Card Specifications
GeForce GTX 750 Ti
GeForce GTX 750
Chip
GM107
GM107
CUDA Cores
640
512
Base Clock
1020 MHz
1020 MHz
Boost Clock
1085 MHz
1085 MHz
Memory Configuration
1 GB – 2 GB (128-bit)
1 GB (128-bit)
Memory Speed
5.4 Gbps
5.0 Gbps
Memory Bandwidth
86.4 GB/s
80 GB/s
Power Connectors
None
None
Outputs
DL-DVI-I
DL-DVI-D
Mini-HDMI
DL-DVI-I
DL-DVI-D
Mini-HDMI
TDP
60 W
55 W
SLI Options
None
None
MSRP At Launch
$139 for 1GB / $149 for 2GB
$119
NVIDIA released both cards with the same the same core clock speeds and reduced the GDDR5 memory clock by 400MHz on the GeForce GTX 750. Since both cards have the same core clock speeds we would expect that there would be about a 20% or greater (due to the reduced memory clock) performance reduction. The GeForce GTX 750 Ti isn't the most powerful card in the world, but should do fine for mainstream gamers with a single 1920×1080 monitor that are okay without cranking up the AA and image quality settings in all of their game titles. So, what have the board partners done?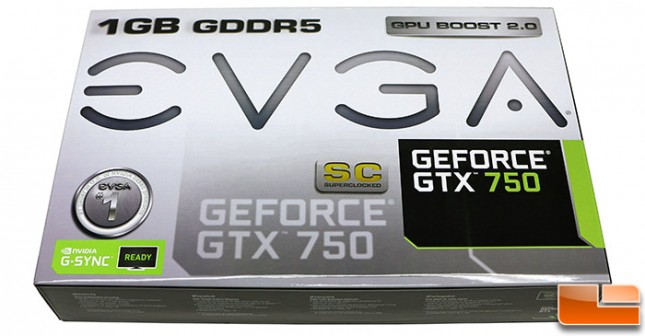 EVGA has released a very interesting graphics card called the GeForce GTX 750 Superclocked 1GB. This card is factory overclocked with a 1215MHz base and 1294MHz boost clock! That would be about a 19% increase in core clock frequency and no change on the memory clock when compared to the NVIDIA GeForce GTX 750 reference design. Sure, you are still missing 20% of the CUDA cores on this model, but can the higher clock speeds make up for the disabled GPU tidbits and give you GeForce GTX 750 Ti performance in a GeForce GTX 750 video card? We got our hands on the EVGA GeForce GTX 750 Superclocked 1GB graphics card with model number 01G-P4-2753-KR and will be figuring that out today. This card is available for $119.99 shipped after a $10 rebate.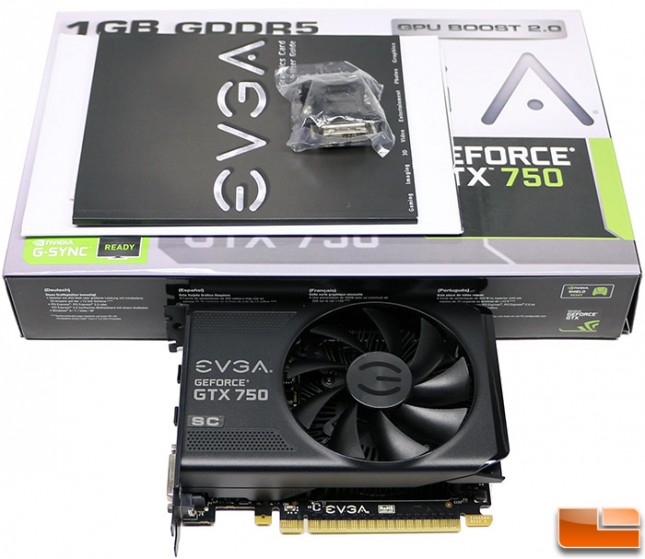 The EVGA GeForce GTX 750 Superclocked 1GB card comes with a small poster, instructions, driver disc and a DVI-to-VGA adapter. This video card is backed by a 3-year warranty should anything go wrong and needs a minimum of a 400W power supply with a +12V rating of 20 Amps. No external power is needed for this card as it has a Total Power Draw (TDP) of just 55 Watts and it can easily get that much power from the PCI Express slot.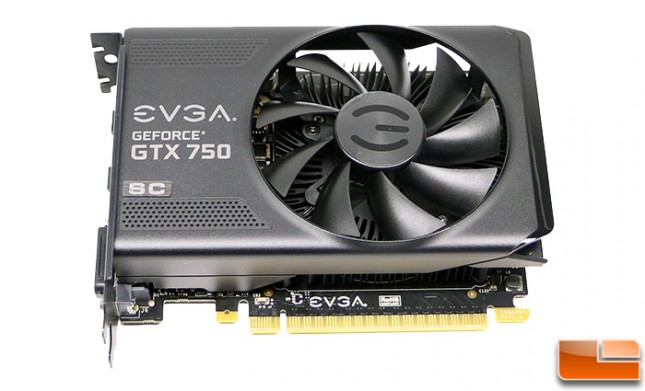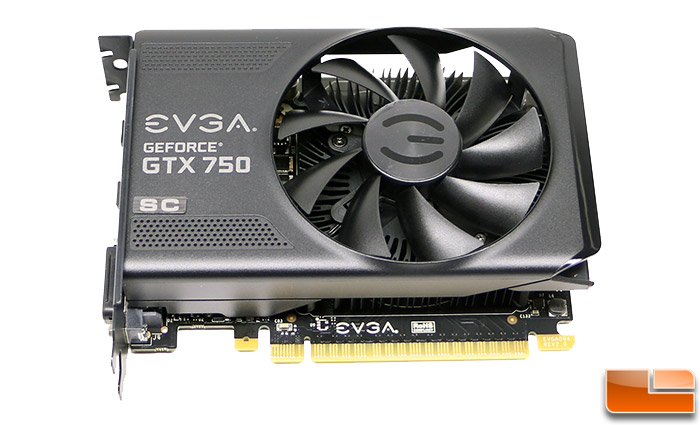 The EVGA GeForce GTX 750 Superclocked video card is just 5.7-inches in length. It is a dual-slot card that is entirely blacked out. The PCB, heatsink, fan, fan shroud and even the backplate are all black! It should be noted that there is not an SLI interconnect on this card and that is because the GeForce GTX 750 and 750 Ti both do not support NVIDIA SLI technology. The NVIDIA GeForce GTX 650 Ti was also like this and it is because NVIDIA doesnt think it is needed at the sub $150 price point. They can also upsell with SLI and use it to differentiate between their cards as you go up the product stack.
When it comes to video outputs, the EVGA GeForce GTX 750 Superclocked 1GB single Dual-Link DVI connector along with HDMI and DisplayPort connections. This is one of the very few NVIDIA GeForce GTX 750 series cards that has DisplayPort on it! This is important as you need DisplayPort 1.2 to run an NVIDIA G-Sync monitor. This card is 4K monitor ready and supports a max analog resolution of 2048×1536 and a max digital resolution of 4096×2160. A 240Hz max refresh rate is also supported.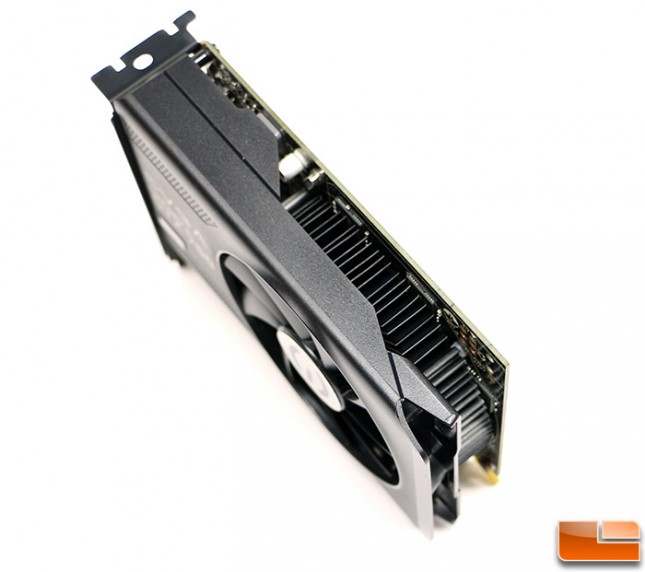 We thought this was an interesting shot that was worth including in the review as it shows there is no power header or SLI interconnect to be had along the top edge or end of the graphics card. It also shows that the fan shroud is open around the heatsink.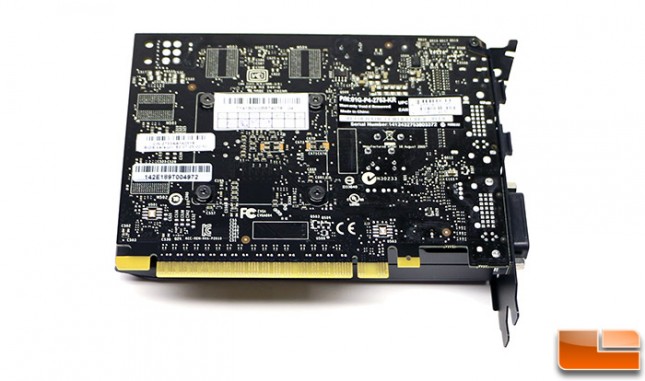 The back of the card doesn't have any key features that need to be talked about and we've all seen enough serial number and model number stickers in our lives.
Let's take a quick look at our test system and then get to benchmarking the EVGA GeForce GTX 750 Superclocked 1GB on some game titles!