ELEPAWL EP6 Active Noise Cancelling Wireless Bluetooth Headphone Review
By
Legit Reviews was recently contacted by Shenzhen Youkeshu Technology to see if we'd like to review their ELEPAWL EP6 Active Noise Cancelling Wireless Bluetooth Headphones. We like to cover new companies to keep the content fresh on the site, so we figured we'd give Youkeshu a chance. We were also intrigued by the price point on this headset as Youkeshu is giving every site that reviews them a 50% off promo code that works on Amazon (ELEPAWL2) for their readers that lasts until the end of November 2018. Amazon has the ELEPAWL EP6 headphones listed at $69.99 with free shipping on Amazon, so after the discount they are just $35 shipped. That doesn't seem like a bad price for a pair of active noise cancelling wireless headphones that last 30 hours per charge and is backed by an 18-month warranty.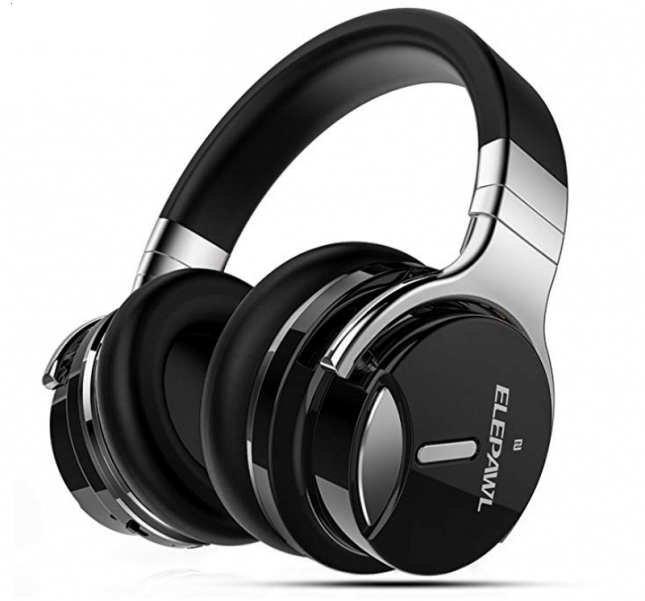 The EP6 headphones have been on the market for over a year and have over 100 reviews on Amazon with a 4.6 star rating on their 5 star rating system. Only 82 of those reviews were done by verified purchases and the Fakespot grade is a B grade with ~72 reviews being removed by Google. Elepawl in general has a D grade rating and with around 72 reviews being deleted on just the EP6 listing it looks like there might be some deception going on. So, we are glad that you are reading this independent review on a site that has been straight up and honest with our readers for the past 16 years.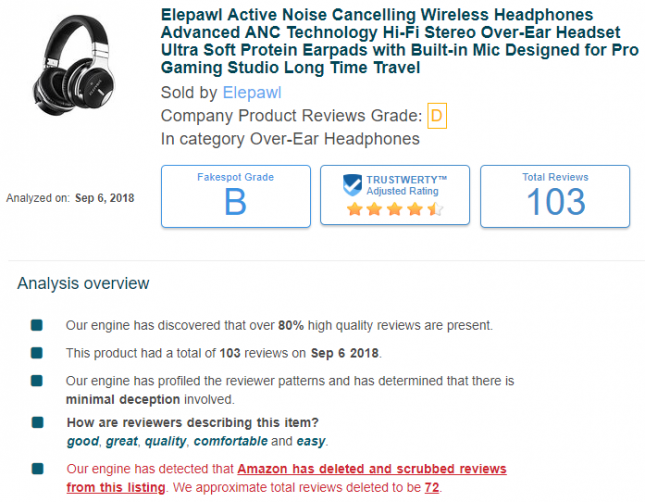 The ELEPAWL EP6 comes in plain retail packaging and that is fine with us on a value priced product where cost is key. Simple packaging helps keeps costs down and most will chuck it straight into the recycling bin.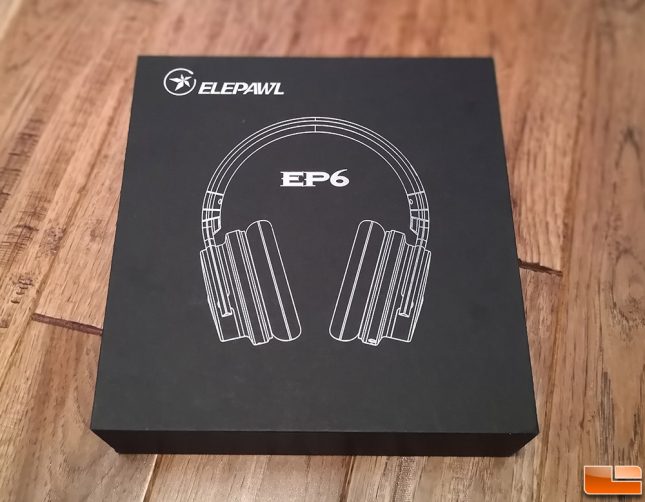 When you open the box you'll be greeted by a fake leather storage bag a pink thank you card that lets you know how to contact ELEPAWL if you need support. On the back of the card it asks you to review the product on Amazon and that they'll send you a 'free gift' if you let them know that you did a review.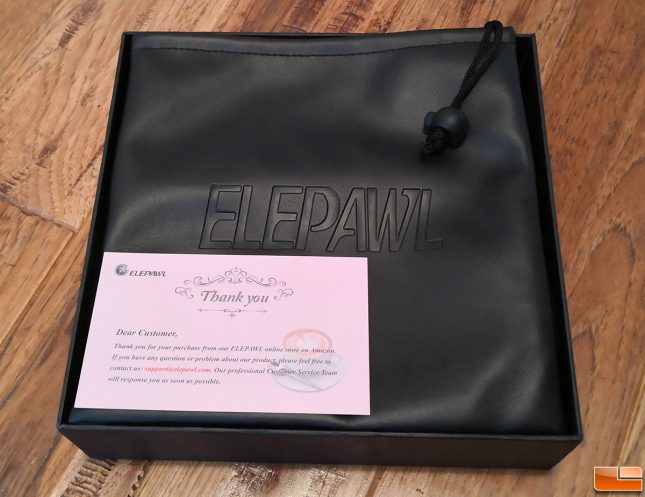 Under the storage bag you'll find a USB charging cable to keep the 800mAh battery juiced up and 3.5mm auxiliary audio cable for those that play from a stereo audio source with a 3.5mm headphone jack. The shiny finish on the EP6 looks good, but it attracts finger prints and needs to be constantly cleaned if you want them looking sharp.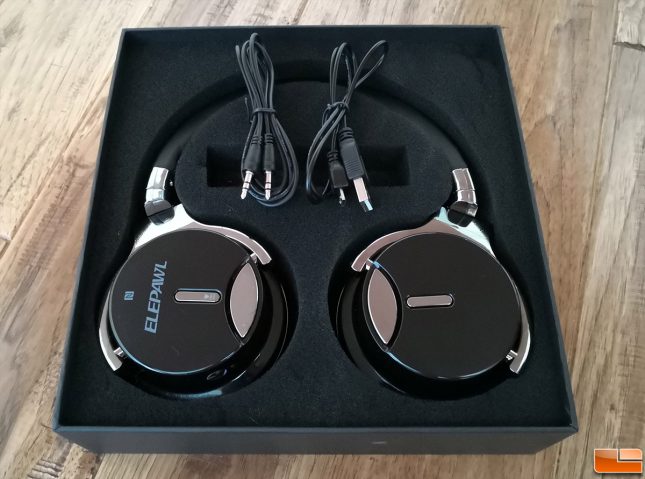 The ELEPAWL EP6 is a circumnaural type over-ear headphone. No big shocker here as this type isolates the listener from outside noises, improving the quality of the sound. Powered by 45mm drivers, the ELEPAWL EP6 headset offers good range and precision when it comes to audio quality. It's not going to compete with larger 50mm drivers that most gamers are used to, but they are decent for general purpose use. The main market for this headset is someone looking for low-cost headphones to pair with their phone or TV. The sound is very crisp and clear, but the 45mm drivers just can't deliver the bass that so many crave.
Headphone ear pads are one of the most important pieces on your headphone. They play a very important role not only in the comfort of the headphones while you are wearing them but also the quality of the sound. The material seems thin, so longevity may be a concern, but they are comfortable.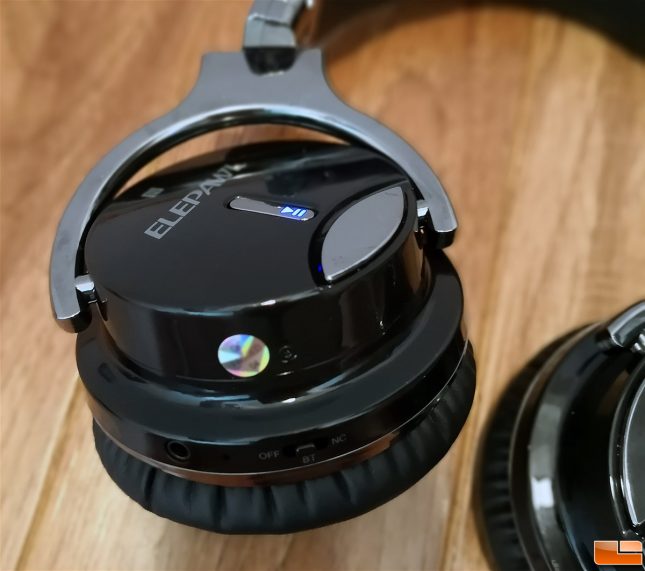 Along the bottom edge of the right speaker you'll find the power switch that also allows you to use the headset with noise canceling off and on. The active noise cancellation appeared to be working, but these are by no means close to Bose QuietComfort headphones when it comes to reducing surrounding distractions. We also noticed that when noise cancellation was enabled that they were a little quirky when you moved around a bunch or adjust the headphones on your head. It sounds like they cut off for a fraction of a second. Others that tried the EP6 headphones said they heard a weird noise when adjusting the headphones in noise cancellation mode. When you run the EP6 headphones in "bluetooth only" mode, this doesn't happen.
The microphone on the ELEPAWL EP6 is located between the 3.5mm jack and the power switch on the left ear cup. We sounded distant and had a slight echo according to those that talked with us on the phone while using the EP6 headset. With the microphone pointed down and hanging off your left ear you need to talk loudly for others to hear you clearly. The built-in Bluetooth controls offer; play/pause, next/prev, and volume up/down functionality. The right ear cup has a micro USB port for charging the 800mAh battery and there is an LED light that is red when the headphones are being charged and light turns off when it they fully charged.
Final Thoughts and Conclusions
For $35 shipped you get some pretty good bang for the buck with the ELEPAWL EP6 headphones. At this price point it's really a crap shoot on what your going to get. The ELEPAWL EP6 headphones are comfortable to wear for a couple hours at a time and have acceptable audio quality, comfort, noise cancellation, battery life and microphone quality. The bass is a little weak in 'bluetooth' mode and when 'noise cancelling' mode is enabled it really kills all the lows. Noise cancellation mode works well, but if you bump the headset or run with them on the audio cuts out for a fraction of a second. So, if you want to wear these while you run or something like that we wouldn't suggest this model. If you are looking for something decent to use while sitting or walking around without breaking the bank the ELEPAWL EP6 headphones might do the trick for you.
You can buy the ELEPAWL EP6 headphones on Amazon for $35 shipped with promo code ELEPAWL2, which is 50% off the list price of $69.99. We'll keep on using the ELEPAWL EP6 and report back how they hold up over time. They have an 18-month warranty, but we want to see how long they really last.