EKWB EK-M.2 NVMe Heatsink Review
By
EK-M.2 NVMe Heatsink – Visually Pleasing M.2 Cooling
EKWB is a Slovenian manufacturer of high performance water cooling parts and accessories designed to meet the needs of the most discerning PC enthusiasts. EK gets their name from the initials of their founder, Edvard Konig, who began designing and manufacturing water blocks back in the late 1990's, eventually producing and manufacturing his first line of waterblocks in 2003. Since their inception, EKWB has built a reputation for making some of the best water cooling components in the industry and they also have a lineup of AIO cooling solutions for users who don't want to get involved with full loop water cooling. Today, I am looking at the EKWB M.2 NVMe Heatsink, a product designed to reduce temperatures of M.2 storage devices while also giving a unique aesthetic to a typically green or black sticker-covered M.2 drive.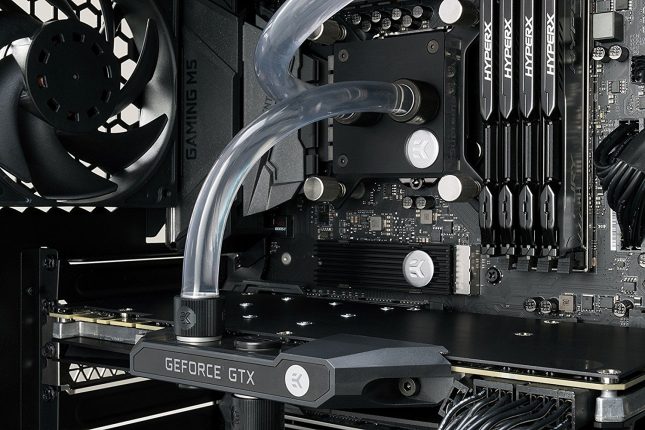 Manufacturers like Samsung and Intel have been pushing M.2 NVMe drives that are capable of insane low latency performance for years now, but these drives are known for their penchant to run at high temperatures under even normal workloads, which can cause performance throttling once reaching a certain threshold. For everyday users, performance throttling of M.2 storage drives due to thermals is probably an afterthought and the major SSD manufacturers have safeguards built into their drives to help avoid long term damage due to heat. For PC enthusiasts who want to ensure their M.2 drives are running optimally and reduce the risk of throttling performance, EKWB has produced custom aluminum M.2 NVMe heatsinks in a variety of colors.
EKWB EK-M.2 NVMe Heatsink Colors and Prices
Black – $18.49 shipped
Blue – $18.99 shipped
Gold – $18.99 shipped
Green – $18.99 shipped
Nickel – $18.49 shipped
Purple – $18.99 shipped
Red – $18.99 shipped
Despite the name, the EK-M.2 NVMe Heatsink can work on pretty much any 2280 length M.2 storage drive, whether it is SATA or NVMe based, which is good, because I've seen plenty of M.2 SATA that can use a little help running cool. With so many users these days opting for M.2 NVMe storage due to its small footprint and incredible performance, the EKWB M.2 heatsinks are a product that makes sense, as long as they work as intended and help lower the overall temperature of an M.2 SSD.
EK-M.2 NVME Heatsink Technical Details
Materials used:
Aluminium front cover
Aluminium backplate
Stainless steel clips
Enclosed:
EK-M.2 NVMe Heatsink front cover – color of your choice
EK-M.2 NVMe Heatsink backplate – black
Mounting clips
Thermal pad 0.5mm
Thermal pad 1mm
Thermal pads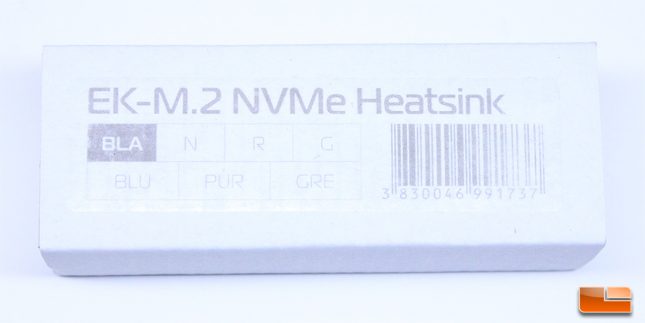 EKWB ships the M.2 NVMe heatsinks in a small white box with the color of the EKWB block noted on a darkened box. Our samples arrived in excellent condition, with all of the boxes properly sealed and looking good, with no external damage. While the box doesn't have any visual flair, it's perfectly adequate for the product it contains and suitable for the worldwide market that EKWB is serving.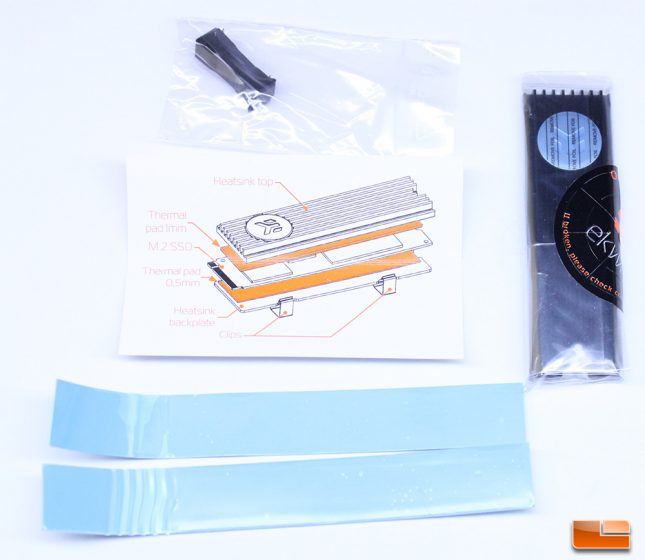 Once you open the EK-M.2 NVMe Heatsink box, the heatsink assembly along with an assortment of included components slides out. EK has packaged everything well within the little box and it all arrived undamaged and in good condition. The thermal pads and included clips seem to be high quality parts.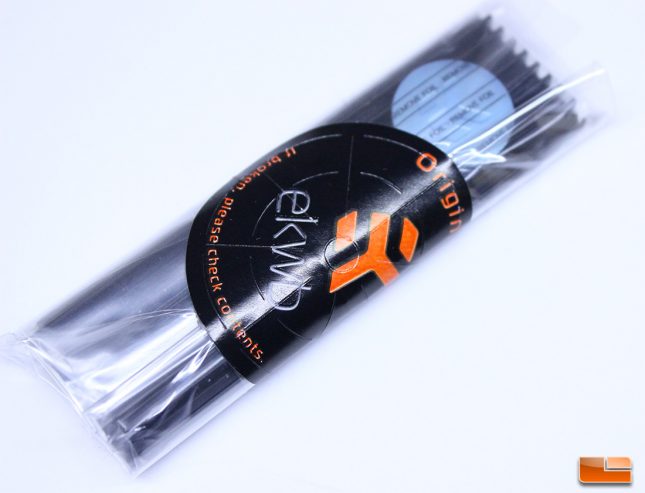 EKWB ships every M.2 NVMe Heatsink in a protective bag with an EKWB anti tamper sticker in it, which keeps the heatsink well protected during shipping. If you should receive an EK M.2 NVMe heatsink without this protective packaging, it may have been tampered with or used previously.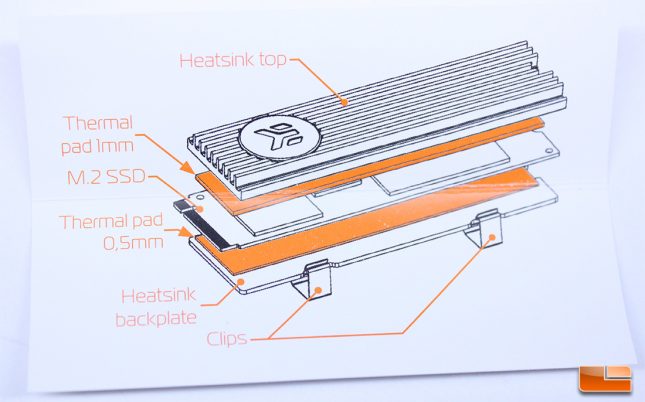 The instruction guide included with the EK-M.2 NVMe Heatsink is very basic and more of a parts diagram than anything, as it doesn't have any steps or detailed info on how to do more daunting steps, like getting the clips on optimally.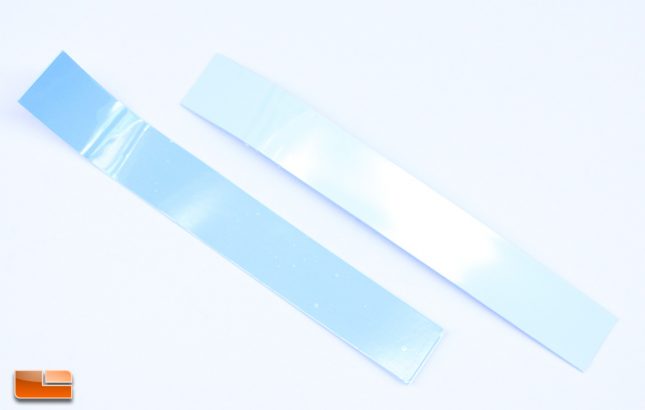 EKWB includes two different thickness of high quality thermal pads with their M.2 NVMe Heatsink. These pads are to be used to ensure proper contact between the M.2 drive and heatsink and EKWB includes enough material to do a couple of installs. There is tape to protect both sides of the material and this tape can be a bit tricky to peel, but that's better than having it fall off during shipment and leave your thermal pads covered in debris.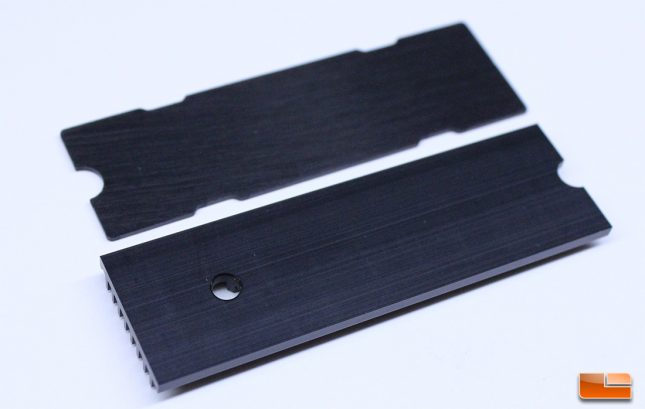 The packaging of the EKWB M.2 NVMe heatsinks is adequate and professional, with EKWB taking every step to ensure the customer is receiving a complete product that is well packaged and ready to be installed with little modification, right out of the box. Our heatsinks arrived in good shape, without any missing parts or shipping-related damage.
A Closer Look At The EK-M.2 NVMe Heatsink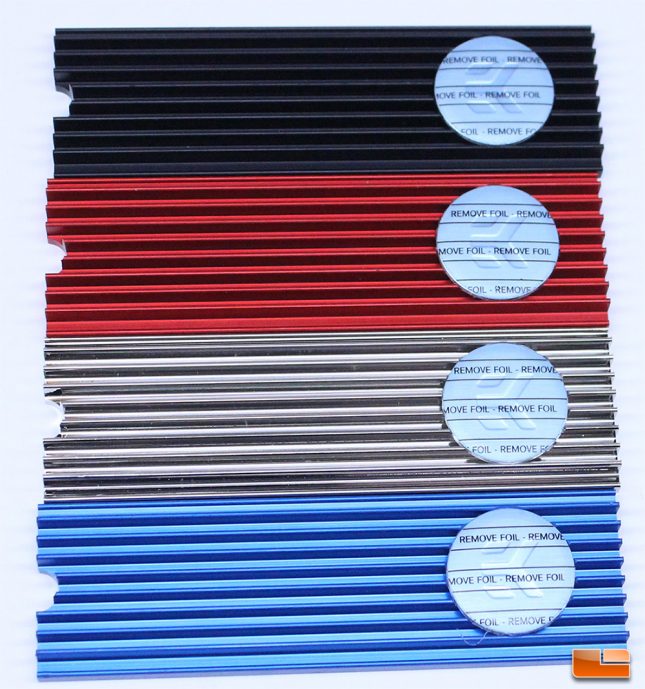 The EKWB M.2 NVMe heatsink features two pieces, both manufactured to exact standards from high quality aluminum. The main heatsink is 3.5 mm tall from the base to the top fin, with the fins having about 2mm of spacing between them. The main piece of the EKWB M.2 NVMe heatsink is very solid and durable, with all of the fins consistent and smooth. EK has several colors available, with the black, red, nickel and blue versions pictured above and purple, green and gold not pictured. Regardless of color, each EK M.2 NVMe heatsink features the same exact reflective EK logo and the look is absolutely beautiful, with EK taking time to ensure the heatsinks have an industrial appeal paired with a decent selection of beautiful anodized colors available. Looking closely, we can see that EK has done a good job with the machining on these heatsinks, though there are some small scratches in the nickel that I noted.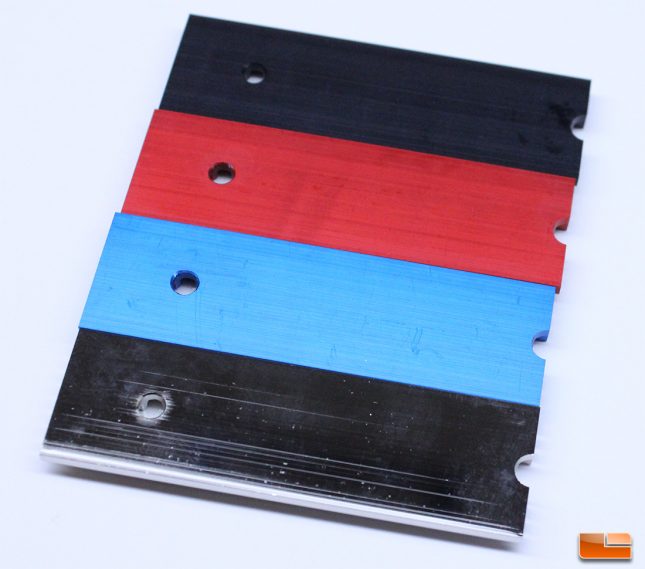 The base of each EKWB M.2 heatsink is machined well, though I was able to polish them a bit more than they were from the factory and the bases were certainly far from smooth, with some having light scratch marks and other minor imperfections. Given that these use a thermal pad for interface and the surface is smooth enough, I doubt lapping would help much, especially given the thin amount of material available. I'd recommend to anybody purchasing a new heatsink to clean it properly with some isopropyl alcohol and a microfiber cloth before use, as there is no telling what could be on the surface left over from manufacturing and it's always nice to make sure your surfaces are clean before mating.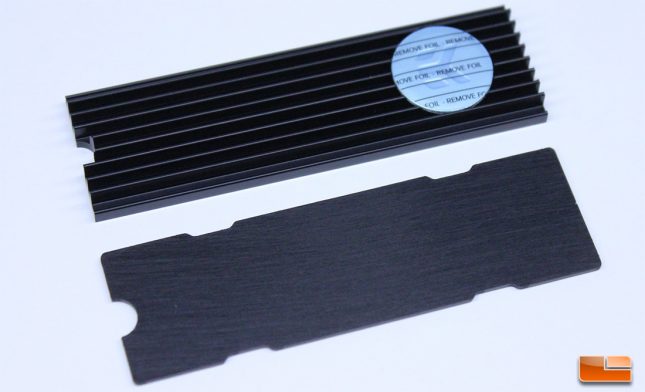 The backplate for each EKWB M.2 NVMe Heatsink is the same, a thin, nicely machined piece of aluminum with proper cutouts for the screw and clips. Because the backplate has a hole on one end, it is impossible to line up improperly. The backplate is the same length and width as the top part and is very nicely manufactured. The thin nature of this backplate allows for the EKWB M.2 NVMe Heatsinks to not interfere with motherboards that have proper spacing while giving the main heatsink a solid foundation to grasp and hold to. I've seen some solutions that just sit on top of the drives with thermal tape, but don't actually secure to the drive beyond that, so EKWB has done a good job with their heatsinks when it comes to providing the foundation for a secure installation.