ECS Is Working to Make the PC World Smaller
By
ECS Is Working to Make the PC World Smaller
ECS was hosing a private suite at CES 2016, while they were showing off some of their LIVA systems, and current motherboards, they were also showing off some of their new innovations and prototypes. Such as their latest entry into the uSFF market with the LIVA ONE, their first DIY 5×5 mSTX motherboard, and a prototype 3D Scanner camera.
LIVA Mini-PC
The ECS LIVA mini-pc family is known for being small and unobtrusive mini computers. The latest model, LIVA ONE, has a slightly larger form factor, however it is a thinner device.
Chipset: Intel H110
Processor: Intel Skylake i3, i5, i7
Memory: DDR3 SO-DIMM (16GB Max)
Display: HDMI / DisplayPort / VGA
Storage: M.2 / 1x SATA
Card Reader: MicroSD (front)
USB: 4x USB 3.1 (Gen 1) / 1x Type-C
Networking: Intel Gigabit
Wireless: Intel WiFi AC
VESA Compliant: Yes, Bracket included
Dimensions: 173mm x 176mm x 33mm
For those that need a more advanced version of the LIVA ONE, ECS also has the LIVA SF100, which is more geared towards the enterprise. While essentially the same as the LIVA ONE, it does have a few changes. For example, rather than the H110 chipset, the SF100 is based on the Q170. USB ports have been changed around a litltle as well, with 6x USB 3.1 (Gen 1) and 2 USB 2.0 ports. Memory has been upgraded from DDR3 to DDR4, and there is an add-on module that provides an optical drive.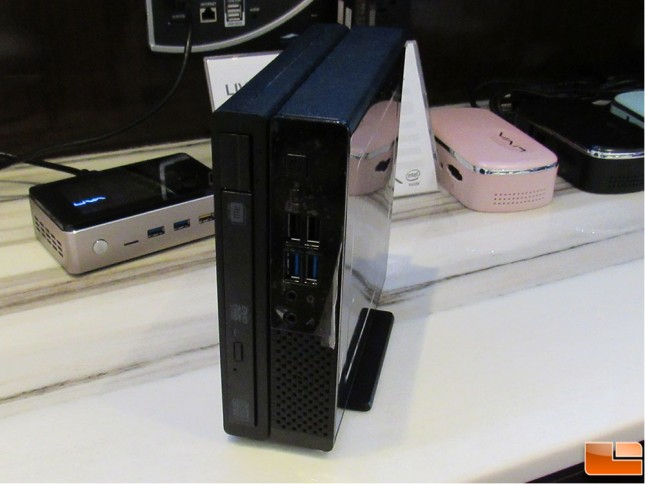 With the redesign of the LIVA ONE and SF100, ECS is not dropping their original design of the LIVA series. ECS is seeing close to a 20% growth in the uSFF market, so this year they will have various new models coming out. While this isn't surprising, they are making advances to make the tiny systems a bit more user friendly. One of the chief issues with the putting tiny uSFF systems into any environment, is that you still need to have a keyboard and mouse to use them to their fullest. ECS has come up with a piece of software that is compatible with Android and iOS to use your smartphone or tablet as a wireless touchpad, and keyboard with their LIVA systems! Of course that's not all that it can do, the software will also allow your smartdevice to work as a file sharing device, sharing photos, videos, and even YouTube video's from your phone or tablet to the LIVA desktop!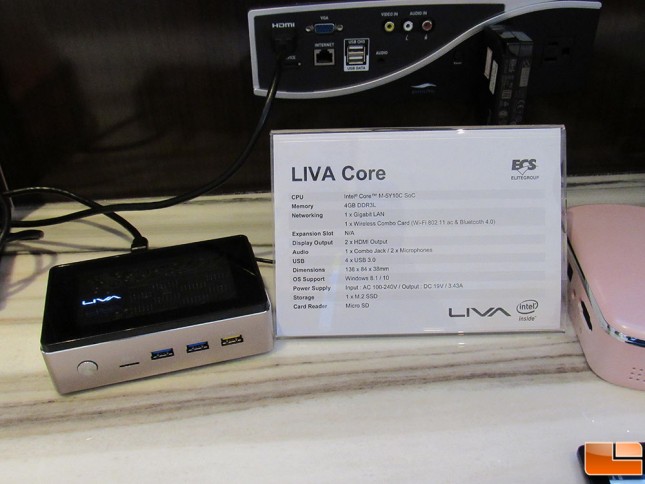 5×5 Mini STX Motherboard
Like most motherboard manufacturers, ECS will be releasing a range of new motherboards throughout 2016. One of the exciting motherboards is the ECS H110SU-02; a tiny 5″ x 5″ motherboard that will support Intel Skylake i3, i5, i7, Celeron and Pentium processors up to 64W. Memory will be provided by 2x DDR4 SODIMM slots. Two M.2 slots will be available, one for a wireless networking card, and the other for a M.2 SSD. On a tiny motherboard, the USB ports are limited to 2x USB 3.1 (Gen 1) and 1x Type-C port. One of the things to be aware of, is that graphics is only provided by the integrated Intel GPU. There are no options for an add-on GPU since there is no PCIe slots!
Glancing at the rear I/O ports, we find very few ports, AC power is provided by an external power brick, a single DisplayPort and HDMI is available for video connectivity. Then we have on-board gigabit Ethernet connection and the two USB 3.1 (Gen 1) ports. Other motherboard manufacturers are working on developing 5×5 prototype motherboards, while ECS has already sent their prototype to Intel for certification. They expect to provide more information by Computex 2016.
3D Scanner+
ECS was also showing off a prototype 3D Scanner. While it is still an early prototype, they are hopeful that they will have it on the market later this year. Not all the functions are finalized, and other than acting as a standard camera, they were able to show off one of the views showing its depth perception. They are thinking of also implementing a temperature mode where you can take various pictures based on temperature.
ECS wasn't able to disclose the specifications on the camera, but was able to tell us the basics on what they are planning for it. What they were able to tell us is that it is based on Android, and will have some built-in storage, along with an SD slot. It will communicate to your system either through WiFi or a Bluetooth connection, and will be able to pair with a smartphone to transmit data, along with the built-in sensors. As we are able to find out more on this new 3D Scanner camera, we'll be sure to let you know.
With multiple prototype devices on display at CES 2016, ECS looks to have an exciting line-up for 2016. We look forward to getting more information on these prototypes by Computex 2016.