EC Technology 2nd Gen 22400mAh External USB Battery Review
By
If you are tired of your mobile devices dying when you travel you might be online right now searching for a large external battery pack to keep everything charged. The EC Technology 2nd Generation 22400mAh 3-port USB portable battery charger for $34.99 with free shipping might be just the solution that you need. This particular model is rather inexpensive and has a massive battery capacity rating. Sure, most of the lesser-known or 'generic' battery packs that originate from China might be exaggerating their capacity ratings, but even slightly exaggerated this 'Made in China' battery pack is appealing and has received good reviews.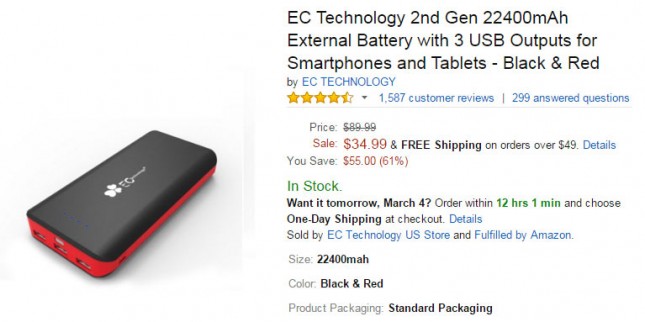 The EC Technology 22400mAh high-capacity battery pack is one of the largest and heaviest battery packs that we have ever used. The battery pack by itself with no cables weighed in a 1.04 lbs or 474 grams on our shipping scale. It also measures 160mm x 80mm x 23mm, so at 6.3-inches in length it a bit large for a pant pocket and too heavy to toss in a purse.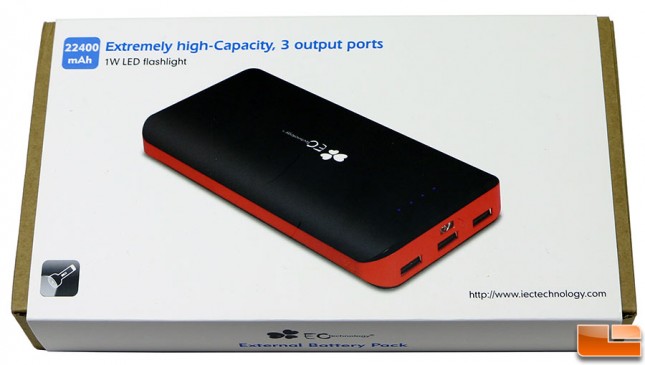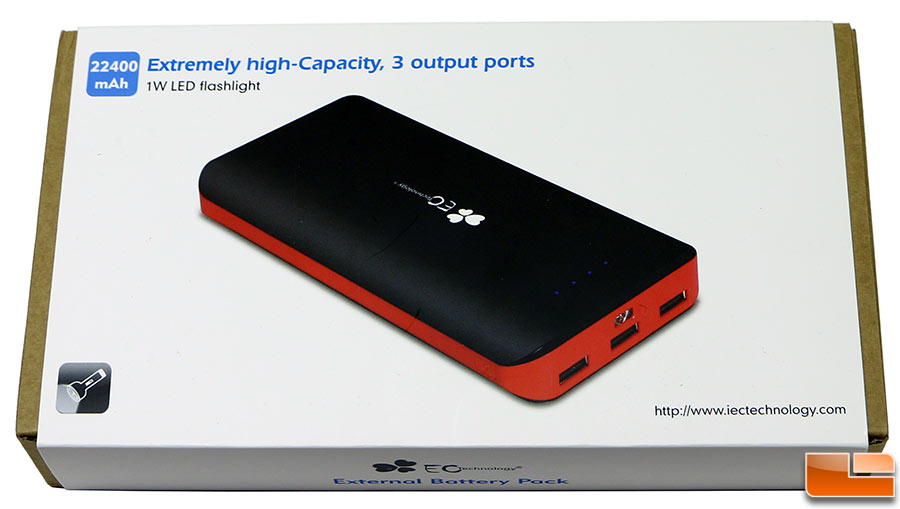 There are a number of different colors available, but the red/black combination that we got as a test sample just happens to be the lowest priced.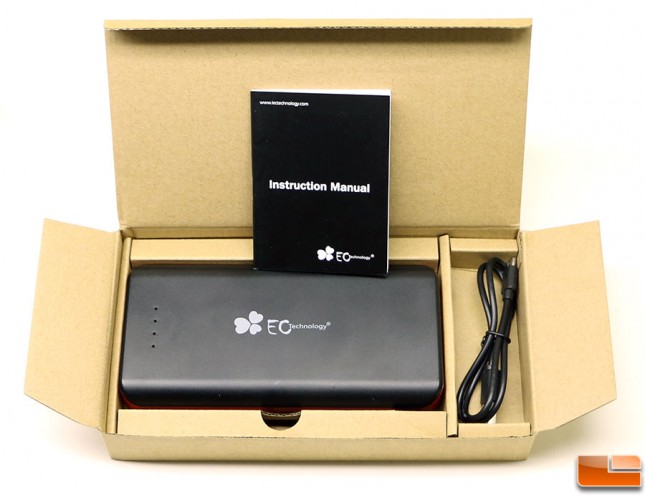 Inside the retail packaging you'll find the battery pack, instruction manual and a single USB Type-A to micro-USB cable. EC Technology touts that this battery pack supports rapid input charging (DC 5V 2A), but doesn't include the wall charger to do that. Most USB ports and wall chargers output DC 5V 1A, so charging this battery will take nearly an entire day when using a 1A charger or roughly 12-hours on a 2A charger.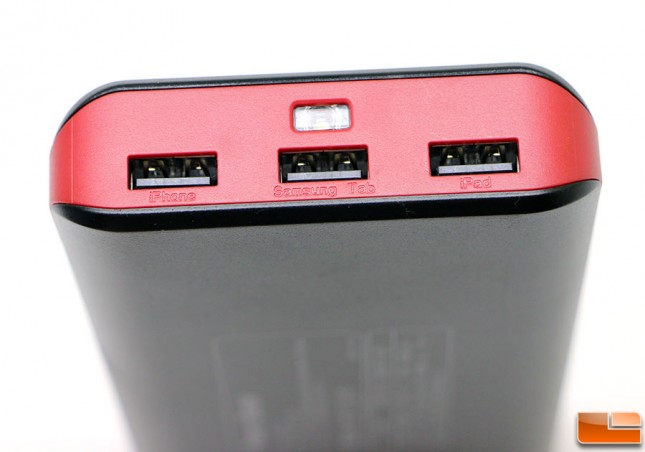 On the end of power pack you'll find three USB Type-A ports that are labeled iPhone, Samsung Tab and iPad. Above the ports is the 1W LED flashlight. With two quick taps of the power button the flashlight turns on, two more and it gets brighter, two more taps gives you a strobe and then another double-tap turns it off. It's a decent flashlight but not ultra-bright and likely a feature that most won't use.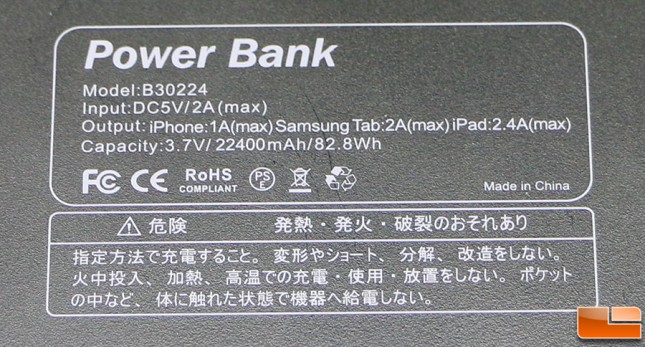 The EC Technology 22400mAh Power Bank that we are looking at today is sold under model number B30224. The 22,400mAh or 82.8Wh capacity battery appears to be using 3.7V cells. Note that the power ouputs top out at 1A on the iPhone port, 2A on the Samsung Tab port and 2.4A on the iPad port. The instruction manual shows that the maximum simultaneous output is just 3.1A, so if you use all three ports at the same time you are basically limited to 1A per port and as this power pack isn't capable of delivering 5.4A of power all at once.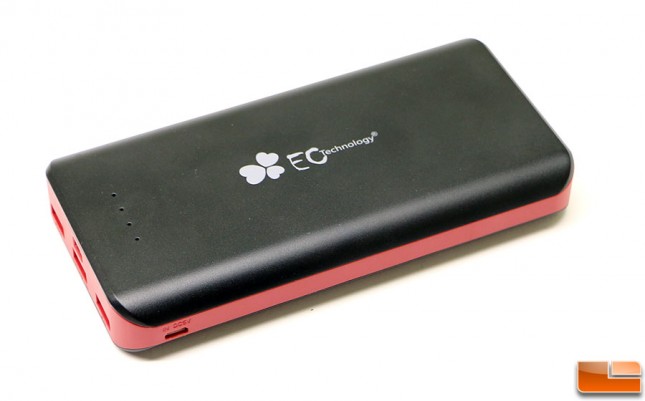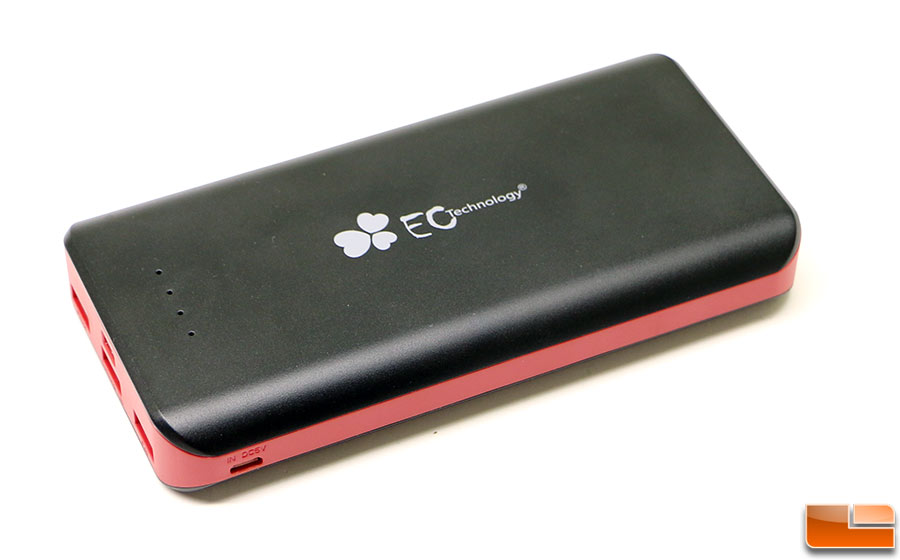 The EC Technology 2nd Gen 22400mAh External Battery has a 4-LED battery status indicator light on the top of the unit that has blue LED lights. According to the instruction sheet, each LED is supposed to represent 25% of charge and when all four stay lit it is fully charged. The DC 5V micro-USB power input is located on the side of the unit and on the opposite side there is the power/flashlight button. It should be noted that this power bank does not support pass-thru charging.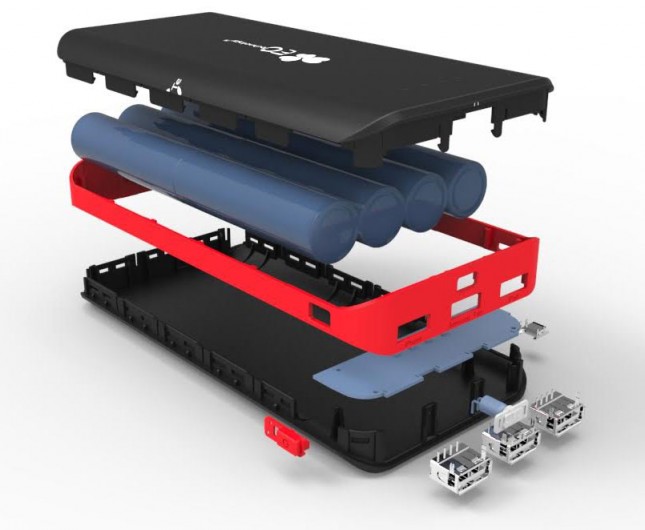 We didn't want to crack open our unit, but EC Technology confirmed that it uses eight 3.7v 18650 batteries that each hold 2800mAh per cell. EC Technology uses a boost converter to change the amplify the 3.7V on the cells to a 5.0V output.
EC Technology 22400mAh Power Pack Testing
To test this charger we fully charged it and then charged three devices on it. All the devices were 100% dead and were turned off when re-charging.
Huawei Mate – 4,000mAh battery
NVIDIA SHIELD Tablet – 5197mAh battery
ASUS Nexus 7 2013 Edition – 3,950mAh battery
Total – 13,147mAh
The EC Technology 22400mAh external battery charged all three devices to 100% and then we plugged in a drained Samsung Galaxy S5 smartphone it only charged it by 2% on the 2800 mAh battery or 56mAh. So, our testing and math show the battery held right around 13,200mAh of power. Where is the other 9,200mAh at? We know the conversion efficiency is only around 80%, but this was more than that. This was disappointing and when we contacted EC Technology about it they only said that didn't sound right. From what they said charging more than one device at a time drops the efficiency rate down to about 60%. The numbers workout damn near perfectly if that is true, so keep that in mind if you pick one of these up.
Final Thoughts and Conclusions
At $34.99 with free shipping the EC Technology 22400mAh 2nd gen power pack worked pretty well. We really wish it had pass-thru charging technology and that it had a better efficiency rate, but for under $35 some of those issues may be overlook-able. If you are okay with a large fairly heavy battery pack that won't break the bank you might want to take a closer look at this model, but we highly suggest getting a 5V 2A wall charger so it doesn't take 24 hours to charge it!