E3 Expo 2012 – SteelSeries Shows Off New Gaming Mice & Headsets
By
E3 Expo 2012 SteelSeries Booth Tour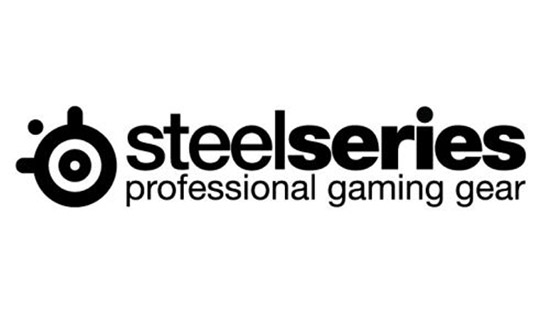 This year at E3 2012, our good friends at SteelSeries invited us to a sneak-peak at some of their upcoming PC peripherals that we can expect for 2012-2013. Even before we got to the meeting room, we could see that the SteelSeries footprint was almost everywhere you looked especially at the Wargaming booth where SteelSeries keyboards, mice, and headsets were on every PC rig on the floor.

VP and Chief Marketing Officer Kim Rom gave us a tour of the booth and brought out some toys to play with SteelSeries World of Warcraft Wireless Mouse, Guild Wars 2 Headset, Counter-Strike: Global Offensive Mouse, SteelSeries Dota 2 Kana Mouse, and SteelSeries Sensei MLG Edition Mouse. Quite a collection for an expo that is supposed to feature next-gen software!
Besides the video from above, here is a quick tour of the hardware that SteelSeries is featuring for 2012:
The SteelSeries Sensei Pro Grade Laser Mouse: MLG edition is a special version based on their award winning Sensei gaming mouse.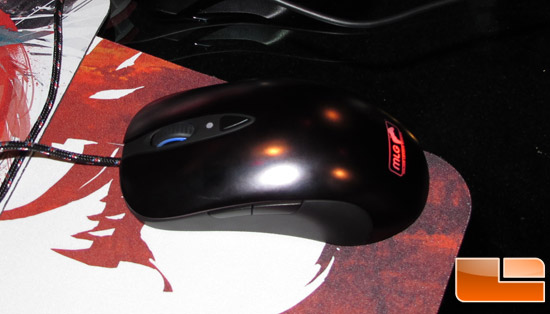 The MLG community chose the surface and skin colors and it has 3 different illumination zones with 16.8 million different color options. The Sensei will go on pre-order this weekend as MLG will be hosted in Anaheim down the road. The MLG Sensei is equipped with a 32 bit ARM Processor and an on-mouse LCD menu for tons of customization. The mouse also features a double braided cord and advanced macro software for the 8 buttons and should retail for under $100.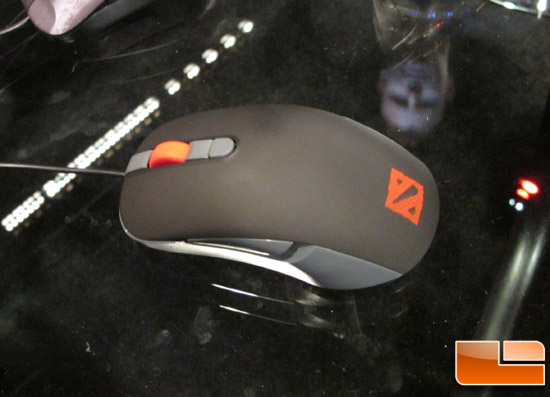 Next out of the box is the SteelSeries Kana Dota 2 Gaming Mouse. The Kana Dota 2 mouse is an ambidextrous designed optical mouse made specifically for the upcoming game DOTA 2. This mouse comes with 6 buttons, an illuminated scroll button and optical technology that operate at 3600 frames per second. This mouse comes in a special DOTA 2 bundle that includes the mouse, mouse-pad and also an DOTA in-game item.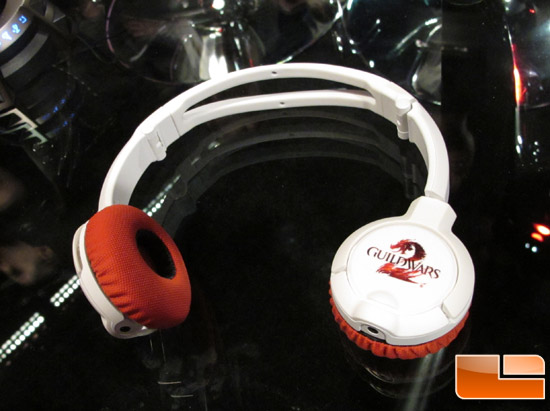 Kim Rom, longtime Director of Design and Marketing personally showed us SteelSeries new Guild Wars 2 Headset. This headset features an in-line omni-directional microphone and controls. The headset also has a detachable microphone and two cable inputs, one on each side of the headset allowing friends to listen in. The earphones are SNDBlock ear cushions made of cloth and leather to keep the gamer comfortable without missing a sound. The headset will be available when Guild Wars 2 hits the streets. We also saw the Guild Wars 2 Gaming mouse that had 8 buttons and red LED illumination with four operating modes. Advanced macro controls allow for long and advanced macros, which can be layered for precise timing.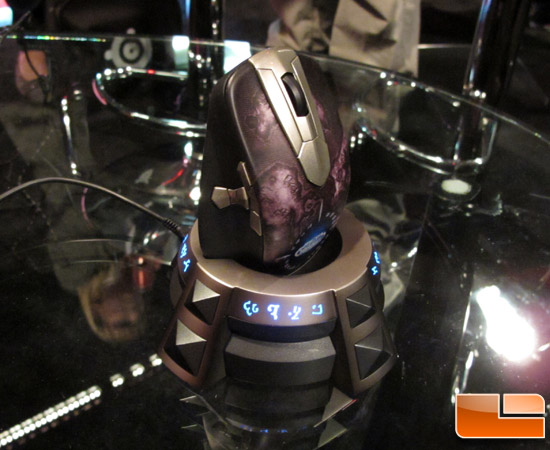 Kim also showed us the prototype of the World of Warcraft Wireless mouse. This wireless mouse was designed and built specifically for World of Warcraft as well as other MMOs. This mouse features 11 programmable buttons and the ability to plug in for wired connection. The programmable buttons can also be reprogrammed through World of Warcrafts player interface on a PC. It will be available later on this year so we expect to see some more tweaks and refinements before it hits the streets.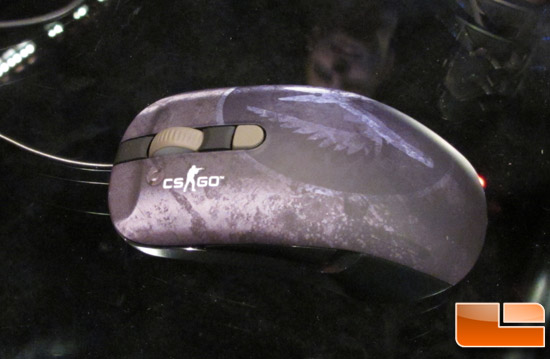 Some other items that we saw in the SteelSeries both included the Siberia V/2 Full-size Headset that is outfitted as a Counterstrike: Global Offensive Special Edition. This special edition features a 50mm speaker driver unit for ultra-clear sounds. The headset also comes with a retractable microphone on the left earpiece, noise reduction foam in the earphones and a volume controller on the headphone cord.
It looks like SteelSeries is continuing to set the pace when it comes to Pro Grade and Tournament-ready peripherals.