E3 Expo 2012 – NVIDIA GeForce Cloud Grid & Tegra 3 Demos
By
NVIDIA Shows Off Cloud GRID and Tegra 3

The 2012 E3 Expo is supposed to be about innovation and our visit to NVIDIAs booth was a perfect example. Not only was NVIDIA showing off
their latest Kepler GPU
in the form of a GeForce GTX 690 housed in a very stylish and mammoth case from Geek Gear, they also had a
GeForce GRID Cloud Gaming
demo up and running on the show floor. We were brought over to the Samsung Smart TV (2012 Samsung LED 7000 Series) that was connected to the internet with an Ethernet cable and loaded with Gaikais online gaming app that is needed for access to the NVIDIA GeForce GRID cloud gaming platform. A few seconds later we were playing Meteor Entertainments new mech warrior game Hawken from a data center about 10 miles away in the heart of LA. Keep in mind we were doing this with just a TV and the remote control as the hardware running the game was miles away.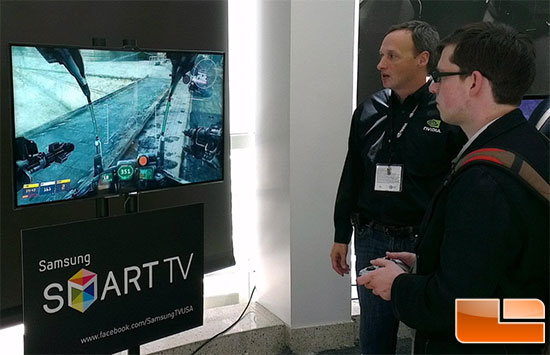 GeForce GRID is the new cloud gaming platform that allows gaming-as-a-service vendors to stream games to virtually any device without lag. NVIDIA says that the streaming technology reduces server latency to as little as 10 milliseconds, which is an acceptable level. With the GRID design architecture, gamers are able to play the latest generation games on any connected device, including smartphones, Android and iOS powered tablets, and television sets such as the Samsung unit they used as a demonstration. The video below goes into a bunch more detail, but we were pretty impressed with the speed and accuracy that was shown. NVIDIA says that GeForce Grid Cloud Gaming will take off and it will be interesting to see what happens. With companies like NVIDIA, Samsung and Gaikai working together you can only assume that it will take off. You can learn more about GeForce GRID cloud gaming here.


NVIDIA also showcased their Tegra 3 processor running on a number of devices designed just for this processor. We were able to view Tegra-optimized games that showed off incredible-looking environments, with high-definition graphics, shaders, and other enhanced effects that were nearly impossible to display on a mobile tablet just a few years ago.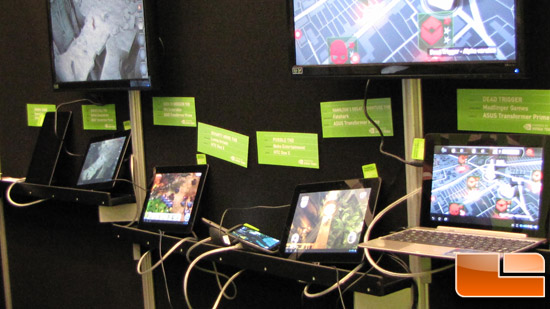 In the video below Keita Iida from NVIDIA shows off the power of NVIDIA's Tegra 3 with Dead Trigger from Madfinger Games, Heroes Call from Defiant Development, Eden To Green from iNiS Corporation, and Hamiltons Great Adventure THD from Fatshark Publishing.

We would like to thank NVIDIA for taking the time to speak with us at E3 and we can't wait to see what they cook up for E3 2013!