Ducky Pocket RGB Mechanical Number Pad Calculator Review
By
Ducky Pocket RGB Mechanical Calculator
A Taiwanese manufacturer known for their lineup of well-built, high quality keyboards, such as the One and Shine 6, Ducky may not carry the name recognition of a Logitech or Corsair among PC users, but those who have had the opportunity to use Ducky products will tell you that they are built to last and carry an aesthetic appeal you don't find with other manufacturers. While many companies make keyboards with an emphasis on software functions and gaming features, Ducky has long been known for producing solid, well-built keyboards with an emphasis on build quality and aesthetic appeal. The Ducky Shine 6, for example, is one of the highest quality Cherry MX-based RGB keyboards on the market, featuring two Double-Layer PCB's, PBT key caps and an ABS frame that is slim, yet solid as a tank. Being the keyboard and mouse reviewer here at Legit Reviews, in addition to being a compatibility lab manager for years, I have had dozens of keyboards come across my desk over the past decade. Ducky and Filco are consistently two brands whose keyboards I would trust to last me for years of use. I am not saying that other keyboard manufacturers aren't good, I just really like my Ducky and Filco units above all others.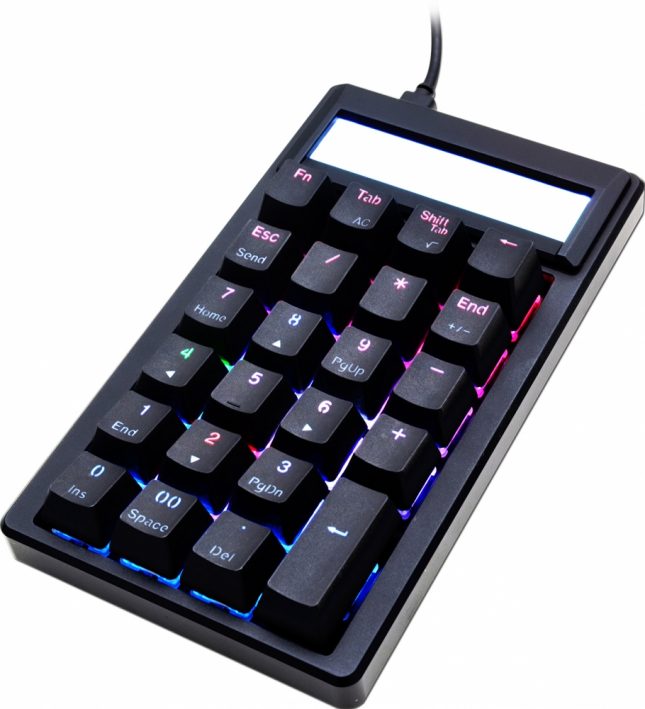 The Ducky Pocket Mechanical RGB Calculator has been out for several months and I am just now covering the product, since I feel our readers might be interested and the Pocket never received much attention or marketing in the states, given the relatively small and unknown status of Ducky. The 23-Button Ducky Pocket can be programmed in a number of ways, allowing to be a versatile input device that could come in handy for streamers, gamers and PC enthusiasts who just need more buttons. Ducky, who has a penchant for putting on RGB on their products, has outfitted each switch on the Pocket with an LED, allowing for a variety of custom RGB modes, including per-key lighting.
Ducky Pocket Details and Specifications
| | |
| --- | --- |
| Brand | Ducky |
| Model | Pocket |
| Size | CALC KEYPAD |
| Physical Layout | US QWERTY |
| Logical Layout | ANSI |
| Switch | Blue Cherry MX (Available w/Cherry MX Brown, Cherry MX Red and Cherry MX Silver switches) |
| Primary LED Color | RGB |
| Special LED Color | RGB |
| Keycap Material | PBT |
| Keycap Color | Black |
| Keycap Print Method | Double Shot |
| Keycap Print Position | Top |
| USB Key Rollover | Full |
| Multimedia Keys | Yes |
| Switch Mount Type | Plate |
| Built in Audio Port | No |
| Built in Mic Port | No |
| Dimensions | 3.74″ x 6.37″ x 1.61 |
| Primary Interface | USB |
| Windows Compatible | Yes (All OS) |
| Weight | 0.62 lbs |
| Cord Length | 60 inches |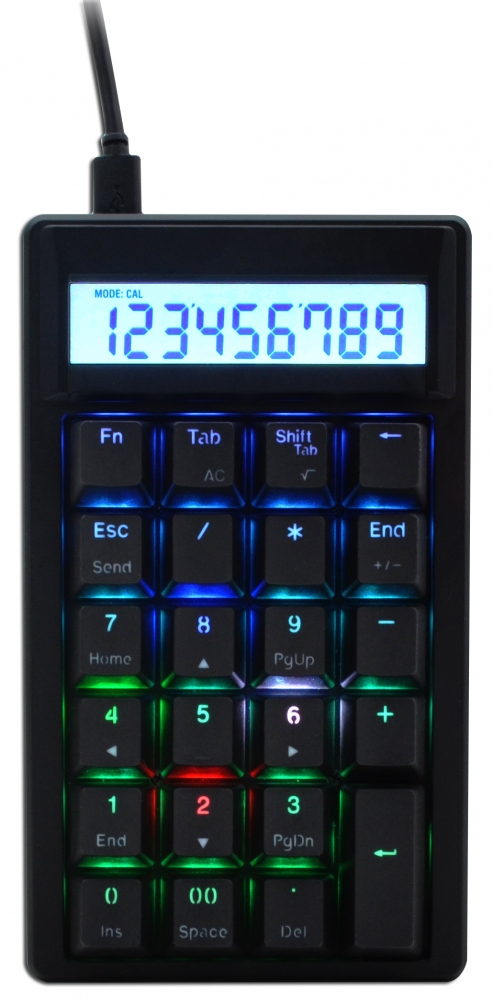 I opted for the Ducky Pocket with Cherry MX Blue switches. While I tend to prefer an MX Brown or MX Silver (Speed) switch for my keyboards, I went with Cherry MX Blue switches on the Pocket because the audible click seemed appropriate on a calculator. Would I really be getting the true mechanical calculator experience without that click? Also, MechanicalKeyboards didn't have my choice of switch available for sale when I made my purchase, so the MX Blue switch became the only option. Right now you can purchase the Ducky Pocket starting at $72 shipped at Amazon.
The Ducky Pocket uses high quality PBT keycaps, which are more durable and long lasting than ABS keycaps, while feeling a bit rougher to the touch. These caps have a really nice textured feel to them and aren't super smooth, but at the same time don't grab your fingers or cause dragging. Since the "Enter" key isn't standard and several of the keys have special fonts based on their function, proper replacement key cap sets would have to be specifically made for the Pocket. This is important to keep in mind, though we don't anticipate the PBT keycaps of the Pocket to have durability issues or wear out anytime in the next few years. Due to how Ducky manufactures these PBT key caps, you'll notice some of the legends have breaks in them, which can detract from the clean look of the lighting.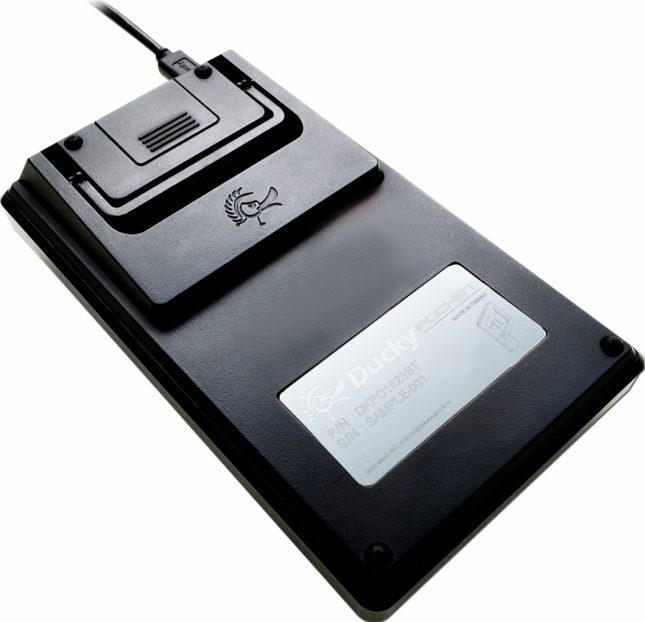 Ducky has taken care to make sure the Pocket is stable on whichever surface it sits on, with rubber stabilizers on each corner and a flip-out riser, similar to what you'd find on a keyboard. The Ducky Pocket runs on USB power, but there is a battery compartment on the rear of the unit that sits above a nicely stamped Ducky logo. Users can insert a CR2032 battery into the compartment and it will operate as a calculator, without RGB lighting. The ability to be used as both a programmable input device and basic calculator is a really unique feature for the Pocket and while it can't replace purposed scientific calculators, it will certainly be a novelty to bust out during high school algebra. There is a battery life indicator on the Ducky Pocket, but I don't know that it is too accurate, as it read a brand new CR2032 battery as being half full initially, but settled on it having full life on the next power on.
The build quality on the Ducky Pocket is excellent. All of the Cherry MX switches are smooth and implemented properly, with a satisfying lift-off distance and nice, stiff backplate that doesn't flex under pressure. The LCD on the unit has a nice, thick protective shell that can handle abuse like a tank, something that my two year old son tested for me. The battery compartment was very fit and nicely implemented, with the door securing and fitting very nicely to the unit. The PBT key caps on the Pocket are top notch, as well. All of the seams on the unit fit very nicely and the tolerances on the Pocket were very tight. Ducky is known for build quality and the Pocket doesn't disappoint, it's built to last.
Programming the Ducky Pocket can be both extremely simple and daunting at the same time, since there is no software available. Ducky provides a full user manual that explains how to adjust RGB lighting and, most importantly, program macros on the unit. There are built in programs that are coded and easy to implement with a four digit code, like Media Controls, Launchers or even Mouse Emulation. Independent key codes can also be macro programmed, making the Ducky Pocket a truly versatile device.
Ducky Pocket RGB Mechanical Calculator – Conclusion
The Ducky Pocket is a niche device, for sure, but at the same time, I can see a usage scenario for just about anybody who regularly uses a PC. Users of tenkeyless keyboards will appreciate the ability to add a macro board to the left side of their keyboard, which will allow them to continue to enjoy the advantage of a TKL keyboard while having additional macro functionality. Competitive FPS players could use the Pocket as a main entry device, giving themselves a lot of extra room for mouse movement. The bottom line is that the Ducky Pocket is a sturdy, capable, compact Cherry MX switch-based entry device that has a variety of potential uses, including functioning as a regular, everyday calculator.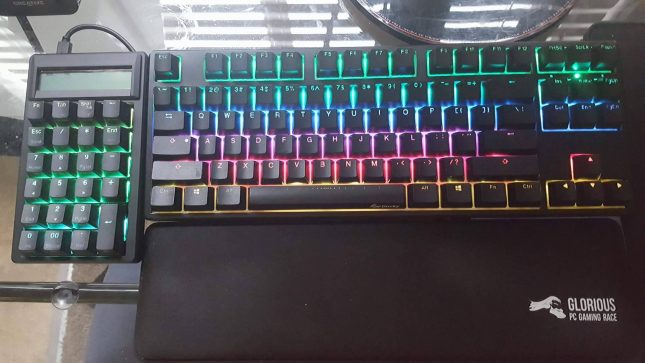 The Ducky Pocket RGB Calculator integrates well with Ducky's TKL keyboard. The left-side numberpad is a go, folks.
As a programmable PC input device, the Pocket works great. The Ducky Pocket, while certainly capable as a basic calculator, is not going to replace a scientific calculator, it just doesn't have the chops to be able to do so. The calculator aspect of the Pocket is more of a novelty, than anything, but it IS an additional function that gives the Ducky purpose as a standalone device that might generate interest from a fellow geek at a library or Starbucks. You can purchase the Ducky Pocket RGB for $72.00 shipped at Amazon.
If you want an additional input device for your PC, there are no shortage of options. Razer has recently announced the Tartarus V2 ($79.99 shipped), which offers scroll functionality and a thumb joystick, which will make it more appealing to gamers. Another popular input device that I personally recommend is the Logitech G13 ($57.76 shipped), which has a nice LCD readout for stats, along with a thumb stick and wrist rest. The Ducky Pocket doesn't have a software suite that integrates into Windows and is a more basic device than either the Logitech G13 or Razer Tartarus V2, but it has a minimalist appeal and unique styling, along with Cherry MX switches, something the other units can't claim. The Ducky Pocket has a lot going for it and I just wanted the opportunity to share this device, as niche as it may be, with our readers.