Dream Machine: Kentsfield + 8800GTX SLI + 680i SLI
By
Building A Dream Machine
Launch day is finally here and the latest hardware from NVIDIA is amazing to say the least, but that doesn?t mean it has been an easy road to get here. NVIDIA began development of the G80 core four years ago and since that time over 375 employees have had a hand in developing this GPU that marks a number of firsts for NVIDIA. While I would love to cover and benchmark DX10 and SM4 it's impossible to analyze since those items can not be tested on Windows XP Professional. What can be tested is the raw power of these killer new products and that is exactly what I have been trying to do all week.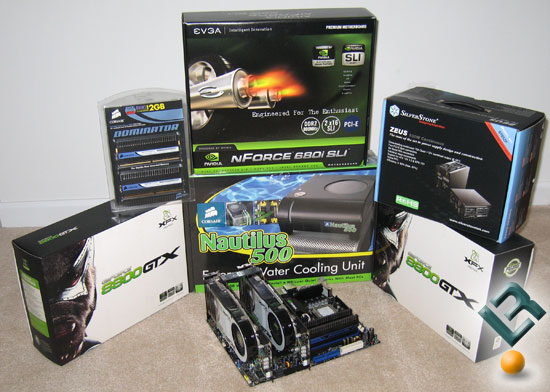 A number of new products launch today and since some of the products we had just a day or two in advance it was impossible to get a full article published on each product as it often takes well over a week to correctly benchmark a new product. To build one of the fastest systems on the market today that would get people talking I started off with the just released eVGA nForce 680i SLI motherboard and mounted up the recently reviewed Intel Core 2 Quad Extreme Processor QX6700 to power the system. I then used the pair of XFX GeForce 8800GTX graphics cards that were launched today in combination with a SilverStone Zeus power supply. Since each GeForce 8800GTX comes with two 6-pin PCIe power headers per card and running a pair in SLI requires at least a 750W PSU we had to upgrade the PSU on our test bench and the 850W SilverStone Zeus provided clean power for our dream machine. To keep the data flowing smoothly we ran a set of Corsair DOMINATOR PC2-9136 memory modules that were also released on the market today and a Western Digital 250GB SATA hard drive. Since the Intel quad-core processor gets pretty hot the CPU will be cooled thanks to a Corsair Nautilus 500 water cooling unit. This machine is so impressive and expensive this is by far the dream machine of gamers around the world.
Cost Sheet:
Intel Core 2 Extreme Processor QX6700 – $1299.99
eVGA nForce 680i SLI Motherboard – $269.99
XFX GeForce 8800GTX Graphics Card – $659.99
XFX GeForce 8800GTX Graphics Card – $659.99
Corsair DOMINATOR PC2-9136 Memory – ~$459.00
Western Digital Caviar RE WD2500 Hard Drive – $79.99
Corsair Nautilus 500 Water Cooler – $149.99
SilverStone Zeus 850W Power Supply- ~$274.99
Just the core hardware of the system will set you back over $4,000 and that's not counting optical drives, the case, cooling fans, input devices and all the software needed for a complete system build! What does nearly $4,000 in computer hardware look like when it's all up and running?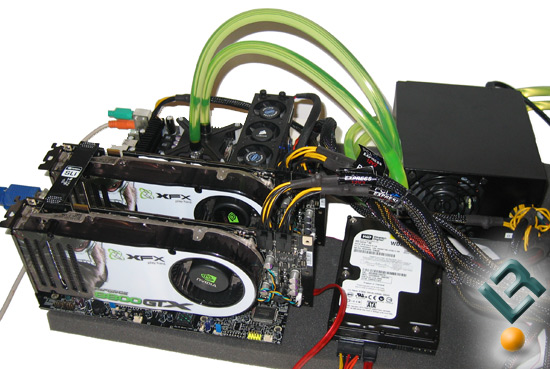 Much to my dismay, I found that this expensive test system had a number of serious problems. I've spent the past two days working with four motherboard BIOS revisions, three Forceware drivers, a dozen memory modules and too many processors to keep count. At 5am this morning I finally threw in the towel on trying to get quad-core to work as the system would lock up or blue screen during benchmarking for no reason at all. I then used the Intel Core 2 Extreme Procesor X6800 and found that the system never crashed or locked up a single time. We were in constant contact with the engineers at NVIDIA during the course of our testing and came to the general conclusion that the engineering sample processor that I have is not playing nice with the 680i chipset motherboard that we were using. Since Kentsfield was not stable on our system I tried and was able to get a couple passes with out 8800 GTX SLI system.