Diamond Xtreme Sound 7.1 XS71HDU USB Sound Card Review
By
Diamond Xtreme Sound 7.1
With over a decade of experience in computer audio, Diamond is no stranger to PC sound cards and we come into this review with hopes for a positive impression of the Xtreme Sound 7.1 XS71HDU. Since just about every computer has USB ports, a USB sound card, unlike an internal desktop sound card, is useful to laptop owners and all-in-one computer owners or even people who want to share this device across different systems. The XS71HDU is the newest entrant in Diamond's lineup of Xtreme Sound cards which includes an older USB card also called Xtreme Sound 7.1, but different model name.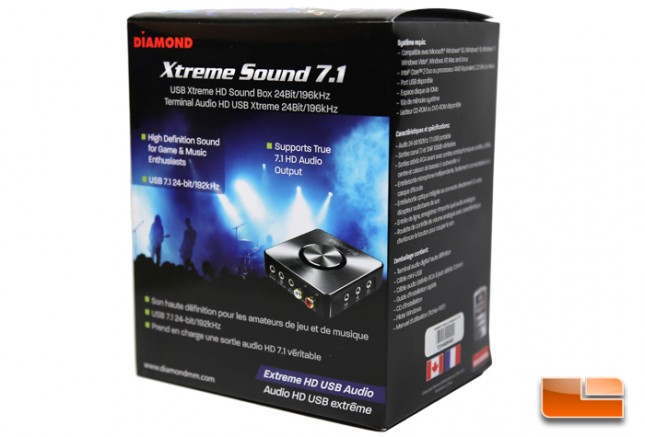 The Diamond Xtreme Sound 7.1 XS71HDU is a compact USB sound card with headphone, speakers, and optical outputs and microphone, line-in, and optical-in inputs. Up to 24-bit and 192KHz audio output bit rate is supported. Don't let the looks fool you. This remarkably simple looking sound card is accompanied by a robust software control panel. The Xtreme Sound 7.1 is backed by a 1-year warranty and is available now for $69.99 plus shipping.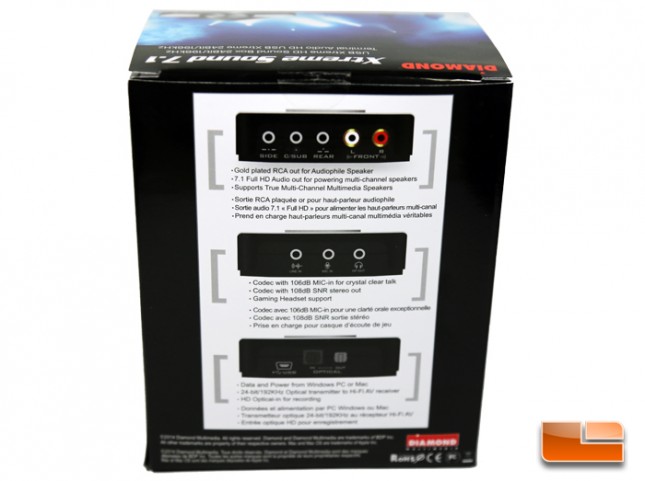 Diamond Xtreme Sound 7.1 XS71HDU Features and Specifications
Portable 24-bit/192khz 7.1 USB Audio
Analog volume control wheel with push-button mute feature
Gold plated RCA out for Audiophile Speaker
7.1 Full HD Audio out for powering multi-channel speakers
Supports True Multi-Channel Multimedia Speakers
Codec with 106dB MIC-in for crystal clear talk
Codec with 108dB SNR stereo out
Gaming Headset support
Data and Power from Windows PC or Mac
24-bit/192KHz Optical transmitter to Hi-Fi AV receiver
HD Optical-in for recording
The Xtreme Sound 7.1 comes with a quick start guide, a driver CD, a USB-to-mini USB cable, and a male 3.5mm stereo to male stereo RCA cable. Next, let's take a closer look at this little sound card.