Diamond USB 3.0 to 4K DisplayPort Video Adapter Review
By
Are you looking for a simple and easy to use product that will allow you to hook up and utilize the real estate of a 4K Ultra High Definition (UHD) display on your aging PC? If you happen to be in this unfortunate situation you are in luck as the Diamond Multimedia BVU5500 USB 3.0 to 4K DisplayPort Graphics Adapter allows you to connect an older PC, laptop or even a tablet to a newer display and it supports resolutions up to 4K (3840 x 2160).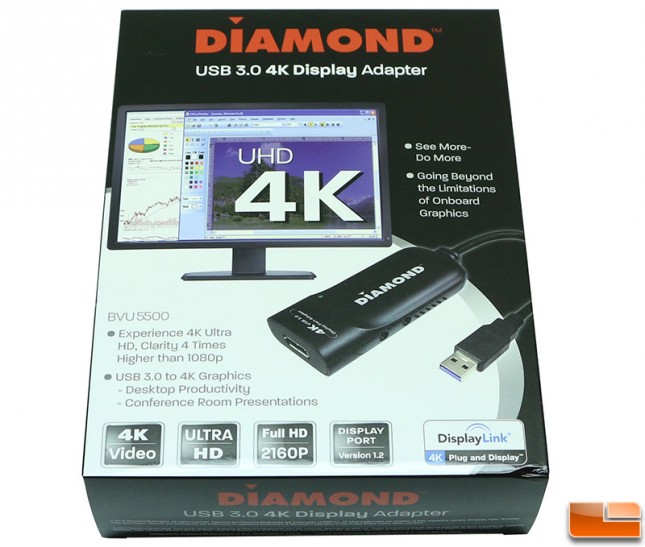 The Diamond USB 3.0 to 4K Display Adapter is sold under part number BVU5500 and can be found on Amazon for $69.99 shipped.
Diamond USB 3.0 to 4K Display Adapter Features:
Connectors: Standard DisplayPort 1.2 & USB 3.0 A Male
Chipset: DisplayLink DL-5500
Number of Displays Supported: 1 per BVU5500 adapter (Max. 6 adapters)
Maximum Resolution: 38402160p30
HDCP: Yes, Protected video playback HDCP 2.0
Compatibility: 100% compatible with existing DisplayLink universal docking
Power: USB Bus Powered (No External Power Supply Needed)
OS Support: Windows 8.1, 8, 7 and M ac OS 10.8, 10.9 and 10.10.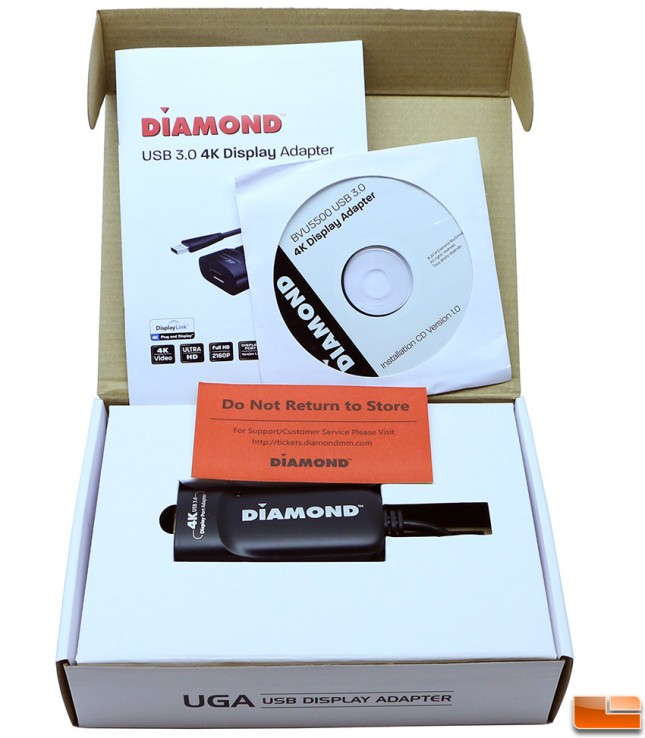 Inside the retail box you'll fine a smaller inner box that says UGA USB Display Adapter on all six sides. Inside that box you'll find the BVU5500 USB 3.0 to Display Port 4K Graphics Adapter, Quick Installation Guide,
Installation CD with drivers and a piece of paper that says not to return this item to the store you bought it from.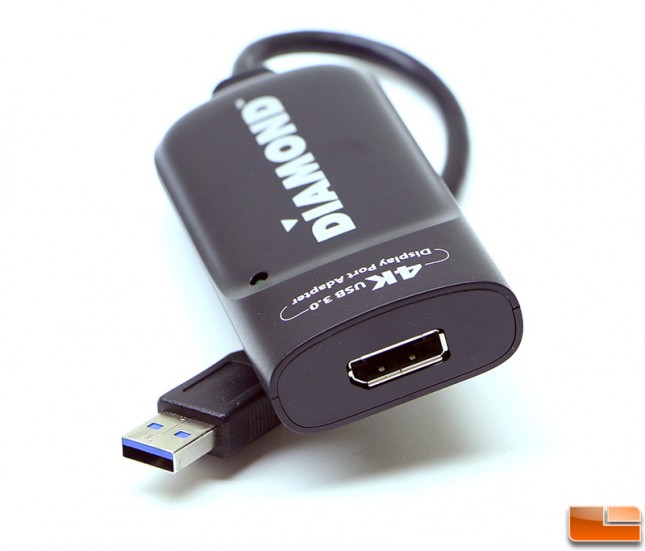 The Diamond BVU5500 measures 3.2″ x 1.9″ x 1.0″ (LxWxH) and weighs just 3.2 Ounces, so it is pretty small adapter that will easily fit in a laptop back if you need to travel with it. When it comes to the video connectors you'll find standard sized USB 3.0 and DisplayPort 1.2 headers. This means that only one display can be run off the BVU5500 adapter, but you can run up to six of these on one system if you needed to setup multiple displays. On top of the adapter there is a green LED light that is lit when the adapter is being actively used.

On one side of the Diamond USB 3.0 to 4K Display Adapter you'll find a pair of 3.5mm audio jacks for DisplayPort audio in/out capabilities. Both sides of the plastic housing have vent holes to ensure the passively cooled DisplayLink DL-5500 SoC doesn't over heat. There are also four rubber pads on the bottom of the enclosure to keep it from sliding around or scratching on whatever surface it is placed on.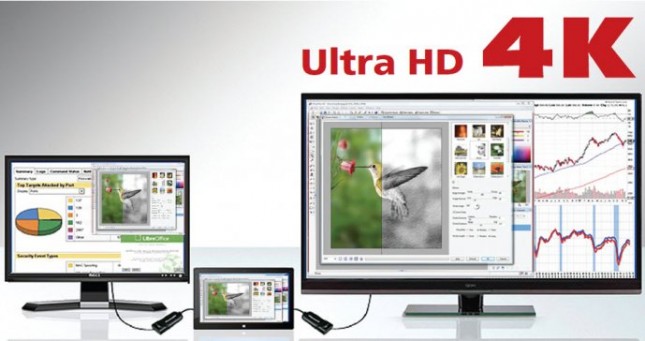 To try out the Diamond USB 3.0 to 4K Display Adapter we hooked it up to our ASUS UX31A Zenbook (Intel Ultrabook) that was running Windows 8.1 and connected it with our DisplayPort 1.2 cable to the ASUS PB287Q 4K UHD display. We downloaded the latest drivers from the Diamond website since out Ultrabook doesn't have an optical drive and in a matter of seconds we had a second display working perfectly!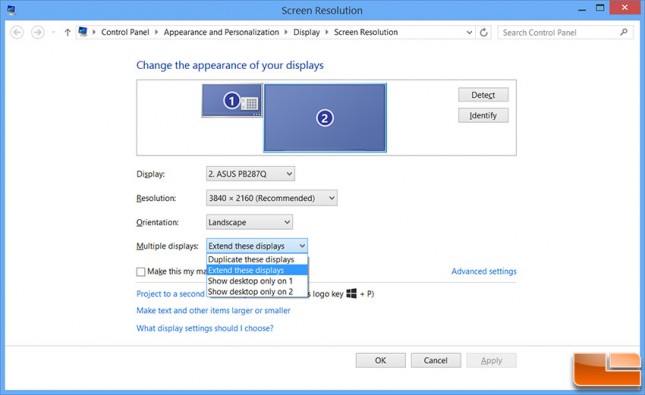 You can go into the Display settings and setup the display exactly how you want it. Some users will want to extend the display on their device or duplicate it. You can also change the orientation (landscape vs portrait) and the overall display resolution.

The one thing we noticed right away is that the DisplayLink Software that we just downloaded and installed from Diamond for the DisplayLink DL-5500 SoC was outdated. It appears that Diamond hasn't updated their support site in some time and are still hosting 7.6 M0 drivers from April 2014. This driver is actually four versions behind and the most recent is version 7.7 M4. Diamond Multimedia is just using the regular off the shelf DisplayLink USB Graphics Software, so we suggest going there and downloading the latest driver for your system to ensure you are getting the best user experience.
Update 03/12/2015 – Diamond Multimedia has updated their support site to include the latest driver after we brought this issue to their attention. We still advise checking out the DisplayLink support page above to ensure you are using the latest driver though!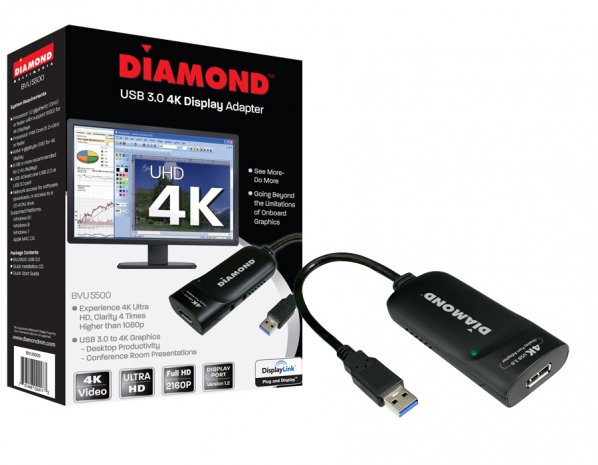 Final Thoughts and Conclusions:
The Diamond USB 3.0 to 4K Display Adapter (part number BVU5500) is ideal for anyone that is wanting to run a 4K UHD display to increase desktop work space or to give that killer presentation in a conference room. You can also use it for digital signage or a slew of other areas that can benefit from the latest 4K monitors. The Diamond BVU5500 can be used by itself or in combination with existing DisplayLink-enabled docking stations such as Diamond Multimedia's DS3900V2, DS3900, or MDS3900 to add additional monitors.
At the end of the day the Diamond USB 3.0 to 4K Display Adapter was found to be super easy to setup and use. We were disappointed to find out that Diamond support/driver site is 10 months behind on the software needed for this product, but thankfully you can go straight to DisplayLink and get the software from them. Besides the older software issue we had no other issues with the BVU5500 and easily recommend it to anyone looking for a USB 3.0 to 4K Ultra HD monitor solution. You can find the Diamond USB 3.0 to 4K Display adapter on Amazon for $69.99 shipped.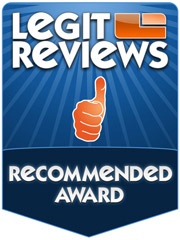 Legit Bottom Line: The Diamond USB 3.0 to 4K Display Adapter will allow you to hook up a 4K display to an older PC or Mac in seconds!