Dell XPS 600 Renegade Systems Sell Out
By
Dell's $10,000 Gaming Beast Has Sold Out
Legit Reviews first saw the Dell XPS 600 Renegade while at CES 2006 back in January (Previous Article) and was impressed with the system and the custom paint job that Mike Lavallee did on these limited edition gaming systems. When Dell put the systems on sale last week, they were jam packed with the latest in technology, which the price reflected. The Dell XPS 600 Renegade system came with the Dell 3007WFP 30-inch flat panel monitor and prices started at $9,930. While we saw many publications joke about the rich buying these and some stated that no one in their right mind would buy these gaming systems, Legit Reviews found out that they sold out in under a week! Who is laughing now?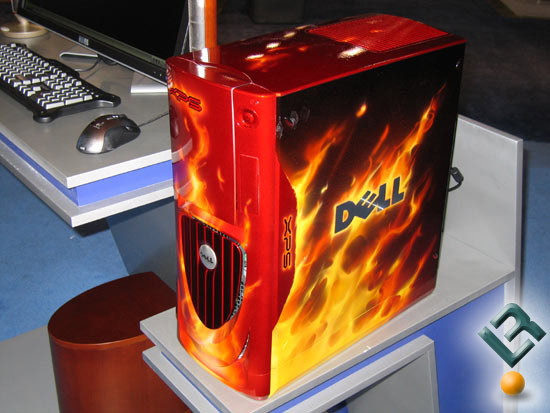 We spoke with Dell yesterday and asked if they thought that the Dell XPS 600 Renegade was a success and their reply was, "It was intended to showcase our commitment to gaming". Our contact at Dell never did say it was a success and made it clear that it was designed to show consumers that Dell can build a cutting edge gaming system if they really wanted to. I don't think anyone can argue against that after looking at the specifications on the Dell XPS 600 Renegade.
Dell included the industry's first dedicated physics accelerator the, AGEIA PhysX processor, which provides real-time dynamic motion and interaction. The desktop also featured the world's first Quad-SLI graphics technology thanks to four NVIDIA GeForce 7900 graphics processors with 2GB of GDDR3 memory. When these video cards are paired to the Dell 3007WFP 30-inch widescreen flat panel monitor, gamers will get 2,560 x 1,600 resolutions! Then when it came to the processor, Dell included the latest Intel Pentium Processor 965 Extreme Edition (Presler Edition) with 4MB of cache and overclocked that up to 4.26GHz for improved gaming performance. To top that all off the system included a pair of Western Digital RaptorX hard drives that operate at 10,000 RPM's with a window on them showing the inside of the working drive. All this was backed by specialized XPS support and a one year warranty!
Want to know exactly how many of these cases were made? We did and when we asked Dell their answer was:
"Since each chassis was hand painted, quantities were limited. We're not sharing the actual number. It's important to remember that through its engineering expertise and partnerships, Dell has engineered unprecedented performance. The Renegade is an excellent example of Dell's ability to deliver cutting edge technologies such as dedicated physics and quad graphics. True to our heritage we are driving to make these high-end features more broadly available over time."
It seems that Dell is not willing to talk about production numbers, but as you can tell from Dell's comments they weren't trying to sell a platform. They were trying to show the world that Dell can build a gaming system if they wanted to. Dell did just that and used their name and reputation pull out other big names, like Mike Lavallee, and produced a product that made its own price point. At $9,930 these systems were not cheap, but they sold out in under a week. Who said that PC gaming is dead?
If you didn't get a chance to order one of these systems don't feel bad as our sources tell us that they were sold before Dell really did any advertising. Dell will not comment on if they will release more systems like the Dell XPS 600 Renegade, but sources that can't be mentioned led us to believe more will be coming. Dell did, after all, buy Alienware and if they are going after the gaming market we expect to see more luxury gaming systems from Dell with custom paint done by Mike Lavallee. Our best advice is to start saving money for the next round of these works of art!
Update: I just got an e-mail from Kyle Bennett letting me know that his sources at Dell told him 30 Renegade systems were being made. It's obvious that it didn't take long for those 30 to be sold! You can read their post here.