CYBERPOWERPC Announces Power Mega Pro Workstations
By
CYBERPOWERPC Announces Power Mega Pro High-Performance Workstations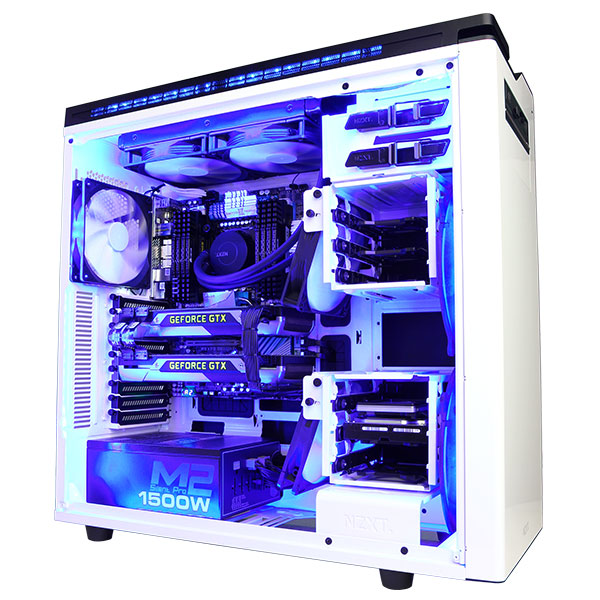 CITY of INDUSTRY, CA (May 15, 2014) Cyberpower Inc., www.cyberpowerpc.com a manufacturer of custom gaming machines, notebook systems, and high performance workstations, today announced its Power Mega Pro series a redesigned family of AMD and Intel high-performance workstations powered by AMD and Intel processors that offer a minimum of 8 processing threads configurable up to 40 threads with dual Intel Xeon E6-2690 v2 processors.


From video editing to 3D design and rendering, the Power Mega Pro series is crafted with premium components to ensure a seamless, reliable computing experience to tackle the most demanding CPU and GPU-intensive applications.

CYBERPOWERPC did extensive research and testing to design the perfect mix of seven base model Power Mega Pro systems all of which offer workstation level performance for running advanced applications out of the box. Customers have a choice of the OpenGL performance of an NVIDIA Quadro GPU, or the ability to distribute a load across 20 or more Intel Xeon processing threads.


Professional applications are rendered with the OpenGL API. Professional workstation graphics cards like the NVIDIA Quadro series and the AMD FirePro series offer tremendous OpenGL performance to ensure navigation is smooth and previews are accurately displayed. Similarly, rendering a 3D animation into video format puts an enormous strain on the processor. The Power Mega Pro series supports multi-CPU, multi-GPU, and multi-monitor configurations to provide even more power to help accelerate your applications.


The Power Mega Pro can accommodate up to four high-performance NVIDIA Quadro or AMD FirePro workstation graphics cards, which can zip through and churn out even the most demanding workloads. The multi-monitor support allows you to spread applications across more screen real estate to boost productivity as well as multi-task without having to constantly switch tasks on a single screen.


All Power Mega Pro models have been tested for compatibility with the leading business, graphics, CAD, rendering, and DCC applications with support for the latest OpenGL, DirectX, NVIDIA CUDA or AMD Eyefinity technology.


Customers have a choice of the NZXT H440, NZXT H630, Corsair 750D, or Corsair 900D chassis, which offer the feature set that professionals require while maintaining a sophisticated appearance appropriate for the workplace. The NZXT H440 is a solid steel chassis with excellent cooling characteristics and expandability options. The NZXT H630 is also a steel chassis thats perfect for dual-processor configurations and maximum airflow. All Power Mega Pro systems are liquid cooled and can be upgraded with more advanced liquid cooling options to enhance thermal dissipation.

The Power Mega Pro series goes one step beyond HD with support for multiple 4K displays. A generous number of lighting-fast SSD options also give you the ability to stream 4K content from your machine and eliminate the storage bottlenecks that cripple many media workstations.


The base Power Mega Pro 2000 model with quad core CPU features:

CPU: Intel Core i7-4770K
Cooling: Liquid cooled CPU
Memory: 16GB (2x8GB) DDR3 1866MHz
Graphics: NVIDIA Quadro K600
Motherboard: Intel Z97 Express Chipset
HDD: 128GB SSD + 2TB HDD
Chassis: NZXT H440
OS: Win 8.1 Pro 64-bit
Starting: $1,299

The top-of-the-line Power Mega Pro 3D Modeling with Xeon CPU features:

CPU: 2x Intel Xeon E5-2620 v2
Cooling: Liquid cooled CPUs
Memory: 32GB (4x8GB) DDR3 1866MHz
Graphics: NVIDIA Quadro K5000
MB: ASUS Z9PE-D8
HDD: 500GB SSD + 2x 2TB 7200RPM HDD in RAID 1
Chassis: Corsair 900D
OS: Win 8.1 Pro 64-bit
Starting: $4,811


All seven Power Mega Pro models can be customized with a number of performance hardware and component upgrades such as CPU/GPU upgrades, solid state drives and storage hard drives, performance memory, peripherals and business software to enhance your productivity. All CYBERPOWERPC Power Mega Pro workstations include an industry best 3-year limited warranty.


For more information see: http://www.cyberpowerpc.com/landingpages/PowerMegaPro/

About CyberpowerPC Inc.

CYBERPOWERPC Inc. www.CYBERPOWERPC.com was founded in 1998 and has emerged as a leading global provider of custom computer systems and interactive gaming products. Headquartered in Baldwin Park in Southern California, CYBERPOWERPC manufacturers and distributes a complete line of custom built gaming desktops, gaming notebooks and high performance workstations to meet the unique needs of gamers, businesses, government agencies, educational institutions and other end-users. For more information contact: Sales (800) 707-0393; Email CyberpowerPC@CyberpowerPC.com.