CyberPower Gamer Infinity GTX System Review
By
The CyberPower Gamer Infinity GTX PC
When it comes to custom built gaming PCs there are only a select few companies that you should consider when spending several thousand dollars on a single system. For those of you who are looking to build a new system during these tough times, one of the system builders that is producing some very slick Intel Core i7 gaming systems is CyberPower. CyberPower builds gaming notebooks, desktops and HD media center machines; you name it and they'll build it for you. With a company willing to customize a system any way you want you'll be sure to find some pretty crazy systems, and looking at their Intel Core i7 gaming systems you'll find that statement to be dead on. The system that CyberPower built for Legit Reviews to take a look at is the Gamer Infinity GTX, which starts out at $1895 and goes up from there.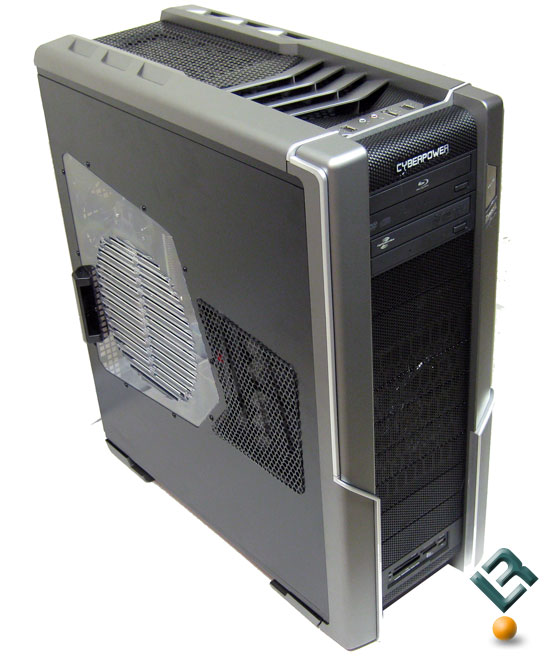 The CyberPower Gamer Infinity GTX that we will be looking at was highly customized and retails for $3999, which means that it is loaded from top to bottom with the latest gaming hardware. Here is a peek at the components that are inside this case.
INTEL i7-965 3.20GHz 8M EXTREME EDITION OCED 3.6GHz
ASUS X58 P6T SLI / CROSSFIRE DELUXE LGA 1366 Motherboard
THERMALTAKE SPEDO ADVANCE CHASSIS
BLACK SONY 20X LIGHTSCRIBE DVDRW
BLACK SONY BR-5100S 2X BLU-RAY DR
THERMALTAKE TOUGH POWER 1000WATT
BLACK 12-IN-ONE INTERNAL CARD READER
1TB SATA II 3.0 GB 7200RPM HD (DATA DRIVE)
2X WD Veloci Raptor 300GB 10K RPM HD (RAID-0 STRIPING)
WINDOW VISTA HOME PREMIUM 64BIT SP1
CYBERPOWER ACCESSORY BAG
CYBERPOWER T SHIRT
Razer Lycosa Black USB Gaming KB
Razer DeathAdder 3G 1800 DPI Mouse
2X ATI RADEON 4870 X2 2GB DDR5 ( CROSSFIRE-X MODE)
3X KINGSTON DDR3 1G (TRI-CHANNAL)
COOLERMASTER V8 CPU COOLER.
As you can see from the component list the CyberPower Gamer Infinity GTX is jam-packed with some impressive hardware!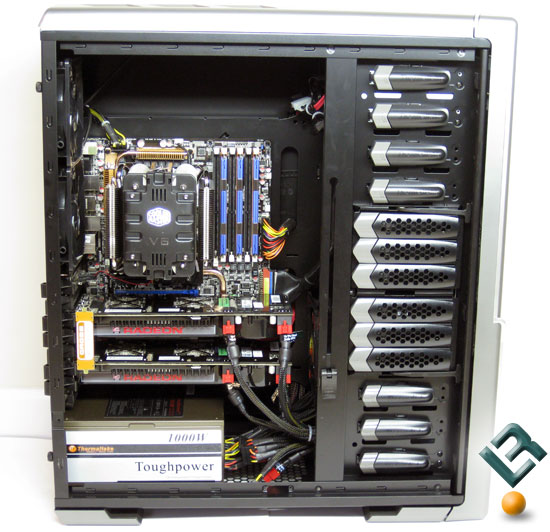 Starting off with the monstrous Thermaltake Spedo Advanced case, you can get an idea of just how insane this system is. Packed inside is a Core i7 965 Extreme Edition CPU overclocked to 3.6GHz and a pair of 4870X2 video cards. The memory is from Kingston in the form of a Triple Channel 3GB memory kit operating at 1.8GHz. The motherboard is the amazing Asus P6T Deluxe. This system is not for the casual gamer, or those with an empty wallet. This is a bona fide extreme gaming PC and a $3,999 price tag confirms it.
About two weeks ago we took our first look at a pre-built PC in the form of the LANShark from the gang over at Smooth Creations, so we will be comparing the CyberPower Gamer Infinity GTX to the SmoothCreations LANShark in the performance section. Since the CyberPower Gamer Infinity GTX has the fastest Intel desktop processor ever made, this machine promises to deliver the ultimate gaming experience. Lets take a closer look at the system before we get to the performance numbers.