Crucial X8 1TB Portable SSD Review
By
Micron is entering the portable SSD market today with the introduction of the Crucial X8 Portable SSD. Micron believes that now is the perfect time to enter this growing market and they feel that the X8 Portable SSD series is perfect for anyone wanting quick local access to their data. The X8 Portable SSD is available in 500GB and 1TB capacities with sequential read speeds up to 1,050MB/s. The X8 also works with a variety of devices, including PCs, Macs, PS4s, XBOX Ones, iPad Pros, Chromebooks, and select Android devices via USB 3.2 Gen2 interface.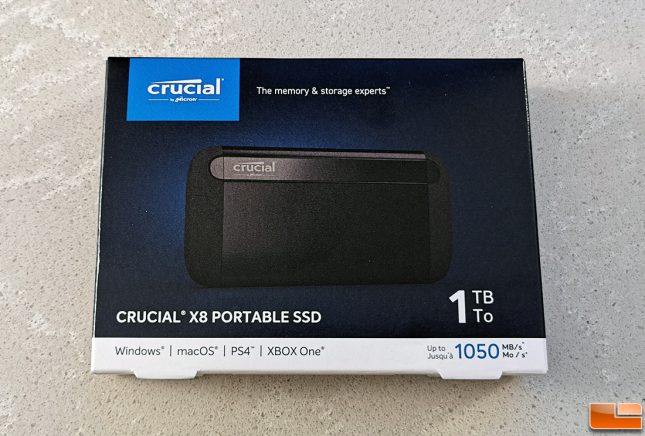 Crucial offered up the largest 1TB capacity X8 Portable SSD for us to review. This model is sold under part number CT1000X8SSD9 and has an MSRP of $189.99. The smaller 500GB drive can be found under part number CT500X8SSD9 with an MSRP of $119.99. All Crucial X8 series drives are backed by a 3-year limited warranty and Crucial did not place a limitation on the drive writes. There is no 2TB model available just yet, but we expect Crucial to announce a 2TB X8 Portable SSD at a later date.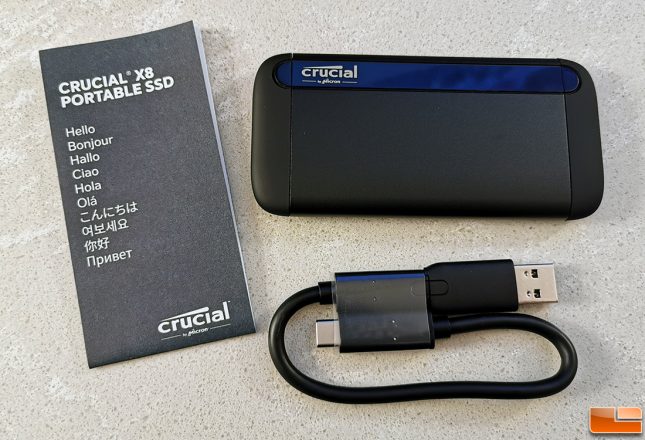 Inside the Crucial X8 Portable SSD box you'll find the drive, Type-C to Type-C USB cable (10Gb/s), a Type-C to USB-A adapter (5Gb/s) and a quick-start guide. The physical connector on the enclosure is USB Type-C, which is great and we hope more companies follow this trend. Only one cable is needed as this drive is entirely bus powered. The dimensions of the X8 portable SSD are 110 mm x 11.5 mm x 53 mm with a weight of 97 grams excluding cables.
The Crucial X8 comes in a black enclosure that features an anodized aluminum core design and plastic outer end caps. It not only looks and feels good, but dissipates heat efficiently to maximize performance. Crucial says this design is very durable and claims it is drop-proof up to 7.5 feet on carpet or up to 3.0 feet on a hard surface. At those distances the plastic end caps may be damaged, but the internal components will likely still be in working order. Since this is a consumer product they only rate device failures and not when the data may become unreadable. There is no IP (Ingress Protection) dust or water rating on the Crucial X8 series.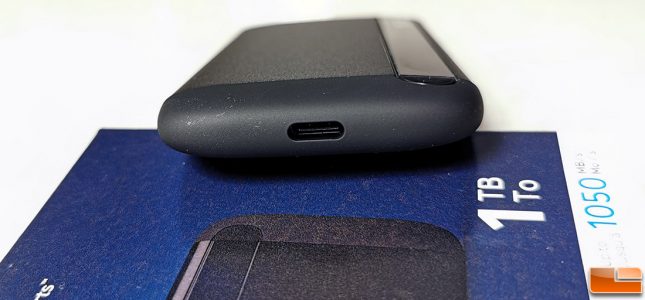 Inside the X8 series you'll find a traditional M.2 2280 drive and from what we gather Crucial is using their P1 M.2 NVMe SSDs inside. Crucial did confirm that they made special firmware for the drive used inside the X8 series to better operate in a hotter enclosure and with workloads typically seen on mobile drives.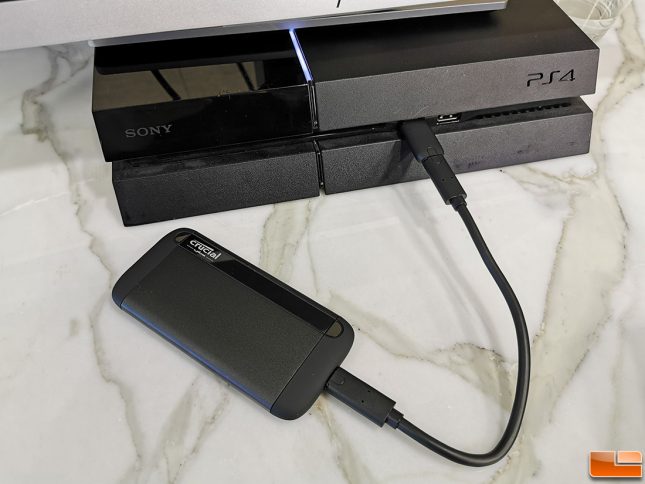 We tried out the Crucial X8 on PCs, consoles and an Apple MacBook air and it worked great to store games, photos, videos, and files.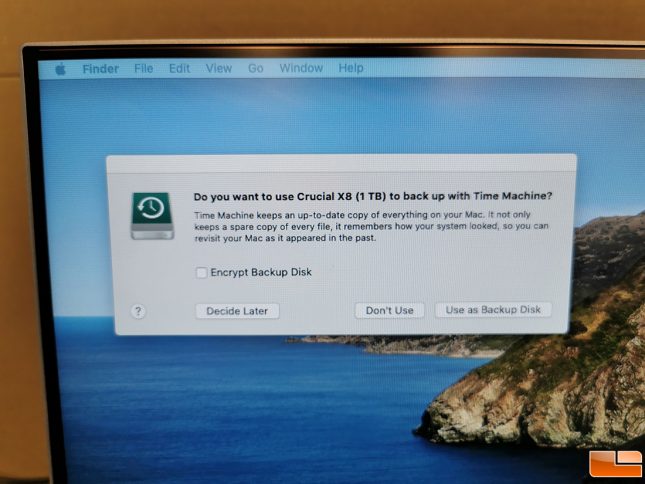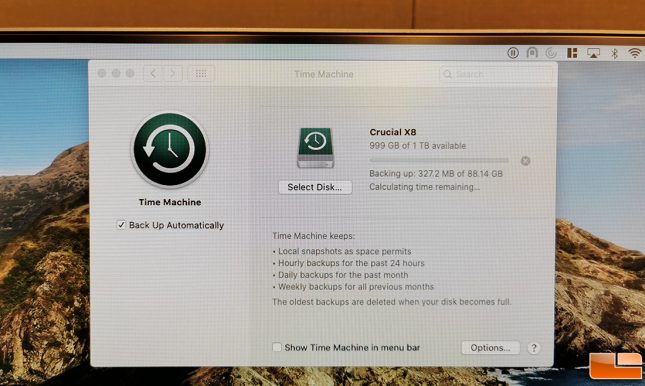 No special backup comes with the Crucial X8 Portable SSD series, but it does work with Windows Backup, macOS Time Machine, Windows Bitlocker to Go, and Apple FileVault, along with third-party end point protection software suites like Symantec and McAfee.
The Crucial X8 1TB drive comes formatted with the exFAT file system and the overall capacity shows up as 930GB in Windows. Micron went with exFAT for compatibility with Windows and macOS systems when you use the drive for the first time, but you can reformat if you'd like to change it.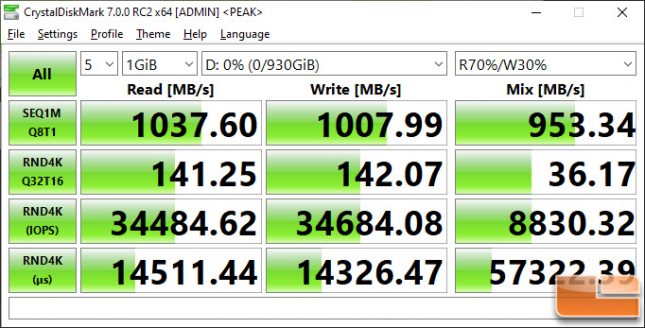 To test the performance of the Crucial X8 1TB Portable SSD we plugged it into our Dell XPS 13 laptop and ran a few benchmarks to see how it would perform. The first test that we wanted to run was CrystalDiskMark (version 7.0.0 RC2 for Windows x64). We managed to hit 1037.6 MB/s read and 1007.99 MB/s write speeds on this particular laptop. Performance will vary from system to system, so while we are below the claimed 1050 MB/s max read speeds this is a passing result.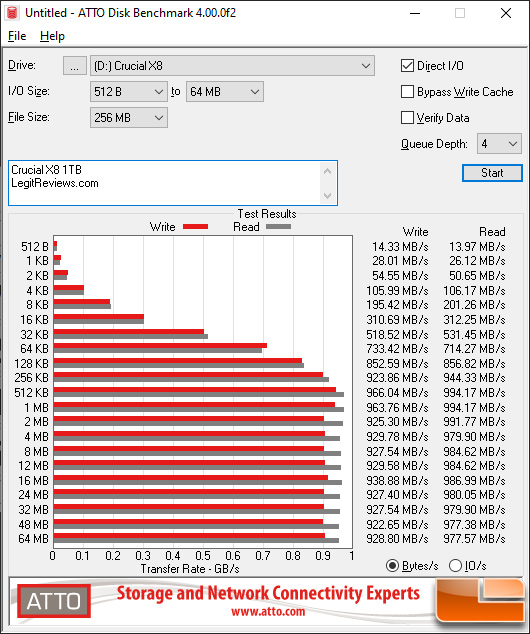 Next up we ran ATTO Disk Benchmark 4.00 and reached top speeds of 994 MB/s read and 966 MB/s write at QD4.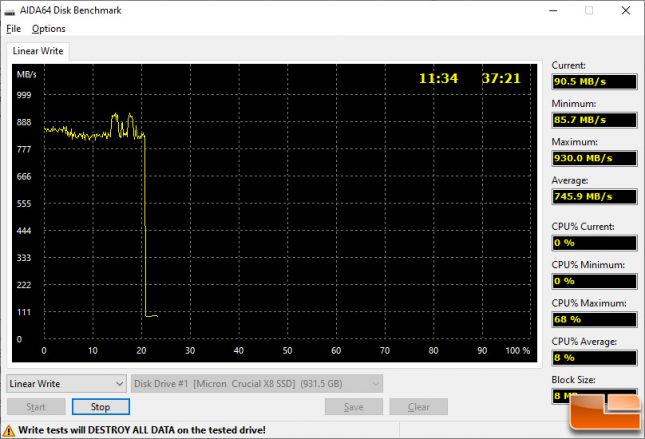 The last test we ran was the linear write test in AIDA64 Disk Benchmark. This is a punishing test where data is written to the drive with no interruptions. The Crucial X8 Portable SSD series uses QLC NAND Flash memory with a dynamic SLC cache. On our empty 1TB drive we needed to fill up about 20% or 200GB of the drive until we filled the SLC cache and were writing directly to the QLC NAND Flash. Once you trigger this action the write speeds on our drive dropped down to around 85 MB/s. This is normal for all QLC NAND Flash drives, but it would have been nice to see write speeds higher than a hard drive at all times. The good news is that this is something you'll seldom experience though as you'd have to be moving around a fair bit of data for this to happen.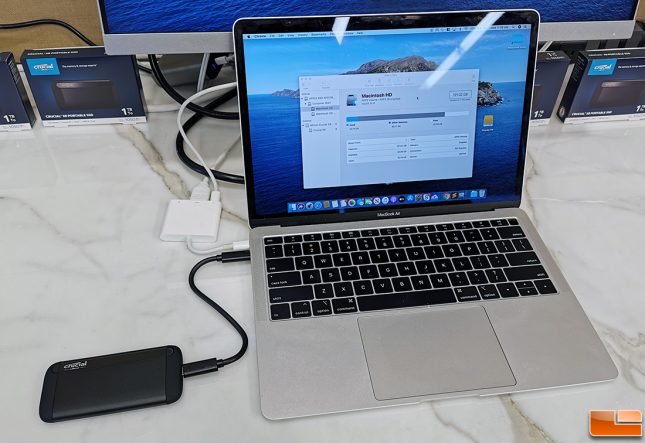 Final Thoughts and Conclusions
The Crucial X8 Portable SSD appears to be a solid performing portable drive and should be ideal for anyone looking to quickly and safely move data around. We managed to come close to hitting the drives rated speeds of 1050 MB/s on a 2-year old Dell XPS 13 laptop with an Intel 8th Gen Core processor, so the performance is solid.
When it comes to pricing the 1TB Crucial X8 Portable drive that we reviewed has an MSRP of $189.99 shipped. That is slightly higher than the 1TB portable SSDs from competitors, but most of those are using slower SATA III SSDs and not an M.2 NVMe drive capable of over 1 GB/s. We are pretty certain that street pricing will likely settle down below the MSRP in the months ahead as competitors will need to lower their prices once the X8 series becomes readily available.
If you are looking for a portable drive with over 1 GB/s speeds be sure the Crucial X8 Portable SSD series a look!