Crucial M500 480GB Solid-State Drive Review
By
Crucial Goes Large With The M500
It's been awhile since we've seen any major drive updates from Crucial but wait we will no longer. With the M500 Series of drives, we not only see an updated controller but also some new NAND configurations and a massive 960GB SSD for a price that won't cause convulsions. We didn't get our hands on the 960GB version but we were able to procure the next highest capacity of 480GB which should make for an interesting evaluation.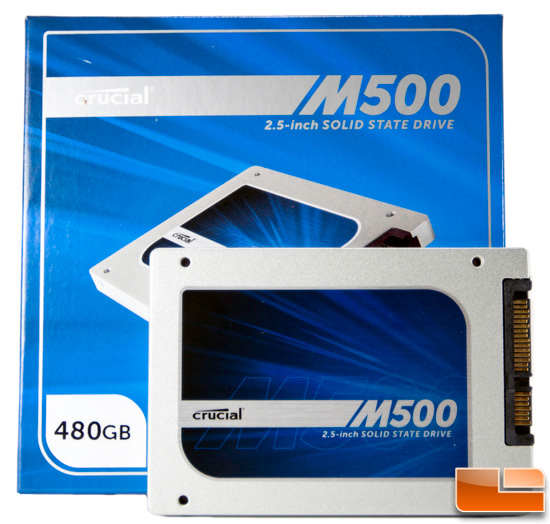 Inside, Crucial has placed an updated Marvell controller along with 20nm NAND with some architectural changes that we'll discuss a bit more in depth on the following page. The line will range from 120GB to 960GB with the larger drives hitting stated performance numbers of 500MB/s reads, 400MB/s writes and 80,000 IOPS on both reads and writes. Crucial claims a MTBF of 1.2 million hours or the equivalent of equal to 40GB writes per day for 5 years or 75TB total. The pricing for each capacity is as follows:
| | | | |
| --- | --- | --- | --- |
| Crucial M500 Model: | Capacity: | Price: | Price Per GB: |
| CT120M500SSD1 | 120GB | $129 | $1.08 |
| CT240M500SSD1 | 240GB | $209 | $0.87 |
| CT480M500SSD1 | 480GB | $394 | $0.82 |
| CT960M500SSD1 | 960GB | $599 | $0.62 |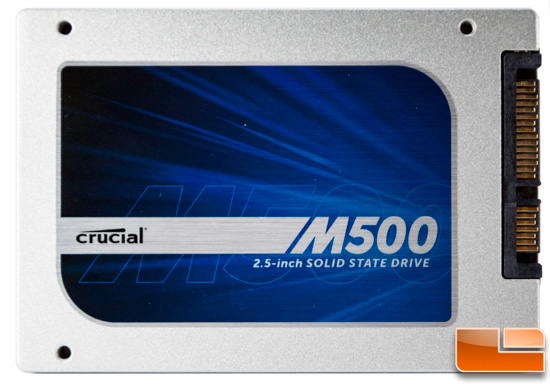 Crucial M500 Series SSD Features and Specifications:
Ample storage: available in capacities of 120GB, 240GB, 480GB, and 960GB
Includes top-level hardware encryption technology
Advanced controller technology and Micron custom firmware
Extensive quality and reliability testing built into every drive
Compatible with PC and Mac systems
Micron Quality – As a brand of Micron, one of the largest NAND manufacturers in the world, Crucial SSDs are designed and developed in-house with the latest technology. This means four things: hundreds of SSD qualification tests, over a thousand hours of prerelease validation testing, 1.5 billion dollars invested in R&D, and more than 30 years of industry expertise.
Adaptive Thermal Protection – Greater thermal management enables the Crucial M500 to work with the host computer to dynamically adjust power consumption based on usage demands, which helps address the cooling challenges of ultra-small, thermally constrained systems.
Hardware Data Encryption – The Crucial M500 SSD offers top-level hardware-based encryption, enabling enhanced data security. Our AES 256-bit hardware encryption engine and TCG Opal 2.0 compliant firmware allow the drive to operate at full speed without the performance loss that's typically found in drives that use software-based encryption technology.
Three Year Limited Warranty – From pre-release validation testing to ensure that our SSDs work with the broadest range of chipsets, motherboards, and operating systems to more than a thousand hours of endurance testing, our drives are tested for reliability from start to finish. We proudly offer a three-year limited warranty and award-winning tech support.
Capacity (Unformatted): 480GB
Interface: SATA 6Gb/s (SATA 3GB/s compatible)
Sustained Sequential Read up to (128k transfer): 500MB/s
Sustained Sequential Write up to (128k transfer): 400MB/s
Random Read up to (4k transfer): 80,000 IOPS
Random Write up to (4k transfer): 80,000 IOPS
Form Factor: 2.5-inch, mSATA, and M.2
NAND: 20nm Micron MLC NAND
Life Expectancy: 1.2 million hours mean time to failure (MTTF)
Endurance: 72TB total bytes written (TBW), equal to 40GB per day for 5 years
Operating Temperature: 0°C to 70°C
Compliance: RoHS, CE, FCC, UL, BSMI, C-TICK, KCC RRL, W.E.E.E., TUV VCCI, IC
Firmware: Field upgradable firmware
Product Health Monitoring: Self-Monitoring, Analysis and Reporting Technology (SMART) commands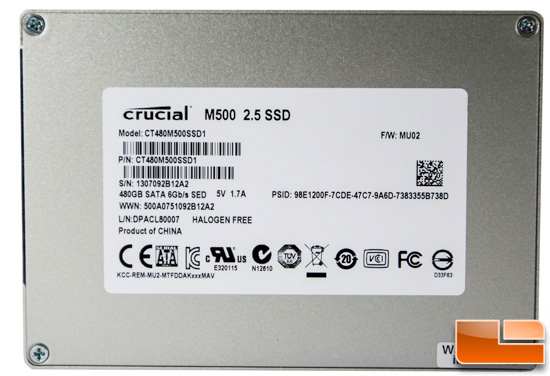 The exterior is unremarkable with a design similar to previous Crucial drives with an aluminum enclosure and blue color scheme. It does carry the 7mm z-height form factor that is rapidly becoming the standard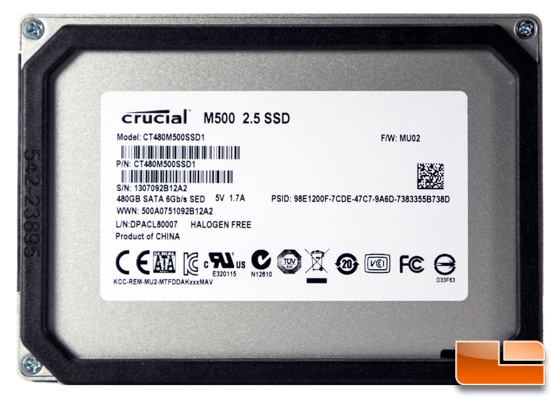 Just in case the thinner form factor doesn't work well with your machine, they include a handy plastic 2.5mm shim to fatten it up a bit which simply applies via adhesive already applied.