Crucial Ballistix Elite DDR4 4000MHz Memory Review
By
Ballistix, Microns global brand of gaming memory, today announced the addition of 4000MHz memory to their Elite series. This is the fastest Ballistix offering to date and best of all the new Ballistix Elite 4000MHz memory modules are AMD Ryzen and Intel platforms ready with an Intel XMP 2.0 profile for easy setup and configuration. If you are looking to push your systems capabilities to the max, the new Ballistix Elite 4000MHz memory will certainly help you do just that.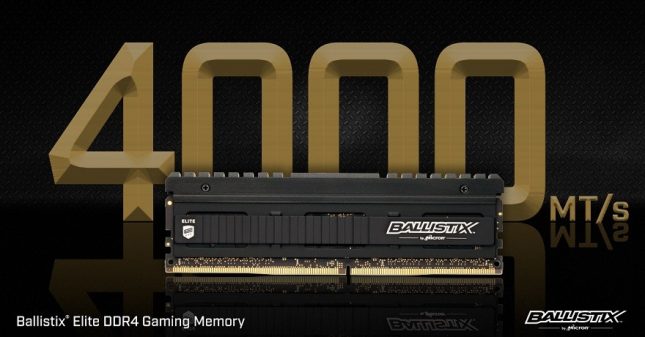 The Ballistix Elite DDR4 4000MHz memory comes as single 8GB modules or in a 16GB (2x8GB) or 32GB (4x8GB) kit. All are unbuffered, non-ECC offerings that need 1.35V to run at their rated speed and timings. Speaking of timings, you are looking at timings of 18-19-19-39.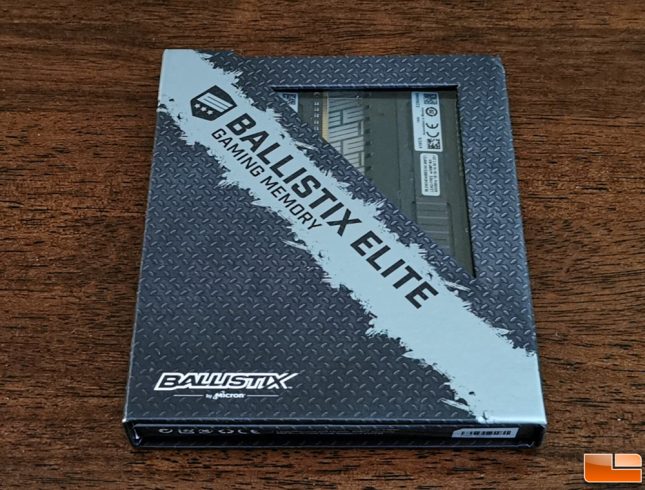 Micron sent over the Ballistix Elite 16GB kit for us to take a closer look at. This kit is sold under part number BLE2K8G4D40BEEAK and launched today with an MSRP of $274.99. The good news is that Amazon and Newegg both have this kit in-stock today for $207.99 shipped.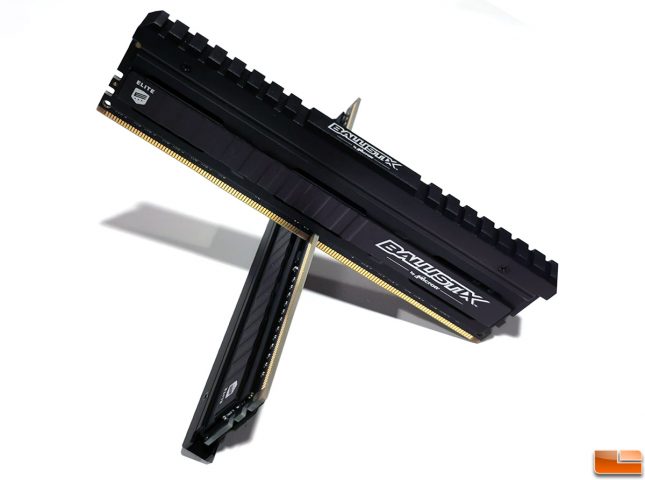 Micron was going for aggressive militaristic styling on the Ballistix Elite DDR4 memory series and we think they did a good job with that. The black anodized heat spreaders look great and the build quality appears to be top notch.
For testing we will be using our AMD X570 desktop platform that is running the Ryzen 9 3900X processor. The Gigabyte X570 AORUS Master motherboard (pricing) for AMD Ryzen processors was running BIOS/UEFI version F6 (AGESA 1.0.0.3 ABB). A clean install of Windows 10 Pro 64-bit v1903 was done and all updates as of 9/08/2019 were applied to the operating system. AMD chipset driver version 19.10.16 was used. The CPU was kept cool by a Corsair Hydro Series H115i PRO liquid CPU cooler and a 1TB NVMe SSD was used as the systems primary drive and resided on the motherboards 1st built-in M.2 slot. PBO was disabled and Ryzen Master was not installed on the test system.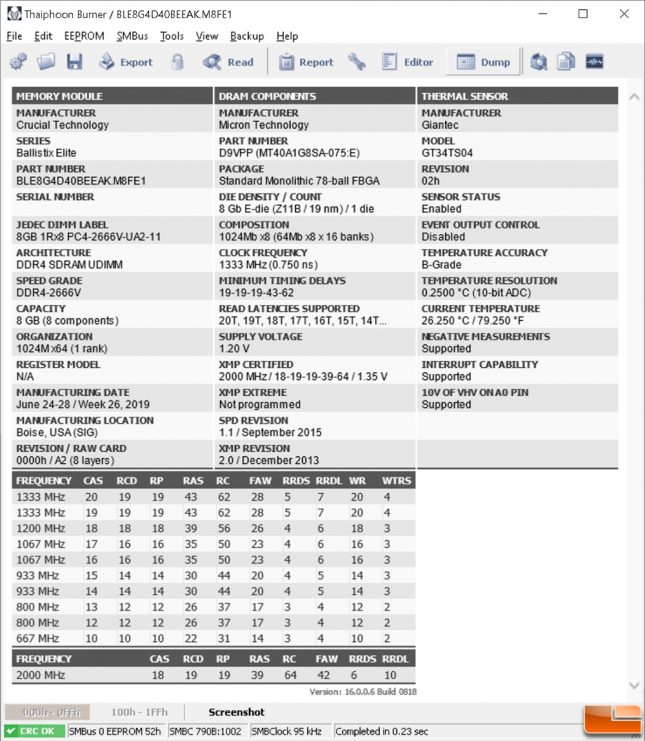 Instead of removing the heatspreader to look at what components are being used on this module we turned to Thaiphoon Burner software. This app shows that this kit is using Micron 8 Gb E-die memory ICs with part number D9VPP. These are also single-rank (1 rank) 8GB modules. This kit also has a Giantec GT34TS04 thermal sensor. This sensor meets JEDEC spec and has an accuracy of +/- 0.5C. Only one of the two memory profiles is being used and the XMP Certified (Profile 1) was set to 2000 MHz (4000MHz) with 18-19-19-39-64 timings at 1.35V. If you just put it into a board without doing anything it should default to 1333 MHz (2666MHz) with relaxed timings at 1.20V. This is to ensure you won't encounter any blue screens of death (BSOD) when you go to use the kit the very first time.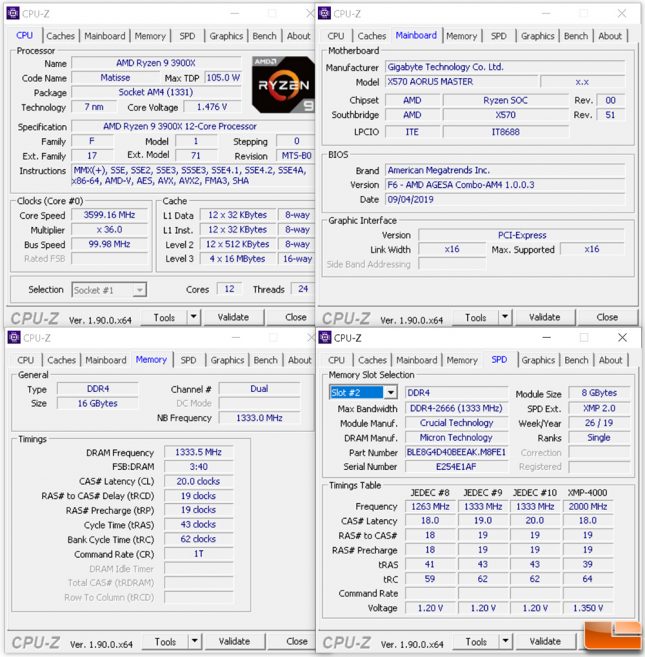 After installing the Ballistix Elite 4000MHz memory kit into our AMD X570 test platform we let it run without changing any settings. It booted up straight away and was running 2666 MHz with CL20 timings at a voltage of 1.20V.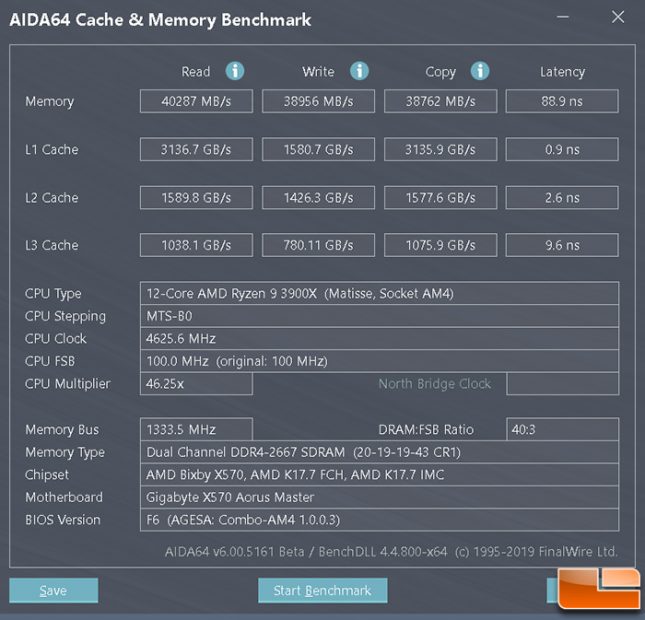 We ran AIDA64 Cache & Memory Benchmark v.600.5161 Beta at stock settings and we were getting around 40,000 MB/s read, 39,000 MB/s write and 39,000 MB/s on the copy test. The latency on this dual channel kit at DDR4-2667 was a not so impressive 88.9 ns.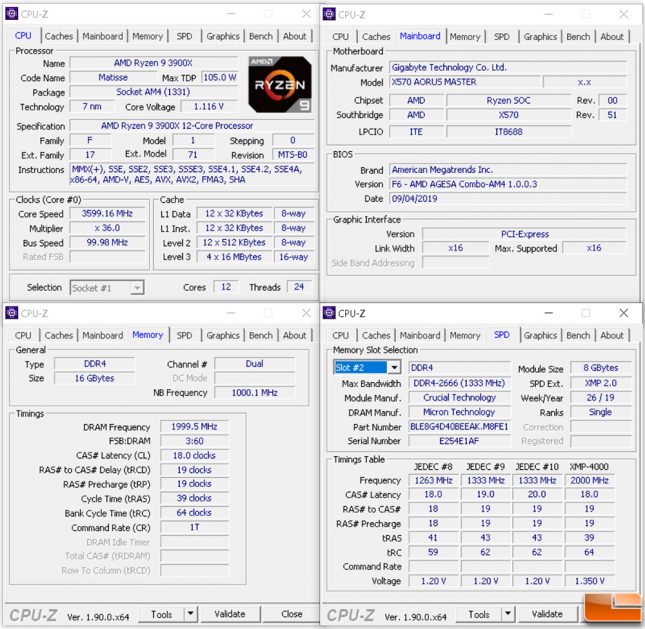 So, to get the performance that you are paying for you need to enter yours boards BIOS and enable the XMP profile or manually set up the kit. We opted to enable the single XMP Profile on this kit and the Gigabyte X570 AORUS Master motherboard (running BIOS F6 – AGESA 1.0.0.3 ABB) paired with the AMD Ryzen 9 3900X had no issues booting. We were running at 4000 MHz, with the specified timings of 18-19-19-39-64 1T. The VDIMM was set to 1.35V and the system worked flawlessly.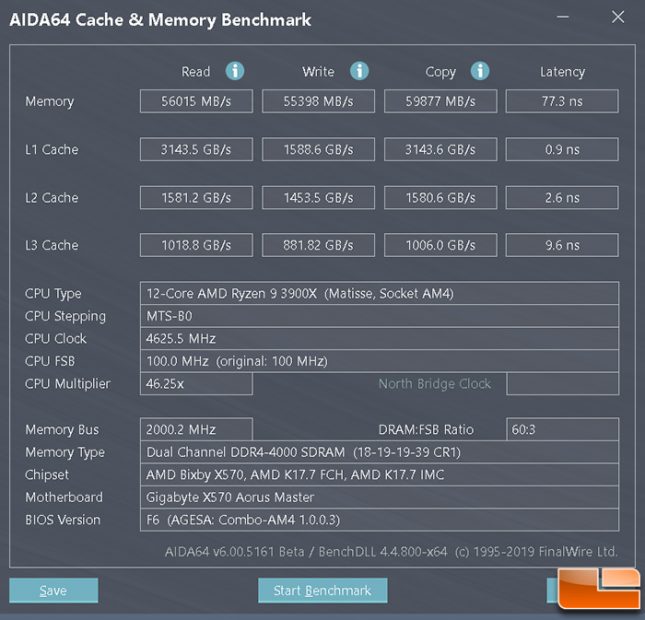 We ran AIDA64 again and performance jumped up to approximately 56,000 MB/s read, 55,000 MB/s write and 60,000 MB/s copy. The memory latency decreased to 77.3 ns. So, running this kit with XMP settings will bring you over a 50% improvement in the copy test if you don't properly enable it.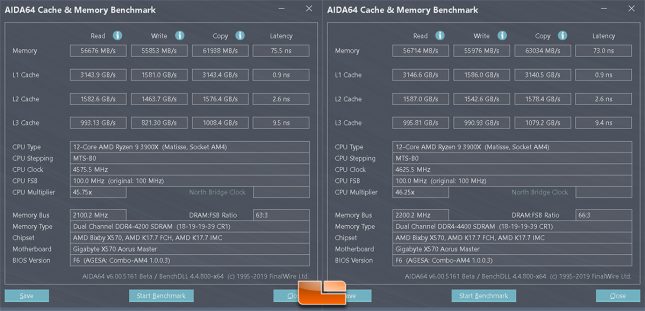 Looking to obtain the maximum speed for our kit, we kept increasing the memory multiplier until we couldn't go up any higher with the stock XMP timings and voltage. We were amazed that this kit would run at 4400 MHz with full stability and then ultimately hit a brick wall there. No matter how much voltage we threw at the kit we couldn't get 4466 MHz to even boot successfully. Reaching 4400MHz on this kit is quite impressive as we'll take a 10% overclock anyday. The max frequency overclock boosted the copy test performance up to 63,000 MB/s and dropped the latency down to 73.0 ns.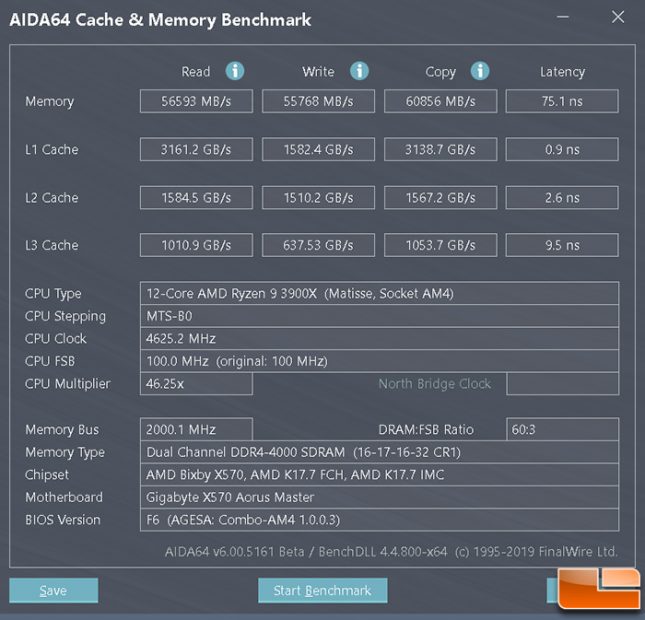 When it came to lowering timings, we went back to the XMP profile settings and tried dropping the timings as much as we could at stock voltages. This kit defaults to 18-19-19-39 timings and we were able to tighten that up a bit to 16-17-16-32 on our board with the AMD Ryzen 9 3900X 12-core, 24-thread processor. Tighter timings gave us a small little performance bump and lower latency over the default XMP profile.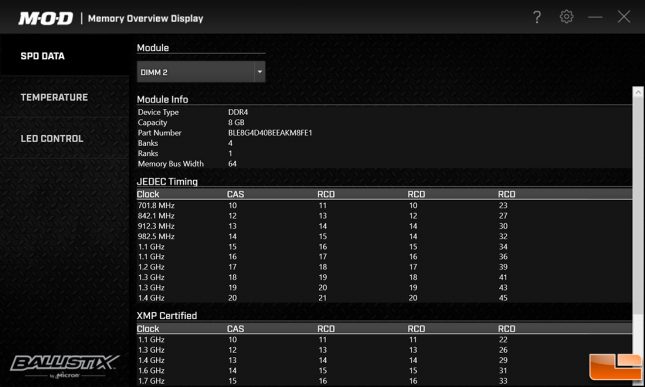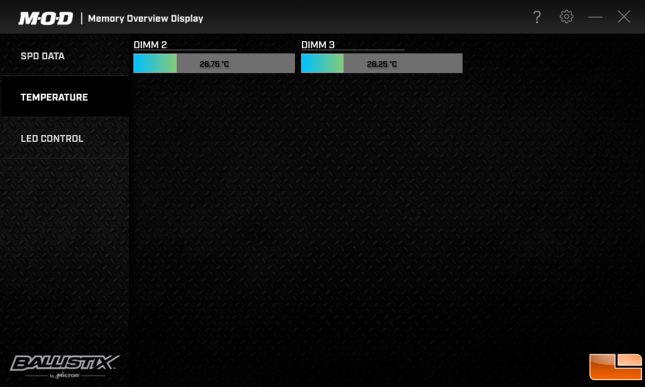 Lastly, we wanted to mention that the Ballistix Elite DDR4 4000 kits do work with the Ballistix M.O.D. Utility. This free app allows you to have real-time temperature monitoring thanks to the Giantec GT34TS04 thermal sensor we talked about earlier in the review. The LED Control tab just pops up an error message since this kit does not have RGB lighting.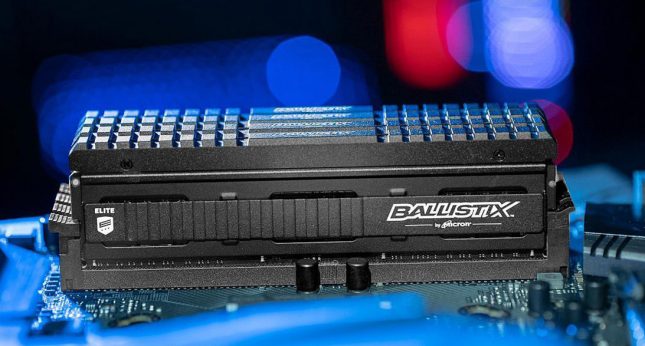 Final thoughts and Conclusions
The Ballistix Elite 16GB (8GBx2) DDR4 4000 memory kit that we looked at today left us impressed. It ran exceptionally well on our AMD Ryzen 3000 series test platform that consisted of an X570 board with a Ryzen 9 3900X 12-core, 24-thread processor. Being able to enable an XMP setting in the BIOS and be up and running at DDR 4000 MHz in just a number of seconds was very nice. We have zero complaints with this module at its rated speed and should be able to run that fast on most enthusiast boards using both AMD and Intel chipsets.
When it comes to overclocking we managed to have a bit of fun with this kit. We weren't expecting to see a huge overclock, so when got it up to 4400 MHz with the XMP timings we were left impressed. When it came to lowering the timings, we were just shy of straight 16 timings at the stock clock speeds of 4000 MHz. The Ballistix Elite DDR4 4000MHz 16GB kit exceeded our expectations at both stock and overclocked settings. If you are looking for an overclocked memory kit that still has more overhead in it this kit will do the trick.
While the Ballistix Elite series by Micron doesn't have RGB lighting, it does have a timeless look with black heat spreaders and PCB. The murdered out look has always been a big hit with gamers! The touch and feel of the RAM is also nice thanks to the metal heat spreaders.
Lastly, cost is always a major concern when buying memory sticks. RAM prices go up and down in cycles, but one thing is always for certain, highly overclocked modules always carry a price premium. The Ballistix Elite 16GB (8GBx2) DDR4 4000 dual channel memory kit (part number – BLE2K8G4D40BEEAK) that we reviewed runs $207.99 shipped. If you wanted just one 8GB module you are looking at $105.99 shipped and the 32GB kit (8GBx4) runs $414.99 shipped. All Ballistix Elite memory kits carry a limited lifetime warranty. Micron is charging a premium for the Ballistix Elite series over other brands as we ran across some 16GB kits of 4000MHz RAM for around $140 on the day this review was posted.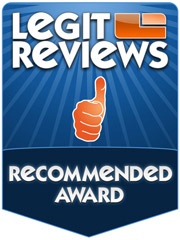 Legit Bottom Line: The Ballistix Elite DDR4-4000 memory modules were designed for gamers and enthusiasts that want an overclocked memory kit. We can report back that our review kit was stellar and we have no issues recommended this kit if it is in your price range.