Creative Introduces Sound Blaster Tactic3D Fury Gaming Headset At $60
By
Creative Introduces Sound Blaster Tactic3D Fury Gaming Headset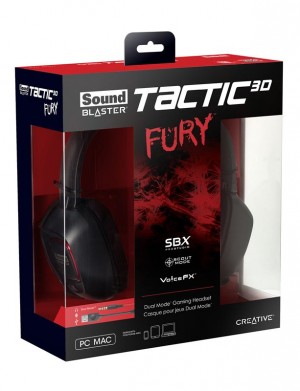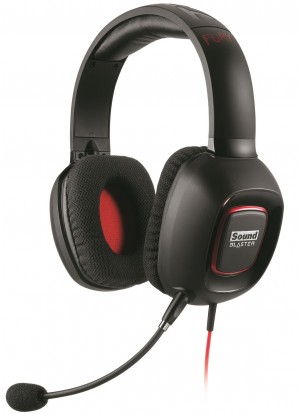 MILPITAS, CA–(Marketwired – August 22, 2013) – Creative Technology Ltd today announced the Sound Blaster Tactic3D Fury gaming headset for PC and Mac, featuring SBX Pro Studio audio technologies. Priced at only US$59.99, the Sound Blaster Tactic3D Fury will be demonstrated for the first time at Gamescom in Cologne, Germany from August 21 to 25 at the Creative exhibit at Hall 9.1, B-042.

The Sound Blaster Tactic3D Fury gaming headset introduces a sleek new design to the Tactic3D headset family. The headset connects to a Mac or PC via USB with the Dual Mode USB adapter, and features a 3.5mm jack to enable connection to a mobile phone for calls and music playback. The included Sound Blaster Tactic3D Control Panel software suite enables gamers to customize settings to provide the most immersive and accurate 3D acoustic environment. It also enables saving of specific audio profiles which gamers can export and share with others. Proprietary Scout Mode technology empowers gamers to hear enemies from further away for a distinct tactical advantage. Powerful 40mm Full Spectrum drivers with frequency response of 20Hz ~ 20kHz deliver best-in-class audio quality.

"Riding on the positive momentum of our Sound Blaster Tactic3D range of gaming headsets, we designed the Sound Blaster Tactic3D Fury with a sleeker, even more comfortable ear cup design than the headsets that inspired it. With this great-looking, comfortable design and our completely customizable suite of sound and voice technologies, we're unleashing the Fury as the best combination of gaming performance and value for the mass market," said Long Chye Low, general manager of audio at Creative.

The Sound Blaster Tactic3D Fury gaming headset features breathable foam ear cups for extreme comfort and elimination of fatigue for long gaming sessions. With its detachable noise-cancelling microphone, the Sound Blaster Tactic3D Fury headset is also great for listening to music and movies from a Mac, PC, or smart devices.

SBX Pro Studio Sound and Voice Technologies

SBX Surround – Creates unprecedented levels of audio realism by producing virtual speakers around, above and below the listener
SBX Crystalizer – Ensures that every audio detail is heard by restoring the "highs" and "lows" that are compromised with audio compression
SBX Bass – Dramatically improves the sound experience by expanding the low frequency tones
SBX Dialog Plus – Intelligently enhances voices in games and moves for dramatically clearer dialog
SBX Smart Volume – Address the problem of abrupt volume level changes in games by intelligently applying gain and attenuation to deliver consistent volume levels
Scout Mode – Hear your enemies from further away and gain a distinct tactical advantage in combat
VoiceFX – Enables alteration of voice with a variety of effects, which can enhance the tone of a voice, create interesting accents, or enable someone to sound like a different person
Sound Blaster Tactic3D Control Panel – Save and share multiple TacticProfile audio preferences with your friends and teammates

Pricing and Availability

The Sound Blaster Tactic3D Fury gaming headset, priced at US$59.99, is slated for availability in October 2013.

For more information, visit soundblaster.com.

About Creative
Creative is a worldwide leader in digital entertainment products. Famous for its Sound Blaster sound cards and for launching the multimedia revolution, Creative is now driving digital entertainment with cutting edge audio solutions, premium wireless speakers, wireless headphones and portable media devices. Today, Creative re-invents the Sound Blaster, which has a user base of over 400 million, with its ground-breaking Sound BlasterAxx that aims at the new mobile networked generation by bridging the multi-worlds of the computer, smartphones, and tablets. Creative's proprietary technologies, innovative hardware, applications and services leverage the Internet, enabling consumers to experience high-quality digital entertainment — anytime, anywhere.