Cougar Minos X5 Optical Gaming Mouse Review
By
Cougar Minos X5 Optical Gaming Mouse
Cougar Gaming was founded in 2008 with the goal of manufacturing peripherals and components for PC enthusiasts who are passionate about gaming. My most recent experience with Cougar was with their Puri TKL keyboard, which I found to be a solid, well manufactured unit that presented excellent value. Today, I am switching gears just a little bit and taking a look at a lightweight, high performance gaming mouse, the Cougar Minos X5. With so many high performance gaming mice out there, will Cougar be able to set themselves apart from the competition with the Minos X5?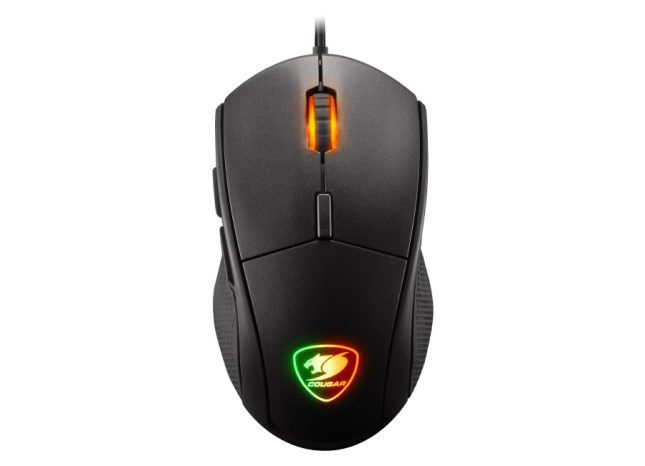 Keeping up with industry standards for high performance gaming mice, Cougar went with a Pixart PMW3360 optical sensor capable of up to 12,000 DPI operation on the Minos X5. The PMW3360 optical sensor from Pixart offers pixel-accurate tracking without any acceleration in typical DPI ranges and is used in several top gaming mice, including my personal favorite Logitech G903 LightSpeed. For gamers who are absolutely serious about their mouse following their movements with absolute precision, the Pixart PMW3360 is an excellent choice of sensor for a mouse that is available for under $50. In fact, you can purchase the Minos X5 for $44.10 shipped.
Cougar allows users to set the Minos X5 gaming mouse at a 2000Hz polling rate from within the UIX software, which is absolutely ludicrous, but cool at the same time. With its 2000Hz polling rate, rather than reporting to the PC in one millisecond intervals, the Cougar Minos X5 is tuned to report to the PC in .5 millisecond intervals. Will this make a difference to users and give them a competitive advantage? I have to say that with so many other factors affecting input latency present, the .5 millisecond polling rate improvement likely won't be noticeable by even the most discerning competitive gamers. However, a faster polling rate does mean your PC will have the most accurate possible reporting from your mouse. If anything, it might just give you a bit of a mental edge and peace of mind knowing that your mouse is indeed reporting faster than the competition.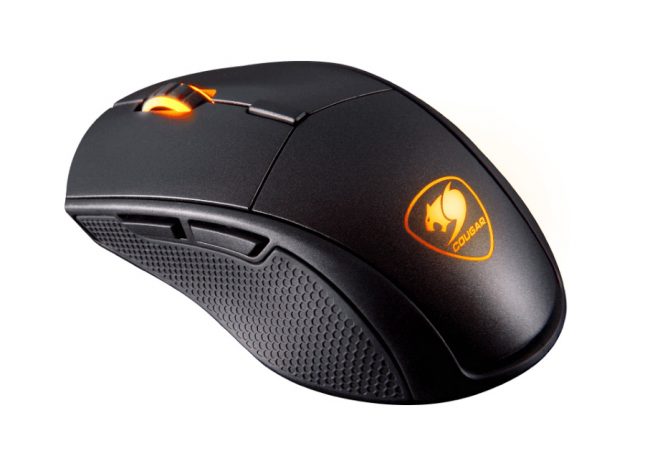 Product name
MINOS X5 Gaming Mouse
Sensor
PixArt PMW3360 Optical gaming sensor
Resolution
100-12000 DPI
Game type
FPS / MMORPG / MOBA / RTS
Polling rate
2000Hz
On-board memory
512KB
Software
COUGAR UIX System
Programmable buttons
6
Switching
50M OMRON gaming switch
Profile LED backlight
2 ZONE 16.8 million colors
Maximum tracking speed
250 IPS
Maximum acceleration
50 G
Interface
Golden-plated USB plug
Cable Length
1.8m
Dimension
120(L) X 65(W) X 38(H) mm
4.72(L) X 2.55(W) X 1.49(H) Inch
Weight
88g (0.19 lbs) (Excluding cable)

Cougar is using Omron 50 Million Click Rated switches on the Minos X5, which are an excellent choice. These particular Omron switches have been used in all of the best mice I've reviewed over the past year and they offer excellent tactile feedback, with a nice, sharp click that isn't too soft, nor too hard.
A quick check of the Cougar Gaming Support Website informed me that the warranty on the Minos X5 is one year. This is what I consider to the be the acceptable bare minimum for computer peripheral warranties and I urge Cougar Gaming to step it up and match industry leaders like Logitech and Corsair by offering a two year warranty on peripherals.
Cougar packages the Minos X5 within a high quality box that has high resolution print and images on the exterior. The box features a velcro-secured flap that flips up to reveal the mouse, which is a very clever way to package the Minos X5. By using this flap-style box, users can see the actual size and shape of the Minos X5, rather than relying on a box graphic, which won't show the proper scale of the mouse.
Cougar includes a manual, warranty guide and a set of Cougar stickers with the Minos X5. The manual is laid out well and is informative, though physical installation of the Minos X5 is about as straightforward as peripheral installations get. Other mouse manufacturers who aren't including extra mouse feet with their mice like Cougar just aren't doing things right. I always like to see extra mouse feet included with high performance gaming mice, as customers who use their mice on hard surface mouse pads may find that their mouse feet wear out pretty quickly.
Let's take a closer look at the Cougar Minos X5 on the next page.