Corsair XMS 1GB DDR400 Registered Memory
By
Introduction:
With many more power users picking up the AMD Opteron and Athlon64 FX processors the end users are finding themselves confused with which dual memory channel registered memory brand to purchase. If you are going to spend the big bucks on one of these processors, more than likely a pair of top quality registered DDR400 modules are next in line to be ordered. If you look around the market a little bit you will notice that there are a couple different form factors (TSOP & BGA) that DDR400 registered memory can be found in. Which is the better memory form factor for you? There are some clear differences between the two and by the end of this review you should know which type of module suits your needs!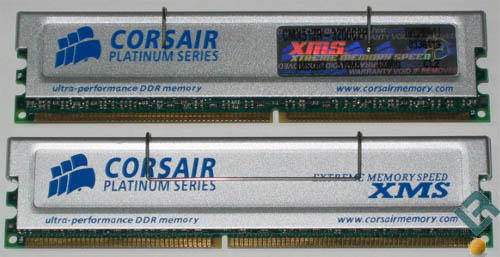 Features:
The Corsair XMS modules came in the common clear plastic clamshell that also housed detailed directions with pictures and the first ever "Powered By Corsair" sticker that we have ever seen. The CMX512R-3200C2PT is a 512 MByte, registered, two-bank memory module that has been created with gamers and enthusiasts in mind. Corsair tests their PC-3200 registered memory on currently available platforms such as the ASUS SK8N motherboard, which just happens to be the board that we will be using for our benchmarking.
An important factor in buying memory is the warranty. Corsair's memory products carry a lifetime warranty. This means that Corsair products are guaranteed to operate, as specified by their datasheet and in the operating environment for which they were intended, for the life of the product.
It should also be pointed out that the modules we are looking at today are platinum, which basically means they come with silver heat spreaders instead of the black ones. There is no performance difference between the regular or platinum modules as the only variance is the heat spreaders!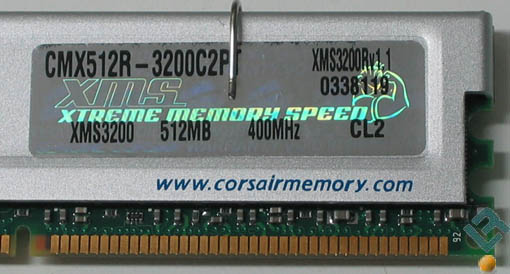 Key Features:
Memory amount: 2x 512MB
Access time: 4.0ns Winbond CH-5 IC's
400MHz (PC3200) Registered DDR Modules
CAS latency: 2 clock cycles
RAS precharge: 3 cycles
RAS active to precharge: 6 cycles
Command rate: 1T (1 cycle)
Aluminum heat spreader for thermal diffusion
Latency: 2-3-3-6-1T
2.5V
Lifetime Warranty