Corsair Voyager GTR 32GB USB 2.0 Flash Drive Review
By
Corsair Voyager GTR 32GB – Introduction
It's hard to get through a checkout line at even the grocery store nowadays without seeing some rendition of flash drive for sale. There are a dizzying array of sizes, colors and shapes with performance that generally runs from downright atrocious to decent. Corsair would like to sit a top of the performance end of things and are making a bid to do so with their line of Flash Voyager GTR thumb drives of which they sent us over a 32GB model to evaluate. The Corsair name has been long respected for their quality memory products which are often leading the pack in terms of performance so putting out the fastest product in its class is nothing new for them.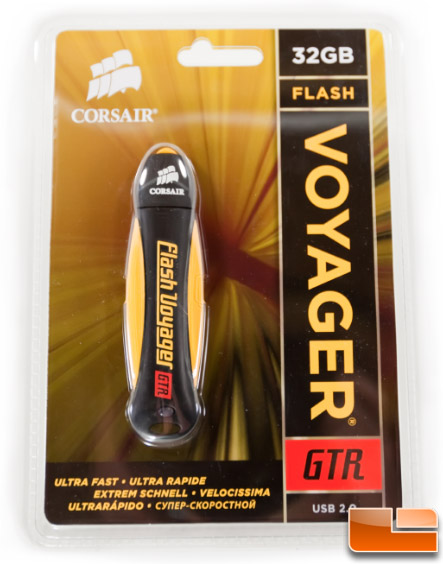 Corsair Voyager GTR 32GB – CMFVYA32GBGT2
Corsair Voyager GTR 64GB – CMFVYA64GBGT2

Corsair Voyager GTR 128GB -CMFVYA128GBGT2
Available in 32GB, 64GB and 128GB versions which are found priced online at $110, $219 and $310 respectively, there's no shortage of capacity to meet your storage needs. These all come with a limited 10 year warranty and play nice with virtually every version of modern OS out there. If using Mac OS, note that it must be formatted using FAT32 and not NTFS as it is not supported.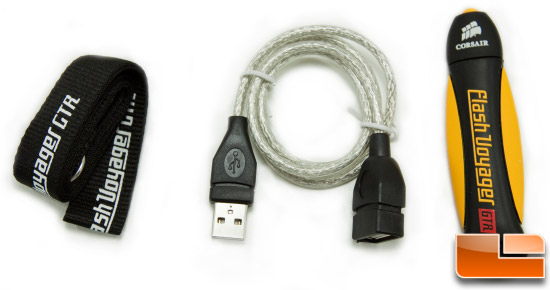 The drive comes in a blister pack which tends to prey upon my hands and
rend the flesh from my digits if I'm not careful. Once open, waiting inside at the drive itself, a GTR-specific branded lanyard and a USB dongle for use in those tight spaces we all run into from time to time.

With the rubberized sheath protecting the drive, it is near indestructible and has taken all manners of punishment from Corsair and reviewers alike in attempts to test the bounds of the abuse it can handle. This is important given their diminutive size and potential important content because they can easily be dropped, stepped/sat/rolled on, and even washed with the laundry. One side features the Flash Voyager GTR name with the Corsair web address occupying the opposite side.

File transfer times can be important to users who migrate large amounts of data and don't have time to watch paint dry while some drives sit and churn away. Using quad-channel architecture, the Voyager GTR drive boasts impressive 34/MB/s reads and 28MB/s writes which certainly should make quick work of your file transfer duties.

The GTR is almost exactly four inches in length which is slightly larger than the older Flash Voyager we have on hand. Although the overall design remains the same, the colors have been updated to a warmer yellow-orange and red accents.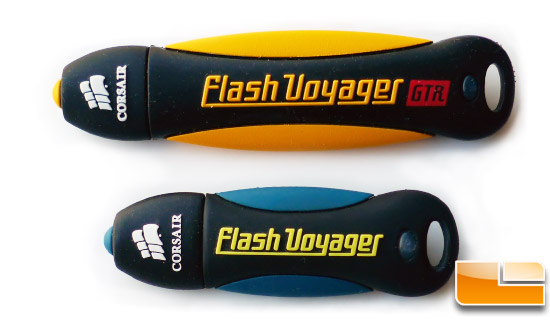 The rubber cap is surprisingly snug so there are no fears about it falling off by accident but it's here I have to point out that there is no place to store the cap when the drive is in use so the less careful user may find themselves with a GTR drive sans cap. If this fate befalls your cap, you can contact Corsair for a replacement and they even have an online form to assist you.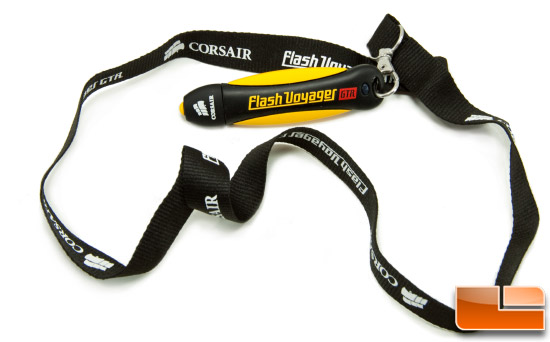 Under the cap lies the USB 2.0 connector and at the distal end resides the oval LED drive activity indicator which glows blue while in use. A similarly shaped hole lies nearby on which to hook the lanyard.

Let's now have a look to see how the GTR performs.