Corsair Voyager Air Wireless Mobile Drive Review
By
Corsair Voyager Air Introduction
With a lot of businesses shifting focus to the mobile market, we find all kinds of gadgets to make our lives simpler and wire free. A gadget that Corsair has recently come out is called the Voyager Air, which will help make media and file sharing easier for you.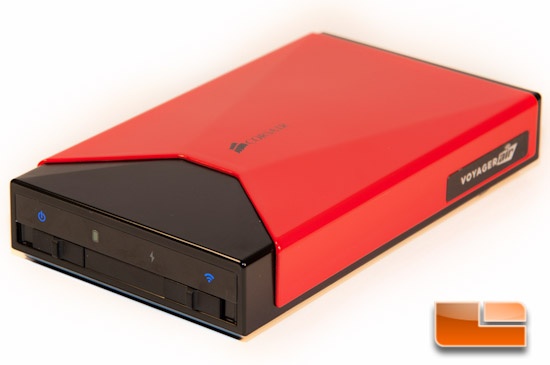 Corsair's Voyager Air is the first all-in-one wireless mobile drive, home network attached storage, USB drive, and wireless hub. Capable of holding up to 1TB of data, you can share or stream movies, music, documents, and more. Sporting a 6200 mAh rechargeable Lithium-ion battery, Corsair claims the Voyager Air can get up to 7 hours of video streaming goodness. You'll also be able to have up to 5 users stream HD content, which should definitely help keep the kids entertained.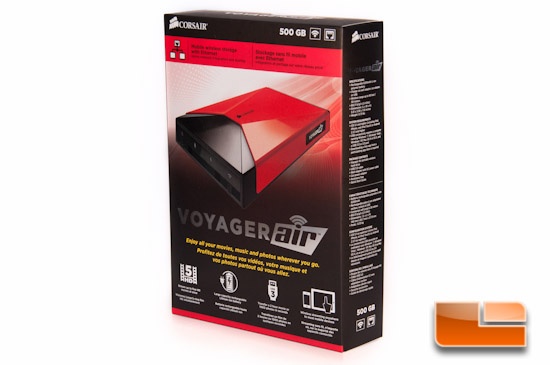 This slick looking unit comes in either black or a red/black scheme. You can also purchase this with a 500GB or 1TB built-in HDD.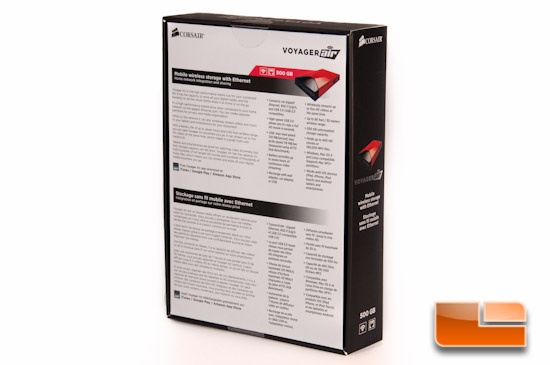 Corsair did a nice job packing up the Voyager Air. The box is very nice looking and presentable. Outside you'll find tons of information about the Voyager Air and its contents. The box is plenty strong enough to protect the contents, while everything was held in place nicely.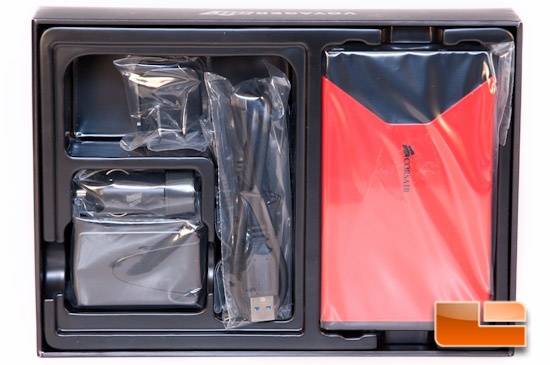 Inside the box, Corsair includes the Voyager Air drive, a 2 foot USB 3.0 cable, wall adapter, plug for your country (either US/Canada, Europe, or UK), power cable, a 2 amp car adapter, and an accessory pouch. Corsair including the car adapter is an awesome thing, as it allows you to bring the Voyager Air to more places without worrying the battery dying. Road trip, anyone?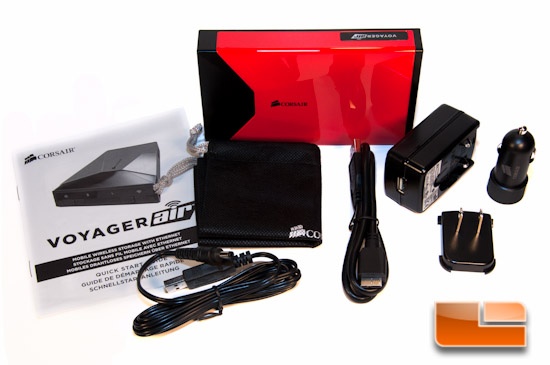 Voyager Air can be connected to a home network for easy access to media from network-enabled smart TVs, Blu-ray players, game consoles, DVRs, and streaming media boxes.
Voyager Air's Technical Specifications:
Max Read (USB 3.0) 120 MB/sec
Max Write (USB 3.0) 119 MB/sec
Direct Connection USB 3.0
Ethernet 10/100/1000
Wireless Network 802.11 b/g/n
Wireless Range Up to 30m / 90ft
Rechargeable Battery 6200 mAh
We are happy to see that Corsair offers a 3 year warranty on the Voyager Air, as it shows they really stand behind and believe in their product.
Today we'll take a look at the red 500GB model (CMFAIR-RED-500-NA), seeing what it has to offer and run a few tests against Corsair's claims. Read on to see what we've found!