Corsair Vengeance 2000 Wireless 7.1 Gaming Headset Review
By
Corsair Vengeance 2000 Wireless Gaming Headset
Since 1994 Corsair has been one of the most well-known
computer memory manufacturers in the world. As of late, they have transitioned
into almost every type of computer accessory possible. Their enthusiast line up
of computer accessories has recently been given the name of Vengeance. Last month I took a look at Corsairs Vengeance 1300, but today were going to be taking a look at their latest wireless gaming headset, the
Vengeance 2000 7.1 Wireless Gaming Headset.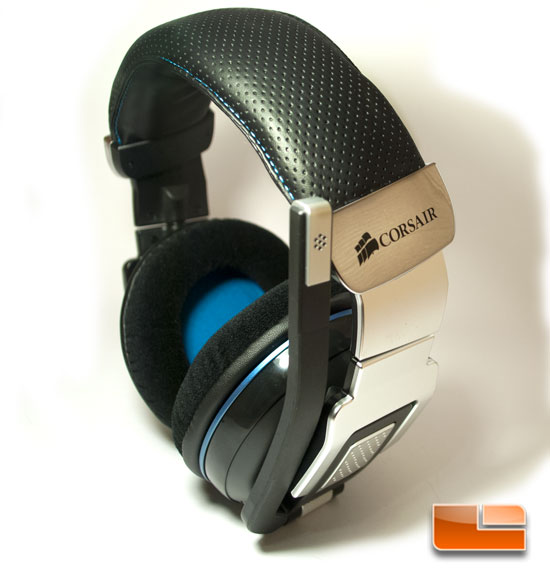 The Corsair Vengeance 2000 Wireless 7.1 Gaming headset ($149.99 shipped) is the first wireless audio product to be released by Corsair. These headphones were designed from the ground up as a wireless solution that was able to give gamers the detailed positional audio, reliable voice communication, and comfort that is required for intense gaming sessions. With a wireless gaming headset there is no cable to roll over or get tangled up on your desk. They also have a range of 40 feet, so you can get up and come back without having to take them off. We all know how frustrating wired headsets can be at times and for some the extra price of a wireless headset is more than justified to keep infuriating times to a minimum.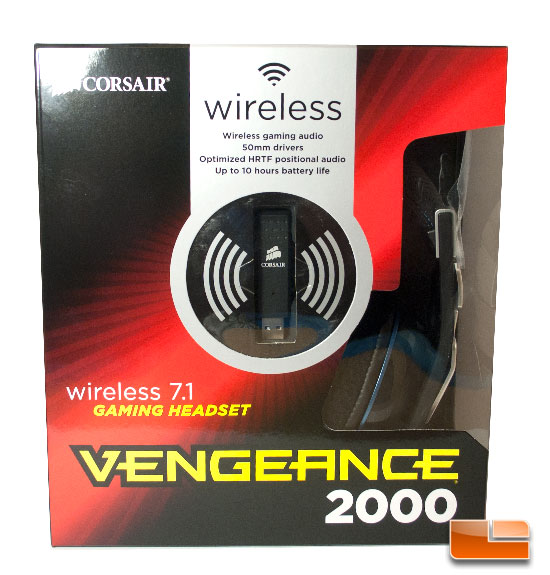 Jumping straight into this, we see the front of the
packaging is pretty basic. It lets us know that the Vengeance 2000 is a
wireless 7.1 surround sound gaming headset. It also gives us a few features,
such as the large 50mm drivers and the 10 hour battery life that should last for even the longest gaming marathons.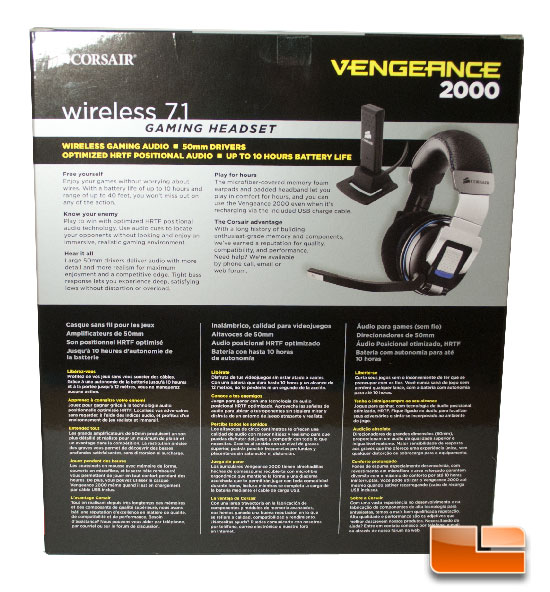 The back of the Vengeance 2000 box gives us a graphic of the headset as
well as the wireless receiver. We get the same features listed on the back as
we had on the front, but this time in several languages also.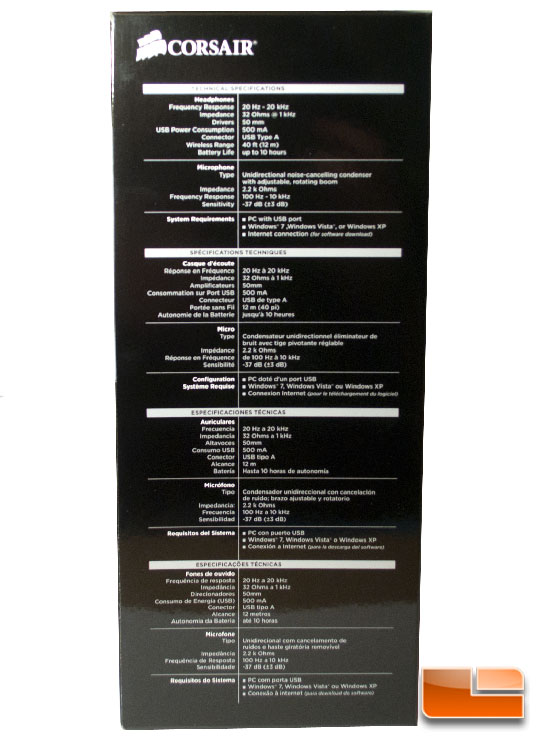 Going further around we are able to see some detailed
specifications, as well as system requirements for the Vengeance 2000. System
requirements are very basic, just need a PC running Windows XP or newer, an
available USB port, and an internet connection for downloading the necessary
drivers.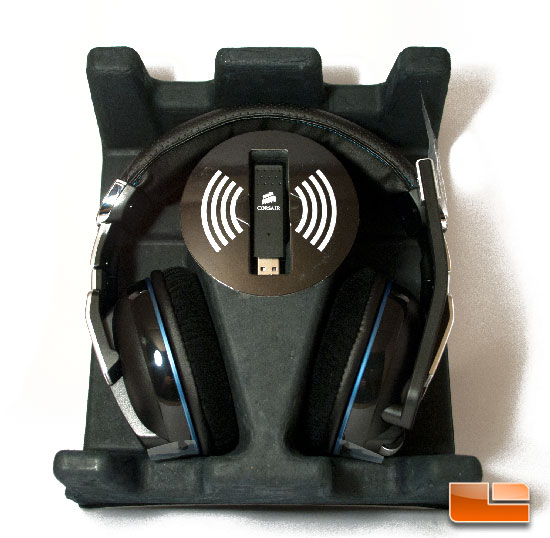 Once we got the box opened and pulled the headset out, we
found it in a standard cardboard holding tray, with the wireless adapter dongle
stuck in the tray as well.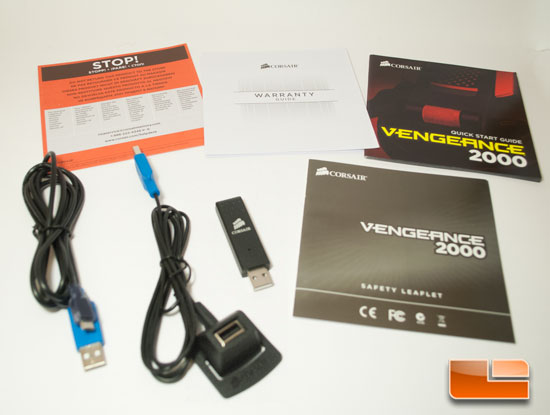 With everything out of the packaging we can see
that we have a few manuals, as well as the USB dongle, an extension cable for
the dongle, and a USB charging cable. The included paperwork goes into detail
on the two year warranty you get with the headset, as well as information on
installing the drivers and more on the Vengeance series of gaming accessories.
Here is a quick video that Corsair produced the product manager, Chris Pate, going over the features of the Vengeance 2000 wireless gaming headset. No one knows this product better than him, so check out his overview.
Corsair Vengeance 2000 7.1 Wireless Headset Features:
Completely wireless with a range of up to 40 feet
7.1 Surround sound recreation
Up to 10 hour battery life
Headphone Specifications:
Frequency Response: 20Hz to 20kHz
Impedance: 32 Ohms @ 1kHz
Sensitivity: 105dB
Drivers: 50mm
Connector: USB Type A
Wireless range: up to 40 feet (12m)
Battery life: Up to 10 hours
Microphone Specifications:
Type: Unidirectional noise-cancelling with adjustable, rotating boom
Impedance: 2.2k Ohms
Frequency Response: 100Hz to 10kHz
Sensitivity: -37dB