Corsair RM650 Power Supply Review
By
Corsair RM650 Power Supply Review Introduction
Corsair is perhaps the most active company in the PSU market this year, which may be slightly ironic, as they originally were a memory manufacturer that diversified into the PSU market just a few years ago. Apparently, the tens of products which they have been marketing via their six PSU series were not enough, leading Corsair to develop a seventh, new series. Today, the companys new power supply series, the RM, is a fact, bringing 6 new units into their already crowded power supply ranks. The smallest power supply of the series starts at 450 W and the most powerful version reached up to 1000 W. Today we are having a close look at the RM650 which, as the name implies, is the 650 W version.
The company claims that the new RM power supplies are optimized for silent operation, yet that does not mean that being quiet is all these units are good at. A simple look at their specifications and an advanced computer user can identify many interesting features; a fully modular design, an 80Plus Gold certification, a single 12 V rail design and Corsair Link capabilities are just a few. Furthermore, the MSRP prices of the new units, as they can be seen in the table below, are very interesting to say the least.
| | |
| --- | --- |
| Model | MSRP |
| RM450 | $99.99 |
| RM550 | $109.99 |
| RM650 | $119.99 |
| RM750 | $129.99 |
| RM850 | $149.99 |
| RM1000 | $199.99 |
According to the table above, the new RM units end up retailing cheaper than not only the high-end HX series but the mainstream TX series as well, which perhaps is an indication that other series will be receiving price cuts or end to exist.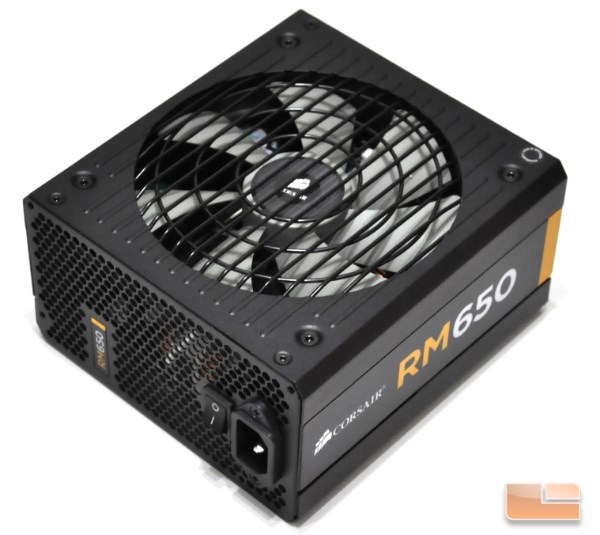 Corsair RM650 Features and Specifications
80PLUS Gold certified, delivering over 92% energy efficiency at real world load conditions
The completely modular cable system allows you to use only the cables you need
Low-profile, flat cable design reduces air friction and helps maximize airflow through your computers chassis
High-quality capacitors provide uncompromised performance and reliability
A five year warranty and lifetime access to Corsairs legendary technical support and customer service
Active Power Factor Correction (PFC) with PF value of 0.99
Universal AC input from 100~240
Over-voltage, over-current protection, under-voltage protection, short circuit protection, over power protection, and over temperature protection provide maximum safety to your critical system components
Safety and Agency Approvals: FCC, ICES, CE, C TUV US, RCM, TUV, CB, CCC, BSMI, GOST, ROHS, WEEE, ROHS, KC, TUV-S
| | |
| --- | --- |
| Warranty | Five years |
| Dimension | 150mm x 86mm x 160mm |
| Modular | Fully |
| Power | 650 Watts |
| 80 Plus | Gold |
| ATX Connector | 1 |
| EPS Connector | 1 |
| PCI-E Connector | 4 |
| 4 Pin Peripheral Connector | 7 |
| SATA Connector | 8 |
| Floppy Connector | 2 |
| MTBF | 100,000 hours |