Corsair PBT Double-Shot Keycaps Review
By
It all started with a post in the Corsair User Forums back on February 5th, 2016 by Corsair Henry. Henry asked the Corsair community who wanted to buy double shot key caps if they available to purchase and how much money would they be willing to spend. That forum topic has garnered over 300 posts since then and it appears that was enough for Corsair to launch a product as you can now purchase Corsair Gaming PBT Double-Shot Keycaps for K95, K70, K65, K66, K63 and STRAFE keyboard models.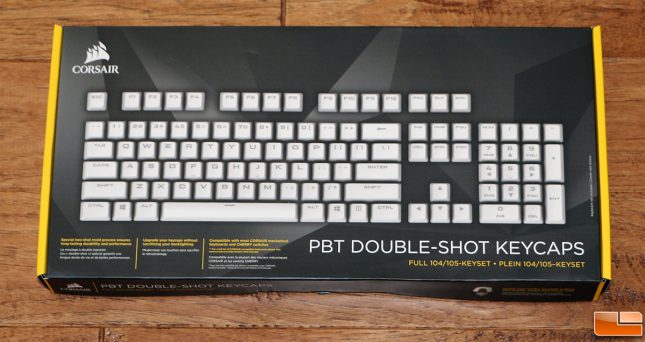 Priced at $49.99 in your choice of white (part number CH-9000234-WW) or black (part number CH-9000235-WW), these backlit compatible keycaps are going to be a niche item that will take your keyboard to the next level. PBT keycaps are popular amongst keyboard aficionados for their high resistantance to friction, temperature and solvents. Since the legend and keycap are one the legend can't be felt when typing and will never wear. Corsair notes that each of these caps are created using ultra-durable PBT with thick double walls and a special two-shot molding process that ensures greater durability, more stability and legends that always remain clear and legible over time.
Corsair PBT Double-Shot Keycap Features
DOUBLE-SHOT MOLDED – Keys are formed in special two-shot molding process to ensure long-lasting durability and performance
ULTRA-DURABLE – Made from dense, shine resistant PBT to reduce key fading
BACKLIGHT ENABLED – Upgrade your keycaps without sacrificing your backlighting
DOUBLE THICK KEYCAP WALLS – Two times thicker than standard keys bringing confidence and stability in every key press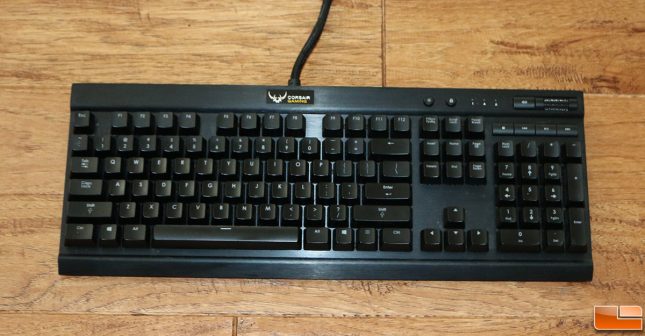 We figured we'd give our Corsair K70 RGB Mechanical Gaming Keyboard that we got in October 2014 its first ever deep clean and swap out the original ABS keycaps with the new PBT Double-Shot keycaps from Corsair.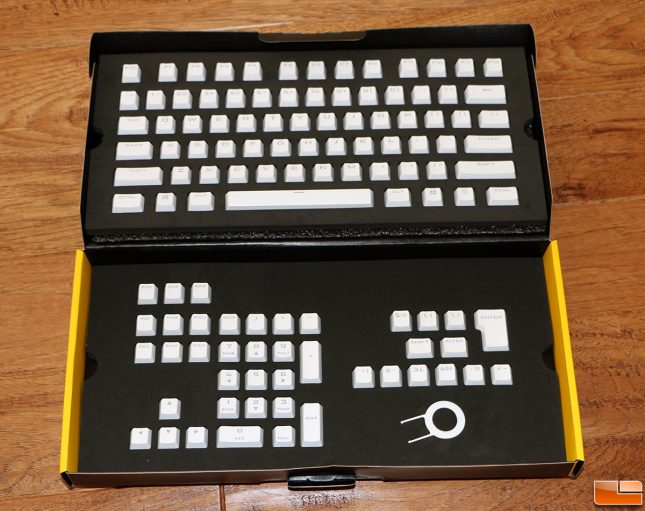 Inside the CORSAIR GAMING PBT Double-shot Keycaps Full 104/105-Keyset kit you'll find all the 104/105 keys for full US/EU/UK key layouts, a key puller and the quick start guide and warranty leaflet. Corsair places a 2-year warranty on these new keys and we doubt that you'll encounter a cap failure as we've run Corsair keyboards for years and never had a cap fail before.
One thing we noticed with the new white caps is that there was some black gunk on them from the material they were packed in that wouldn't just wipe off. We needed to wipe down about a third of the double-shot key caps with a cleaning solution to get the new white keys looking spotless before installing them. The images above shows the difference in font, texture and molding between the old and new keys.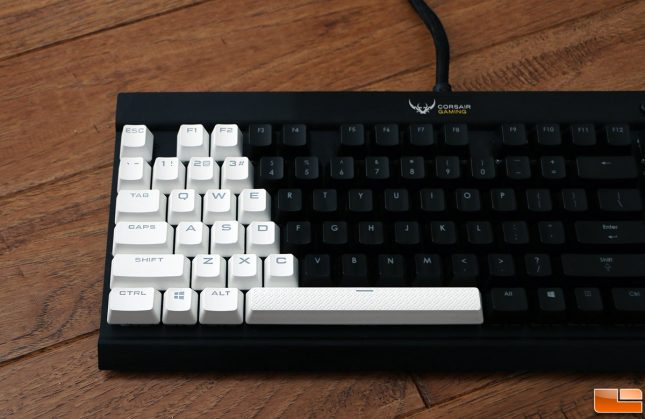 The process of switching keys over is very straight forward, but you'll find that it takes a bit more time than you expected since there are over a hundred keys to swap. You should also clean the keyboard while all the keys are off as this is something you don't do every day! We weren't sure how the white keys would look, but once we started swapping the keys over we noticed that the keys were much easier to read and it looked great.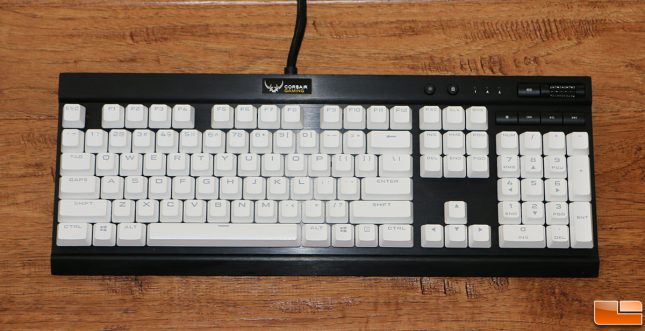 After using the Corsair K70 RGB Mechanical Gaming Keyboard for three years we were used to the all black look, but the new CORSAIR GAMING PBT Double-shot White Keycaps made it feel like a new keyboard. Gone are the worn smooth keys from before and it gives our keyboard a completely new look!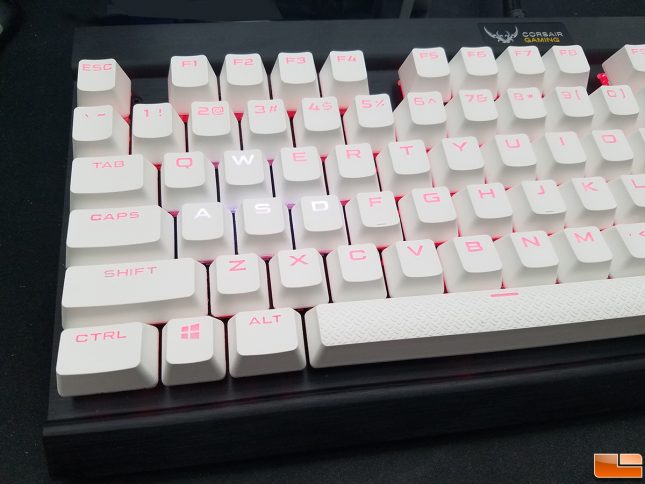 The backlighting looked great and we didn't have to compromise on any of our RGB lighting effects!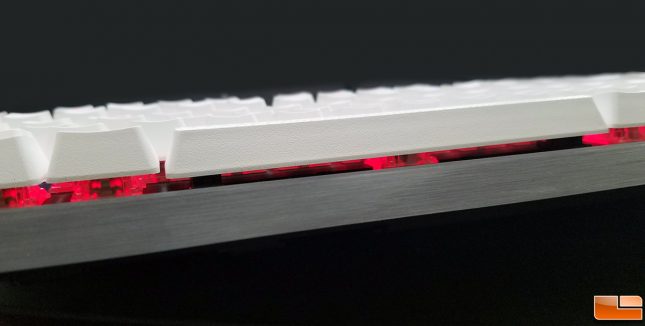 The only issue we had with the keycap switch was the spacebar sticking on the two outer mechanical stabilizers. It wasn't sticking on us before we made the swtich, but it was after. This was frustrating and it would have been nice for Corsair to include a pack of keyboard lubricant for the mechanical stabilizers due to situations like this. We've told Corsair about the issue and asked them what they suggest using as you want something with high dielectric strength that won't hurt the plastic or metal.
Final Thoughts
If you like textured surface feel of PBT over typical ABS keys you now have the option of purchasing a set of keys if you happen to own a Corsair gaming keyboard that is supported. Right now, the Corsair K95, K70, K65, K66, K63 and STRAFE keyboards are compatible with the new PBT Double-shot key caps. The CORSAIR K68 is not supported and we should point out that on the CORSAIR K95, K95 RGB & K95 RGB PLATINUM the macro keys are not included. Corsair uses a non-standard bottom row, so if you are thinking about using the new Corsair PBT key caps on another keyboard that uses Cherry MX switches it won't work.
The Corsair PBT Double-shot keycaps are shipping to retailers around the world and should be readily available to purchase around thanksgiving. Most big name retailers are out of stock or have yet to receive their shipment, so be prepared to wait a couple more weeks if you want a set of these. The $49.99 price tag in white or black might be too much for some, but for others it will be worth it. The textured surface of the PBT keycaps might take a bit to get used to if you've never used them before, but its nice!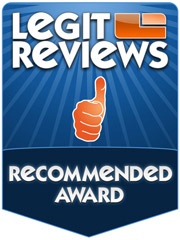 Legit Bottom Line: Corsair PBT Double-Shot Keycaps are available to those that want to ditch the ABS keycaps that have become normal due to production costs over the past decade.