Corsair P256 256GB MLC Solid State Drive Review
By
The Corsair P256 SSD Arrives
When it comes to Solid State Drives (SSD), I really haven't been impressed by many of the drives that have been on the market up to this point. Last fall I tried to move over to SSDs in my office computer and my laptop and the move didn't even last a day. The benchmarks showed that the drives were fast, but during real world usage you'd have constant stutters and poor performance. This was something I couldn't live with and I went back to hard drives with platters. When the Intel X-25M 80 GB SSD came out last September I was impressed, but was the first journalist to point out that performance nose dived when the drive was loaded up with data. At first Intel blamed me for incorrectly loading up the data on the drive, but it now seems to be an issue felt by tens of thousands around the world. After spending a couple of weeks with the Intel X-25M 80GB SSD I found myself booting off of a floppy drive so I could run HDD Erase 3.3 in order to format the drive to help restore the peak performance level of the drive. This is something I don't expect the average consumer to do and when someone asked me about Solid State Drives I told them to wait. Needless to say I've had a dozen SSDs come in for me to try out and they have all had flaws that landed them on the shelf.
Over the past six months the Solid State Drive market hasn't really changed. The most well rounded drive is still the Intel X-25M, but it is also one of the most costly. Other companies like OCZ have developed drives that feature multiple JMicron controllers as adding two controllers and more cache help mask the problem. Note that I said "mask," as adding two 'broken' controllers together to improve the performance might help the situation and be cost effective, but it is not the solution the market needs. Even drives with the Indilinx controller seem to suffer from stutters, especially when multi-tasking. Basically, JMicron, dual JMicron and Indilinx SSDs have faults and the market is in need of something new.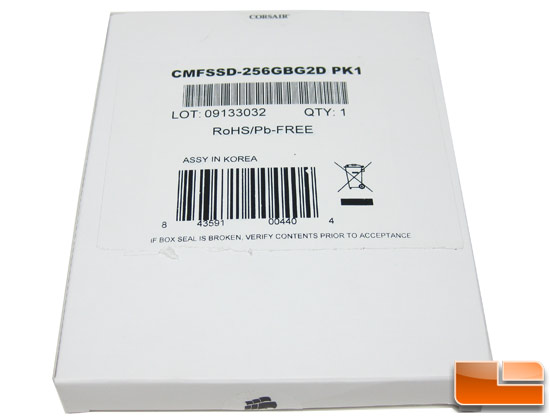 Last week, a package arrived from Corsair and inside was the little white box pictured above. It turns out that this is the new 256GB Solid State Drive that Corsair has been talking about for the past several weeks and is claiming to be super fast. It was later revealed to me that this drive is a re-badged Samsung PB22-J MMDOE56G5MXP-0VB SSD. That means that it uses a second generation Samsung controller and should be very fast. That means we have a drive here that doesn't use JMicron or Indilinx controllers, so here is something new for a change! The Corsair P256 will be available next week for $749. If the full MSRP is paid it means that you are paying $2.93 per Gigabyte for the P256, which is actually lower than the Intel X-25M 80GB as it works out to be $4.56 per Gigabyte (at $364.99).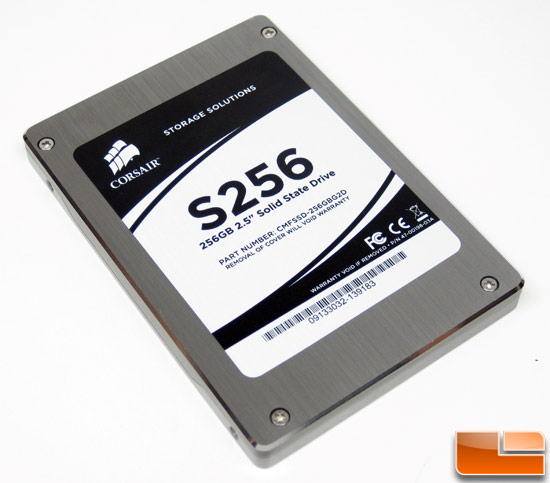 The drive shown above is labeled S256, but it was re-named after I received it to P256 as this is a performance drive and not standard! The Corsair P256 uses a 2.5-inch hard drive form-factor and measures 100mm x 70mm x 9.5mm. The drive has a sweet looking brushed metal finish, but remember if you install the drive in a laptop you'll never be able to see the nice finish.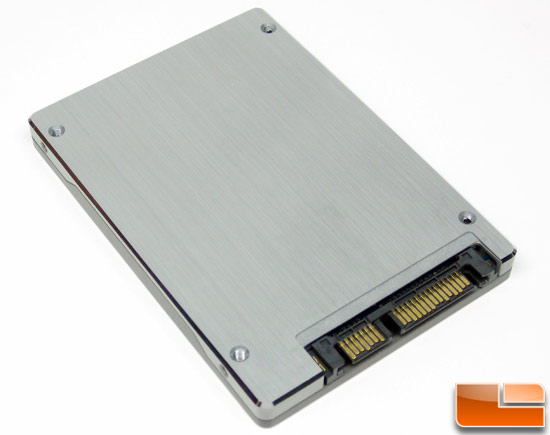 The Corsair P256 is only available with a SATA 3.0GB/s interface as shown above, which also uses a SATA power connector. This drive works perfectly in 2.5-inch notebooks that use the SATA interface, but be sure your notebook supports SSDs before purchasing one. Let's take the cover off the Corsair P256 SSD to see what is inside this new drive.