Corsair Graphite 760T Full Tower Case Review
By
Corsair Graphite 760T Full Tower Case
Corsair is constantly releasing new enclosures and expanding their products lines. The Graphite series of cases is one of four lines, and so far includes two models, the entry level Graphite 230T and the enthusiast grade 600T; both of which are mid-tower cases. Corsair has now expanded the line with the Graphite 730T and 760T, a full tower model. While both cases are nearly identical, the one big difference is the side panel; one has a large window, the other is a solid side panel. The Graphite 760T is available in Black and Arctic White; Corsair sent over the Arctic White model, which has a retail price of $189, for us to take a look at.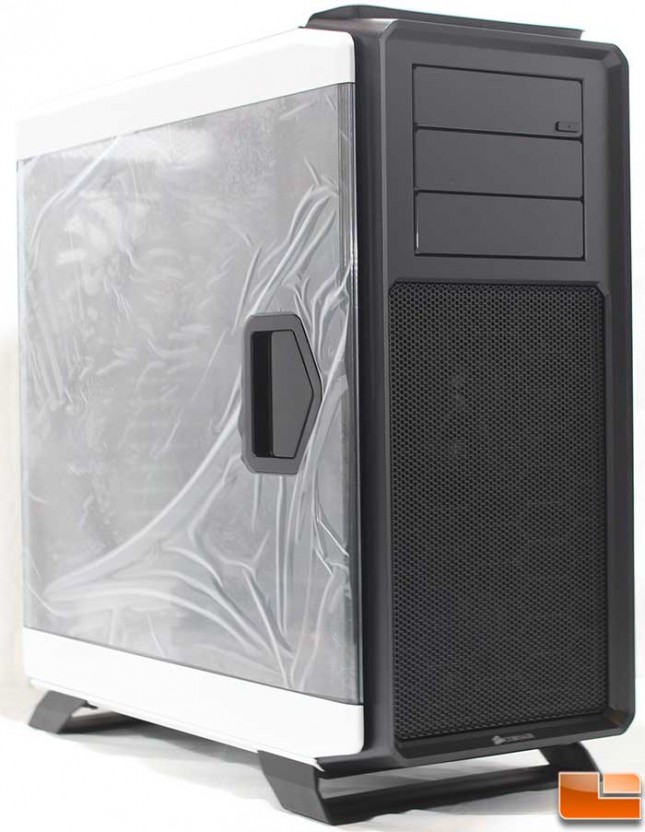 Coming in at 22.4″ x 9.7″ x 22.2″ (HxWxD), this is a large case; a full tower. As such it has a lot of space inside for components, not only can the big E-ATX and XL-ATX motherboards, it will also support four 2.5″ drives behind the motherboard tray, and six 3.5″ drives, with the potential to add three more 3.5″ drives with an optional drive cage. As for other components, it will fit GPU's up to 18″ long and a CPU cooler up to 7″ tall. There shouldn't be any reason your hardware won't fit. Without concerns on whether hardware will fit, we turn our attention to cooling, with room for seven 120mm fans and liquid cooling from 120mm to 360mm there are plenty of ways to cool the system.
One really cool feature of the Graphite 760T is the side panels. Not only do they swing open, but the left side panel is made out of flawless poly-carbonate providing an unobstructed view of the interior. I've always disliked building systems with side windows, if they show just the motherboard area that's great; most go a bit further and show part of the drive cages and power supply. Corsair went with a clear panel allowing the entire interior to be visible. The window has a slight tint to it, however it is still clear and without any flaws. The right side panel (also known as the back side) has a solid black panel with a mirror finish, this lets the user perform cable management on the back of the motherboard tray and still provides a great looking side panel.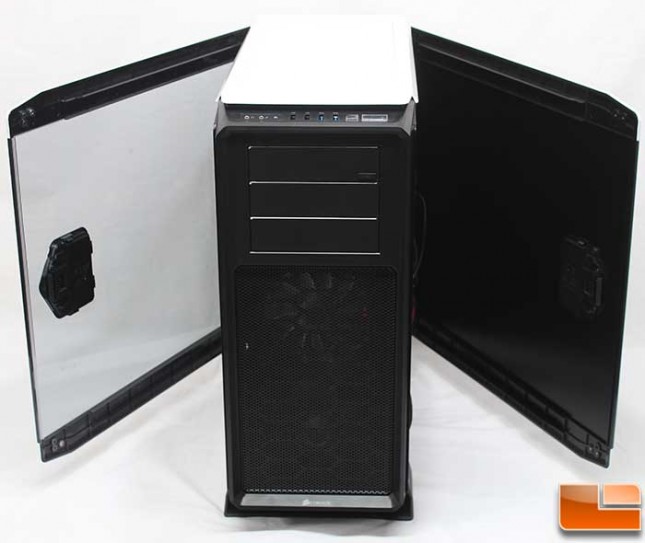 Corsair Graphite 760T Features and Specifications:
Full side panel window showcases internals
Hinged, latched, removable doors allow easy access to components
Tool-free 2.5″, 3.5″ and 5.25″ drive installation
Three 140mm fans (2 front LED, 1 rear) for excellent airflow and low noise levels
Two included modular/removable drive cages support six 2.5″/3.5″ drives (two optional cages add support for 6 more drives)
Removable magnetic top panel allows user to close off top ventilation for a cleaner look
Support for watercooling in a broad variety of configurations
Two-speed fan control
[youtube]https://www.youtube.com/watch?v=7TDVf0msLmw[/youtube]
Corsair Graphite 760T
Form Factor
Mini-ITX, Micro-ATX, ATX, EATX, XL-ATX
Dimensions (HxWxD)
568mm x 246mmx 564mm (22.4″ x 9.7″ x 22.2″)
Drive Bays

Front:
Three 5.25″

Internal:
6x 2.5″/3.5″ in 2 includes drive cages
4x 2.5″ side-mounted

* Two optional cages will support 6 more 2.5″/3.5″ drives
** Cages can be moved to any of 4 locations

Cooling

Front: 2x 140MM AF140L LED fans (mount supports 120mm)
Rear: 1x 140mm AF140L (mount supports 120mm)
Top: Supports 3x 120mm / 140mm
Side: –
Bottom: Supports 120mm with 3.5″ cage removed

Radiator Support

Front: Up to 240mm / 280mm
Rear: 120mm / 140mm
Top: Up to 360mm / 280mm
Side: –
Bottom: 120mm

Expansion Slots
9
I/O Port

2x USB 2.0
2x USB 3.0
Headphone and Mic
Fan speed toggle

Power Supply Standard
ATX (not included)
Clearances

Heatsink: 180mm
PSU: Any
Graphics: 340mm with drive cage, 460mm without

Warranty
2 Years