Corsair Designs an Enthusiast ATX Case
By
Corsair Goes Back To Computer Cases
Corsair likes to try out new things and this time around they have developed a new chassis from the ground up that is clearly aimed at computer enthusiasts. Corsair has a prototype of the yet to be named case on display at CeBIT this week and since we couldn't be there they sent us the following pictures of the original prototype that was designed back in December. Corsair informed us that over 25 changes have been made to the chassis, so these pictures aren't 100% accurate and only show a work in progress.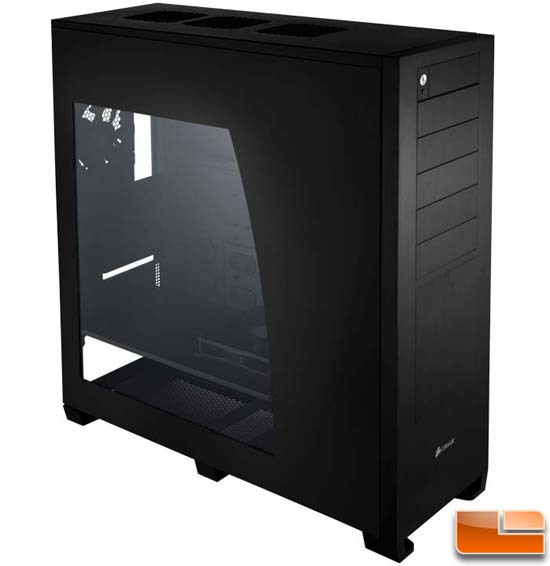 The no name case is a full tower ATX chassis that stands a full 24″ tall and 24″ deep with a width of 9″. We asked Corsair for the exact weight of the chassis and was told that it was a 'heavy' case that is around 20 to 25 pounds when fully empty. The construction of the case is mainly steel, but the front panel and feet are currently made from aluminum. Corsair has made it clear to Legit Reviews that the feet might be made from steel on the final production model, so just a heads up. Once Corsair starts final production on the chassis we will know for certain what the specifications are.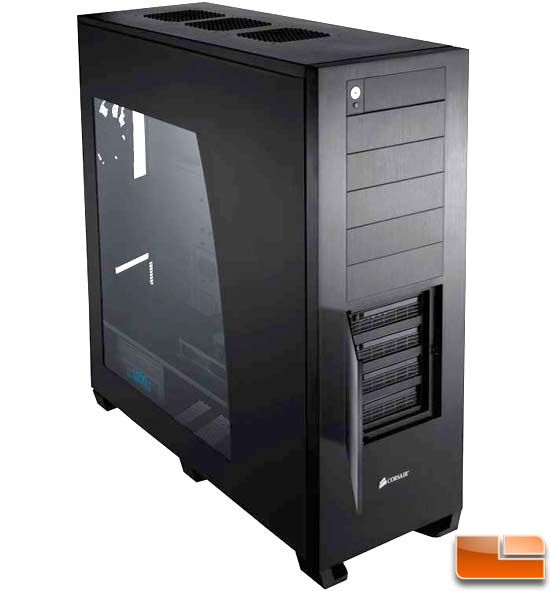 If you take a look at this picture you can see spots for three 120mm fans located at the top of the Corsair case. These will be spaced for a triple 120mm radiator and will come pre-drilled for the radiator. Corsair has also included water cooling cutouts in the back, so water coolers should be highly interested in this case as you should be able to mod it very easily.
Something else that is very interesting is that the Corsair case comes with four hot swappable hard drive caddies that slip into a standard SATA backplane. The corsair case can hold six 3.5″ hard drives and has five 5.25″ optical drive bays, so you should have plenty of room to get things up and running.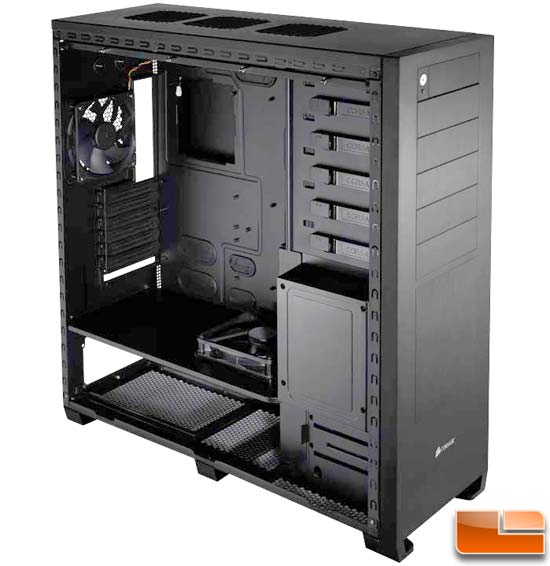 With the case door removed you can get a better look at what is going on inside the chassis. The intake of fresh cool air doesn't come from the front of the case, but rather the bottom. Corsair has used two 140mm fans to suck the air in and then routes it up and over the hard drive bays, which is an interesting design that we haven't seen before. Corsair is testing this method to see how well it does compared to sucking air in from the front of the chassis, so it should be interesting to see how it performs. On the back of the chassis there is a 120mm fan on the backplane to exhaust the hot air as well. One last thing to point out is that the power supply is in a different 'chamber' than the motherboard. Corsair says they included all sorts of wire routing holes that have rubber grommets in them, so no worries on cable management or being cut.
The Corsair case looks interesting and should be hitting store shelves in Q2 2009. Our sources deep inside Corsair say that May is the month that this chassis will be ready to go. When it comes to pricing that hasn't been set in stone, but Corsair is guessing that it will retail for between $250-$300. With the soft economy we can only hope that it retails for the lesser of the two amounts. Corsair also told us that the case will come without a power supply, but they will offer rebates and bundle discounts when purchased with one of their power supplies. We look forward to getting our hands one of these cases in the coming months as it sounds like it will have a ton of potential!