Corsair Bulldog 2.0 Barebones 4K & VR Living Room Gaming PC Review
By
Corsair Bulldog 2.0 Barebones System Review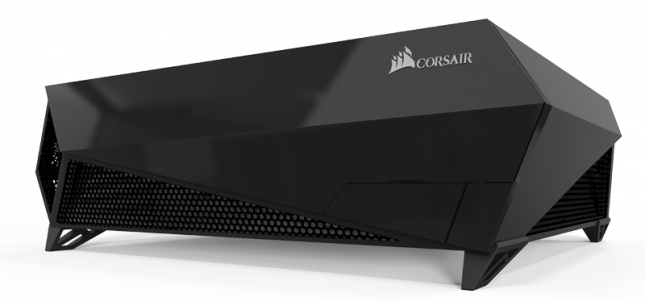 Last year, Corsair continued to expand it's product lines from it's background in memory and storage devices by introducing to the Bulldog, a VR-ready gaming PC designed to be used in the living room. The Bulldog is available as either a barebones system priced at $399, or a full ready to use system which will vary in price depending on the components. For those that aren't aware, a barebones system included the basic components to as a base to build a full PC. Within the Bulldog, is a mini-ITX motherboard, power supply, and a CPU liquid cooler. In order to complete the system, you have to select your CPU, Memory, storage drives, and an optional graphics card. The Bulldog 2.0 is a refresh of the original Bulldog, system designed to support the latest Intel Kaby Lake processors with a Z270 based motherboard.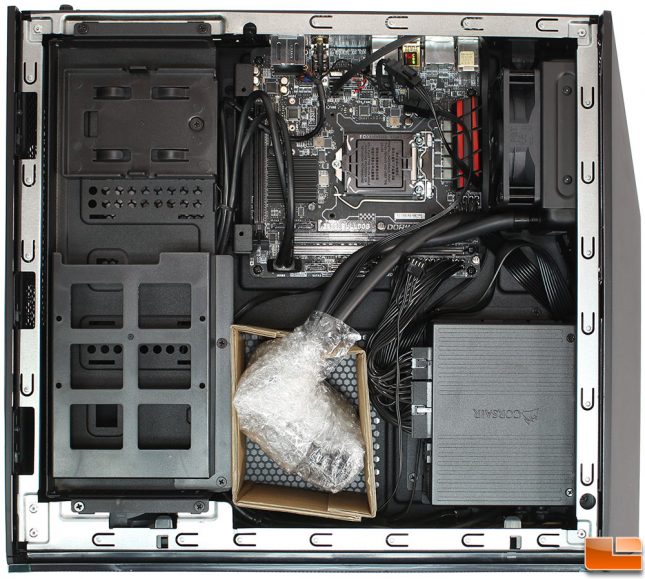 Within a small chassis, airflow is going to be a major focus, as you need to keep components cool is critical when building a high end 4K and VR capable gaming machine. Corsair has a done a good job at making all everything easily accessible within a tiny footprint, which measures 404x448x145mm or 15.9×17.6×5.7in. In addition to the included Z270 mITX motherboard, SF600 power supply, and the updated Hydro H6 SF CPU cooler with a new quieter ML series fan, Corsair has provided support for a 2.5″ SSD and a 3.5″ hard drive (or up to 3 2.5″ SSD's), a liquid cooled graphics card (up to 300mm in length).
Features and Specifications:
Bulldog Chassis: Designed for maximum airflow and minimum noise, now with quiet 92mm fans powered by the same magnetic levitation technology used in our award-willing ML Series fans.
Hydro Series H6 SF Cooler: Improved from last year, the new H6 SF cooler is quieter even under the most extreme conditions while letting you overclock your Intel K-series CPU.
SF600 Power Supply: The included industry-leading, award-winning SF600 power supply gives you 600 watts at 80 PLUS Gold certified efficiency, more than enough for overclocked CPUs and the fastest graphics cards.
Intel Z270 Motherboard: Built for the 7th Generation Intel Core processors, overclocking-ready with support for DDR4, high bandwidth built-in 802.11ac Wi-Fi and 10Gbps USB 3.1 Type-C
Our review sample of the Bulldog 2.0 included the MSI Z270I Gaming Pro Carbon AC motherboard.
MSI Z270I Gaming Pro Carbon AC
Socket
1151
CPU (Max Support)
i7
Chipset
Intel Z270 Chipset
DDR4 Memory
3800(OC)/3600(OC)/3200(OC)/3000(OC)/2800(OC)/2600(OC)/2400/2133MHz
Memory Channel
Dual
DIMM Slots
2
Max Memory (GB)
32
PCI-Ex16
1
PCI-E Gen
Gen 3
SATA III
4
M.2 Slot
1x 2280 Key M, 1x 2230 Key-E (Wi-Fi)
RAID
0/1/5/10
TPM (header)
1
LAN
10/100/1000 *1
USB 3.1 Ports (Front)
2 (Gen 1, Type A)
USB 3.1 ports (Rear)
1 (Gen 2, Type A), 1 (Gen 2, Type C), 2 (Gen 1, Type A)
USB 2.0 ports (Front)
2
USB 2.0 ports (Rear)
2
Audio ports (Rear)
5 + S/PDIF output
DisplayPort
1
HDMI
1
DirectX
12
Form Factor
Mini-ITX
Corsair Bulldog 2.0 Barebones Additional Parts
As this is a barebones system, there are certain other components that are necessary to get it up and running. Specifically, you need a processor, memory, and a drive for the operating system. For us to review the Bulldog 2.0 Barebones case, Corsair loaned us some optional hardware to use for testing of the Bulldog 2.0.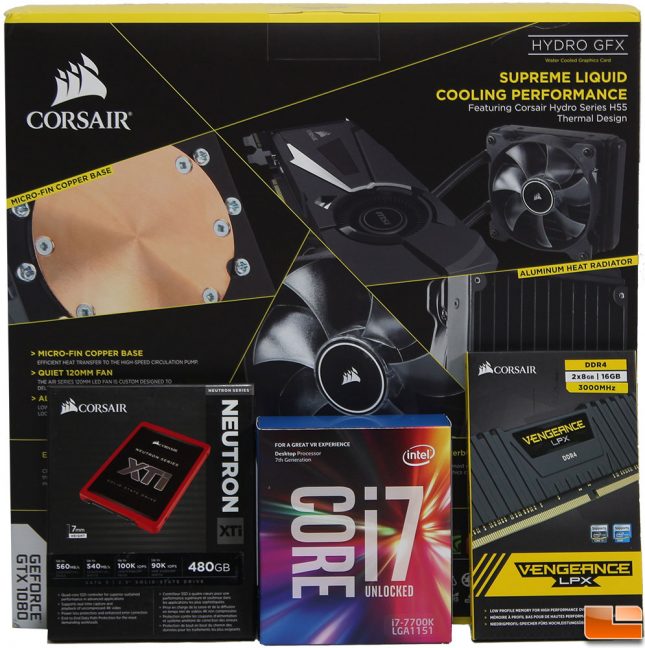 Corsair Bulldog 2.0 Barebones
Part
Model
Pricing
Video Card
MSI/Corsair GeForce GTX 1080 Sea Hawk X
$709.99
SSD
Corsair Neutron XTI 480GB
$179.99
Memory
Corsair Vengeance LPX 3000MHz 16GB DDR4
$124.99
CPU
Intel Core i7-7700K
$349.99
Operating System
Windows 10 Pro 64-Bit
$92.99
The Corsair Bulldog 2.0 barebones kit is $399, so by the time you add in the other pieces that we were loaned for this review the total cost of this system would be around $1457.95 shipped.
Now let's take a brief look at the Bulldog 2.0 itself, before building the system and taking a closer look at it.