Corsair Air Series A50 CPU Cooler Review
By
Corsair A50 CPU Cooler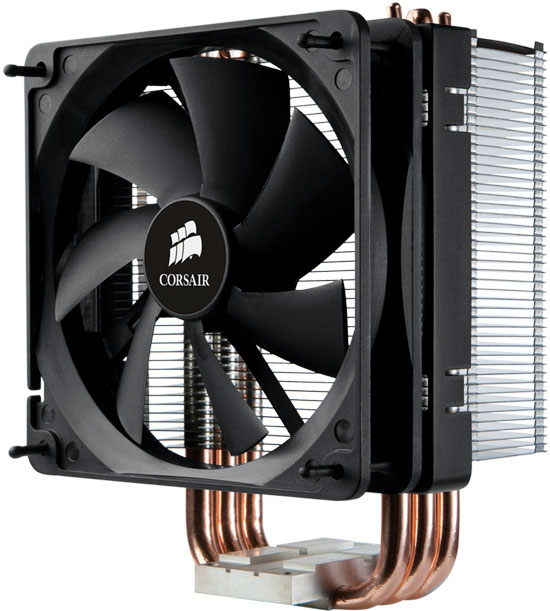 Whether you are new to PCs or an enthusiast, when you hear the name Corsair your mind most likely jumps straight to RAM. However, Corsair has been branching out over the last couple of years into more than RAM. Now they have power supplies, USB drives, SSDs, cases, water cooling kits, and air coolers. Last August we looked at the Corsair A70; today we are going to look at its little sibling, the A50.
The Corsair A50 CPU Cooler has flown under the radar since it was launched, but it caught our attention this month when we noticed that it was very affordable. Amazon has this cooler for $36 shipped and that is before rebate. Earlier this month Amazon was selling this cooler for $27 and it had a $15 rebate at the time. That brought the price down to just $12 and for that price we had to get one in to see how it performs. While this rebate is no longer available we did find that some deals on this cooler are still available. For example Newegg has it listed for $35.24 shipped before a $15 rebate available (expires on 1/31/2011), which drops the $20.24. That is a price that many of us have paid for a high-end 120mm fan, so to get a quality heat sink and fan for that price is pretty impressive.
The Corsair A50 is a single 120mm fan Heatpipe Direct Touch (HDT) 3 heat pipe tower cooler. The A50 will mount up to all the Intel LGA sockets and the AMD AM2/AM3 sockets. The A50s fan is rated at 61.2 CFM at 2000 RPM and run at 31.5 dBA. They can also be restricted with inline power resistors to be forced to run at 50.35 CFM at 1600 RPM and 26dBA each. So the cooler can be quieted down if needed. The fan itself is mounted to the cooler without spring clips, but with a rubber isolated bracket that can be easily removed by hand for installing the A50 or switching out the fan if you so choose.
Features
Compatible with Intel and AMD systems
Three 8mm copper direct-contact heatpipes
Aluminum fins
Low-noise, low-vibration 120mm fan mounted on rubber studs
Selectable 1,600 or 2,000RPM fan allows you to select the cooling performance you want
Two-year warranty
Specifications
Model: CAFA50
Heatsink dimensions: 159.5mm x 124.6mm x 81.2mm
Cold Plate Material: Three 8mm copper direct-contact heatpipes
Fan Specification: 120mm (x1)
Fan Dimensions: 120mm x 25mm
Fan speed: Selectable 1,600 or 2,000 RPM
Air flow: 50 – 61 CFM
Static pressure: 1.8 – 2.3 mm
H20 Noise level: 26 – 31.5 dBA
Socket Support: AMD AM2, AMD AM3, Intel LGA 1155, Intel LGA 1156, Intel LGA 1366, Intel LGA 775
Box Contents
Corsair Air Series A50 CPU Cooler
Multi-platform mounting kit
Thermal compound
Quick Start Guide