CoolIT Systems ECO A.L.C. 240 CPU Cooler Review
By
CoolIT Systems ECO ALC 240 CPU Cooler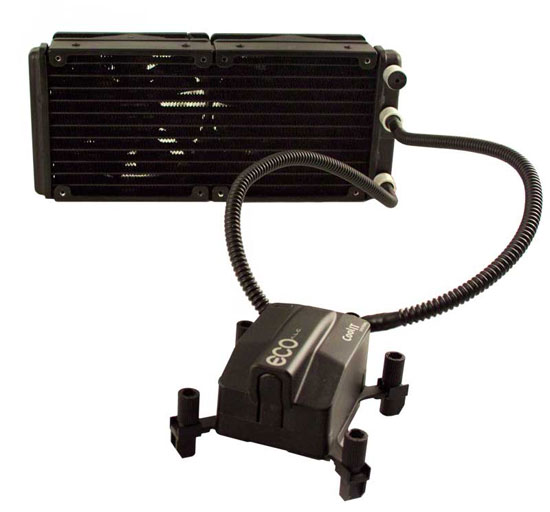 In the last year self contained water cooling kits have gotten more popular. This is mainly due to some users that want the benefit of water cooling but do not want to either custom build a cooling loop or have the money to throw at a custom loop. Enter companies like Corsair with their H series coolers and CoolIT with their A.L.C. series. Today we are looking at the ECO A.L.C. 240 from CoolIT Systems.
What is different from the self contained kits we have looked at so far is that the ECO ALC 240 has a 240mm radiator, not a 120mm radiator. The radiator comes with two 120mm 1900 RPM 63 CFM fans, but can support up to four 120mm fans for a push/pull configuration. With more cooling capacity, a bigger radiator and more fan capacity, the ECO ALC 240 could be a very good performer for its $125 price tag.
Now the new ECO ALC 240 is just like the ECO ALC 120 in regards to the types of fans and pump/block unit. The only difference is the larger radiator. The ECO ALC 240 is a self-contained, sealed loop CPU water cooler. With the unit being sealed there is no need for the system coolant to be filled or topped off like a custom water cooling loop would require due to water evaporating from the coolant reservoir. This maintenance free operation is also one of the attractions for some users to use self-contained units.
CoolIT Systems ECO ALC 240 Specifications
CoolIT 240mm Radiator (Default Configuration)
Description: 240mm Class Liquid Cooling Radiator
Construction/materials: Louvered aluminum fins, tubes and body
Performance/Design: Optimized for high performance as low fan speed for low noise operations
Fittings style: CoolIT 6mm FEP barb system compatible fittings
Dimensions: 275 mm tall x 122mm wide x 27mm deep
CoolIT Fan
Description: 2x CoolIT 120mm 1900 RPM Fans
Fan Rated Airflow: 63 CFM
Rated dBA: 29 dBA
Construction Materials: High Performance UL94-V0 PBT Plastics
Performance/Design: High Flow, Low Noise Design
Features: Sleeve Bearing, 100.000 Hrs. MTTF, 4 Pin PWM Speed Controlled, Tach Output
Dimensions: 120 * 120 * 25mm
CoolIT Pump
Motor: Electronically commutated, brushless
DC
Nominal Voltage: 12 VDC
Nominal current: 0.1 A (consumes ~1.5W)
MTBF: >50,000 Hours
Maximum Head: 110 cm H2O
Maximum Flow Rate: 1.5 L/minute
Maximum Operating Temp.: 70 Celsius
Fittings Style: CoolIT 6mm FEP barb system fittings
Dimensions: 60 mm x 48 mm x 30 mm
Weight: 57g
CoolIT ECO CPU Assembly
FHE Base Type: Microchannel
FHE
Base Material: Copper
Dimensions: 55mm(w) x 91.5mm(l) x 51.4mm(h)
Weight: 255g (including pump)
Tubing
Description/Features: Flexible corrugated FEP, 6 mm ID, 8 mm OD
Water Vapour Transmission: <=1.5 g/year @ 60 C (7 year life)
Coolant
Description/Features: Low toxicity Propylene Glycol/Water mix-ture with anticorrosion/antifungal pack-age
Thermal Interface Material
CPU Thermal Grease: CoolIT Pro ATC