Cooler Master Storm Sniper Black Mid-Tower Case Review
By
The Sniper Case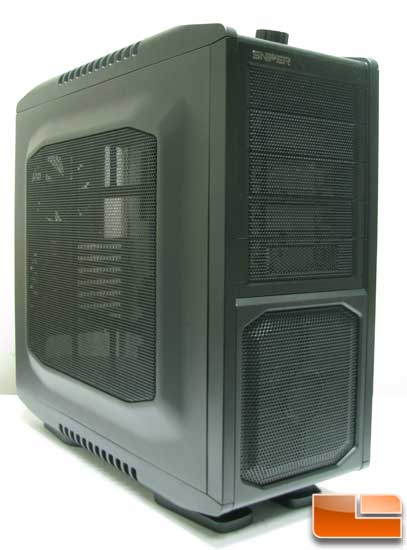 Cooler Master has been around for as long as I can remember, producing some of the best cases around. Cooler Master recently announced a line of enthusiast parts called CM Storm. Part of that line up is a new case named Sniper.
Features
Fierce exterior design inspired by military weapons.
Unprecedented airflow from up to 3 huge fans.
Next generation control center for tuning your lights and fans.
StormGuard – ground-breaking security system for safeguarding your gaming peripherals.
Convenient handle and foot stand for fast and efficient mobilization and relocation.
Screw-less design for quick upgrades and maintenance.
Specifications
Model Number: SGC-6000-KKN1-GP
Available Color: Black
Material: Steel, ABS Plastic, Mesh bezel
Dimensions (DxWxH): 566.6 x 254.6 x 551 mm (22.3 x 10 x 21.7 inch)
Net Weight : 10.6 kg (23.42 lb)
M/B Type: Micro-ATX/ATX
5.25″ Drive Bay: 5 Exposed (without the use of exposed 3.5 inch Drive Bay)
3.5″ Drive Bay: 5 Hidden 1 Exposed (converted from one 5.25 inch Drive Bay)
Cooling System
Front: 200x30mm Blue LED Fan x 1 (500 – 1000rpm, 17 – 23 dBA)
Top: 200x30mm Blue LED Fan x 1 (500 – 1000rpm, 17 – 23 dBA)
(can be swapped for two 120mm fans or 120x240mm Radiator)
Rear: 120x25mm Standard Fan x 1 (1200rpm, 17 dBA)
(can be swapped for 90mm fan or 80mm fan)
Bottom: Supports 140mm Fan x 1 or 120mm Fan x 1 w/ Dust Filter (optional)
Side: Supports 200x30mm Fan x 1 (optional), 120x25mm Fan x 2 (optional)
Expansion Slots Standard x 7, Special x 1
I/O Panel USB2.0 x 4; IEEE1394 x 1; eSATA x 1; Mic x 1; HD Audio+AC97 x 1
Power Supply Standard ATX PS2 / EPS 12V (optional)
Packing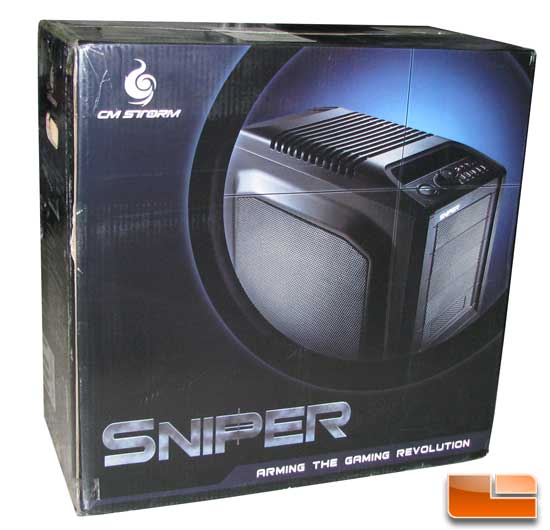 The Sniper comes well packed in a sturdy box. The artwork on the box looks as if you are looking through the scope of a sniper rifle at the Sniper case. The case comes wrapped in plastic and foam end caps.