Cooler Master N400 Case Review – Lots of Features For $50
By
The Cooler Master N400 Chassis
Cooler Master is well known for manufacturing cases that suit all types of users. While the majority of their recent cases have been geared towards gamers and enthusiasts, they recently announced new line of cases, the N series. This new line incorporates features commonly found with enthusiast cases; however it has a very minimalistic feel to it. Currently there are three cases making up the N line, the N200, N400 and N600.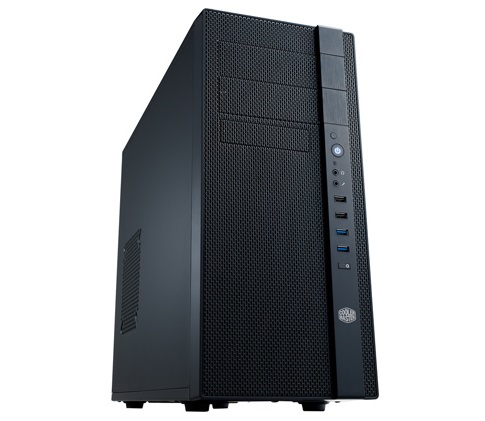 Today, we will be taking a look at the middle of the series case, the N400. This mid-tower case sells for $50.92 shipped, under the part number NSE-400-KKN2-AMZ. This is a very low cost mid-tower case. While cost can sometimes be an indicator of quality, Cooler Masters reputation should also be taken into consideration. For this price, you are receiving a solid-black case that includes many features such as USB 3.0, water cooling compatibility, support for high-end graphics cards (up to 320mm/12.6 inches) and plenty of storage options. In addition, Cooler Master provides a 2 year warranty with the N400 case.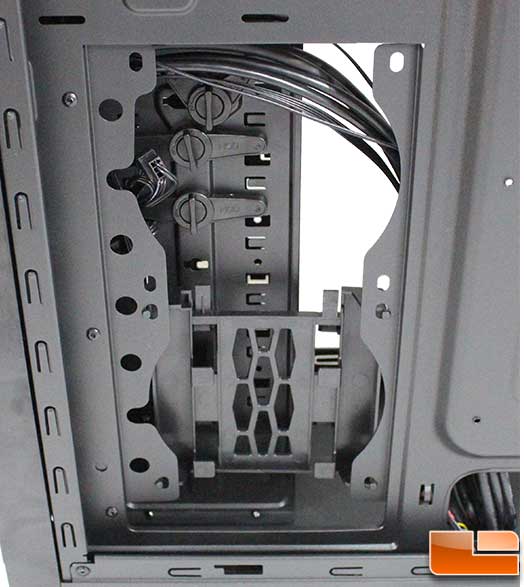 While most systems implement water cooling on the back, top, front or bottom areas of the case, Cooler Master has placed a water cooling or fan mount on the back side panel. Here either two 140mm fans can be installed, or up to a 240mm water cooling radiator.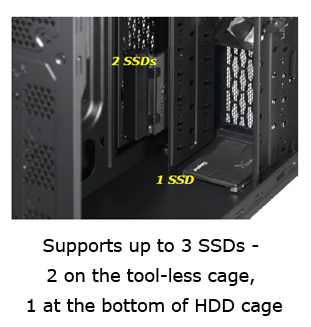 SSDs are one of the hottest storage options which can provide a good performance boost to most systems. Cooler Master has provided the capability of installing three 2.5 SSDs in the N400 (without needing additional hardware).
Cooler Master N400 Key Features:
Full mesh on the front panel
Supports a 240mm liquid cooling radiator or two 120mm fans on the right side / at the top
Supports up to 3 SSDs 2 on the tool-less 2.5 cage, 1 at the bottom of HDD cage
Supports a 120mm liquid cooling radiator in the rear
Includes two XtraFlo 120 fans (no LED) arranged for optimum airflow with support for up to 8 fans
One optional 120/140mm fan can be installed on the left side panel to cool the graphics cards
Supports high-end graphics cards up to 320mm / 12.6 inch, including NVIDIA GTX 690 & AMD HD 7990
Dual Super Speed USB 3.0
Supports up to 8 HDDs (2 tool-less)
3 dust filters (top, right side panel, PSU) for easy maintenance
Lets take a look at the packaging and accessories that came with our review sample.