CM Storm QuickFire Rapid-i Mechanical Gaming Keyboard Review
By
Cooler Master CM Storm QuickFire Rapid-i Mechanical Gaming Keyboard
For years now Cooler Master has brought to the masses affordable and clean minimalist looking mechanical keyboards in the form of the QuickFire lineup. While the aesthetic stands in contrast to the rugged looks and military themes of their other signature products, the attention to quality Cooler Master has become so trusted upon is still there. The original tenkeyless Quick Fire Rapid was popular due to its value, space saving functionality, and solid construction, but backlights were on the list as the most requested feature. Earlier this year, the Rapid-i with Cherry MX Brown switches with individually backlit white LEDs was released and now a new Cherry MX Blue switch model has been introduced which we are reviewing.
While mechanical keyboards are still a luxury piece for a computer, there are tangible benefits to using one. Theyre usually tactile depending on what type of switch is used, the keys reset quickly, key ghosting is nonexistent, and they dont wear down for a long time as a result of their operating mechanism and materials used. All of this made possible arguably because each key is backed by a metal spring as opposed to the elastic plastic found in the usual everyday keyboard. Cooler Master has a nifty guide to help out with explaining mechanical keyboards including details and graphics on the most popular mechanical switches and what their color labels mean.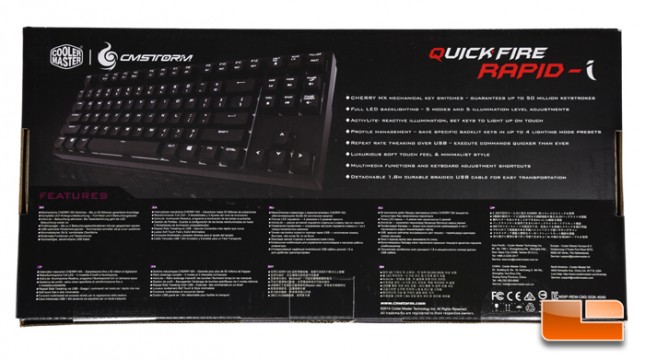 The QuickFire Rapid-i isnt just a plain backlit variation of the tenkeyless Rapid. The Rapid-i has several fun light modes including pulsing lights or reactive lighting when a key is pressed. Other things going on for the Rapid-i include media keys, Windows key lock, detachable USB cable, and 2-year warranty. The Rapid-i can be found at Amazon shipped for $134.99 for the Brown switches and $149.99 for the Blue switches.
Cooler Master CM Storm QuickFire Rapid-i Mechanical Gaming Keyboard Features:
Cherry MX mechanical key switches guarantees up to 50 million keystrokes
Full LED backlighting 5 modes and 5 illumination level adjustments
ActiveLite reactive illumination, set keys to light up on touch
Profile managements save specific backlit keys in up to 4 lighting mode presets
Repeat rate tweaking over UBS execute commands quicker than ever
Luxurious soft touch feel & minimalist style multimedia functions and keyboard adjustment shortcuts
Detachable 1.8M durable braided UBS cable for easy transportation
Cooler Master CM Storm QuickFire Rapid-i Mechanical Gaming Keyboard Specifications:
Switch: Blue switch, Brown switch, Red switch, switch availability may vary on language layout
Key Rollover: NKRO (Windows only)
Keycaps: ABS, grip coated, removable
Polling Rate: 1000 Hz/1ms
Backlight: All White, All keys, 5 settings and 5 modes
Windows Key Lock: Yes
On-board Memory: 128k bytes
Media Keys: Yes (via F keys)
Interface: Micro USB 2.0, full speed
USB cable: 1.8m braided, gold plated and removable
Dimensions: 35.9(L) *13.8(W) *3.9(H) cm / 14.1(L) *5.4(W) *1.5(H) inch
Weight: 932 g / 2.05 lbs
2-year warranty damages as a result of removing keycaps improperly are not covered by the warranty
SGK-4040-GKCM1-US – Cherry MX Brown
SGK-4040-GKCL1-US – Cherry MX Blue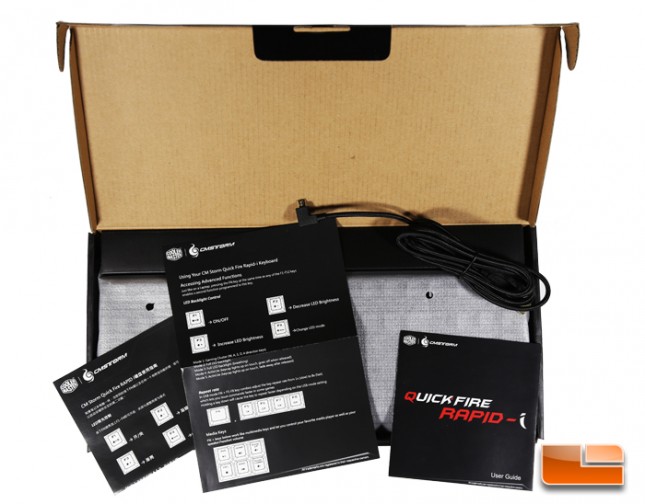 There isnt much packaged with the QuickFire Rapid-i. Theres a 6 ft long USB-to-microUSB cable, a pair of instruction manuals on how to use the keyboard lighting modes and other features in either English or Chinese, a "User Guide" that outlines keyboard features, specifications, and technical support. As you can see in the picture, the keyboard itself is wrapped up in a foam sheet to protect the grippy matte finish from being scratched. On the next page, were going to take a good look at the keyboard itself so stick around!