CM Storm NovaTouch TKL Keyboard Review
By
Cooler Master CM Storm NovaTouch TKL Keyboard with Topre Switches
The CM Storm NovaTouch TKL keyboard we are reviewing is unlike any of the keyboards weve typed with. Weve reviewed mechanical keyboard which use metal springs and keyboards with more commonly used elastic plastic to reset the keys. The NovaTouch key mechanism uses both each key is backed by a metal spring and plastic dome that work together. The patented switch design is named after its manufacturer and is called the Topre switch by Topre Corporation. Keyboard enthusiasts rave that these switches provide the ultimate typing experience.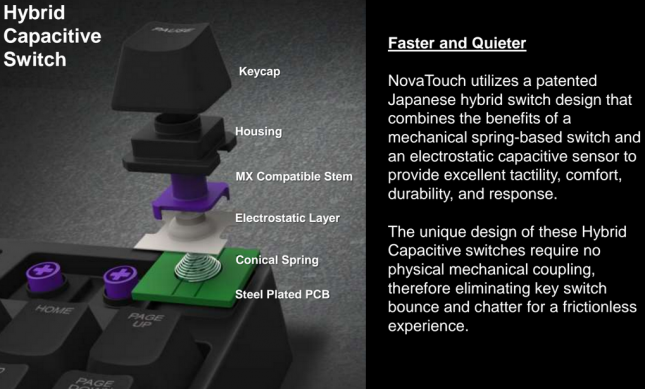 Previously, Topre switch keyboards had to be imported from Japan which made such keyboards difficult to find everywhere else in the world. They are also expensive, making them even more obscure. More attention for Topre and exotic key switch mechanisms followed the explosion of new keyboard enthusiasts during the mechanical gaming keyboard craze and Cooler Master took notice.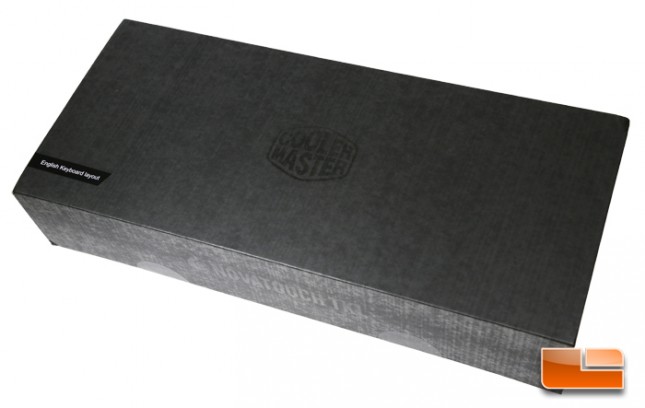 Cooler Master was there with the rest of premiere gaming peripheral brands on the mechanical keyboard front. However, their conservative, minimalistic, and relatively affordable QuickFire Rapid keyboards brought onto CM Storm a reputation for producing professional looking keyboards south of $100. Topre keyboards are also characteristically minimalistic and we see the NovaTouch TKL staying true to Topres ideals while adopting the same minimalist characteristics of many other CM Storm keyboards.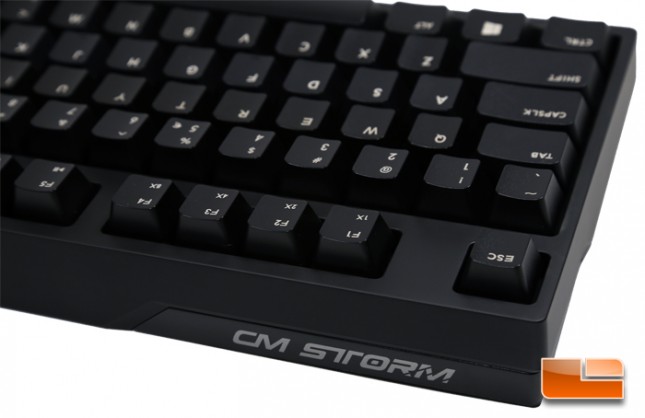 The NovaTouch TKL features 45g actuation Topre switches with modified stems that are Cherry MX keycap compatible, a detachable USB cable, full N-key rollover, media keys, and a tenkeyless design. This keyboard comes with a 2-year warranty and costs $199.99 shipped from Amazon.
Cooler Master CM Storm NovaTouch TKL (TenKeyLess) Keyboard Features:
Electrostatic Capacitive Switches (45g actuation), made in Japan
Ultra smooth, tactile key presses
Backwards Compatible with Cherry for pin-point accuracy
N-Key Rollover & Anti-Ghosting for pin-point accuracy
On-the-fly Repeat Rate Adjustments for the most responsive controls
On-the-fly Repeat Rate Adjustments for the most responsive controls
Detachable cable with 18K Gold Plated USB connector
Tenkeyless Form Factor
Cooler Master CM Storm NovaTouch TKL Keyboard Specifications:
Key Switch: Electrostatic capacitive switch
Key Rollover: NKRO (Windows only)
Polling Rate: 1000 HZ/1ms
Windows Key Lock: Yes
Media Keys: Yes (via F keys)
Interface: Micro USB 2.0, full speed
USB cable: 1.8m braided, 18K gold plated and removable
Dimensions: 35.9 (L) x 3.9(w) x 3.9(H) cm / 14.1(L) x 5.4(W) x 1.5(H) inch
Weight: 895g / 1.97 lbs
2-year warranty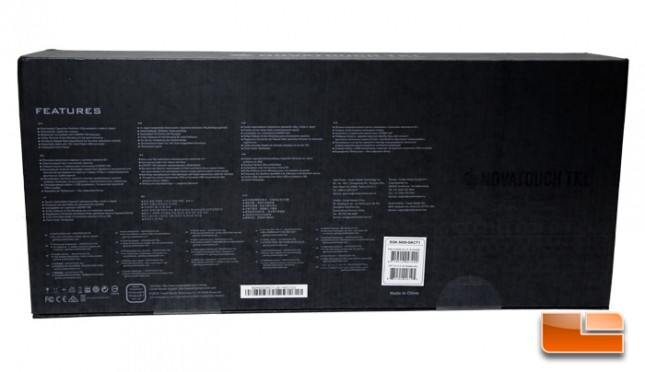 The NovaTouch TKL comes with a 6 ft. long USB-to-miniUSB cable, a keycap puller, o-rings, and a quick start guide that outlines warranty, features, specifications, and the plug-and-play setup of the keyboard.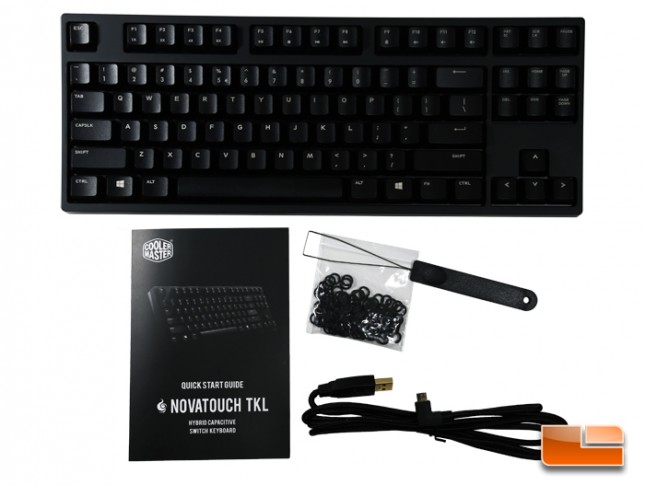 With the NovaTouch TKL out of the box, were ready to take a look around the keyboard.