Captherm MP-1240 Multiphase CPU Cooler Spotted At CES 2015
By
CapTherm Systems (website) made headlines at CES 2014 by telling folks that they had something new when it came to CPU cooling technology. Innovation in the CPU Cooler realm of things has most certainly been lacking in recent years, so to see some new technology coming out was exciting to use. Last year CapTherm showed off the MP-1120 High Performance Multiphase CPU Cooler, which was in development for eight years. CapTherm is a Canadian startup based in Vancouver that is run by Timo Minx, who worked at CoolIT Systems for two years before starting the company.
CapTherm Systems uses 500 pounds of C-4 explosives (video) to create a special tri-metal material (Copper, Stainless Steel and Aluminum) through explosive bonding that they then use in production of MP-1120 cooler for desktop computers. Unlike a traditional air cooler there is a special non-conductive refrigerant inside that has an extremely low boiling point that helps dissipate heat from the CPU better than a traditional water cooler that uses an electric pump. From what we gather the CapTherm Systems MP-1120 use R134a refrigerant as hydrofluoroethers (HFE) have the vapor-point needed to pull off a cooler designed like this. The end result is a cooler that has hermetic joints and a vapor chamber of sorts that takes advantage of a phase change from liquid to vapor to best dissipate heat. This is something completely new and CapTherm claims it is better than traditional 'liquid' coolers and that their products were poised to replace the majority of air and water cooling systems today.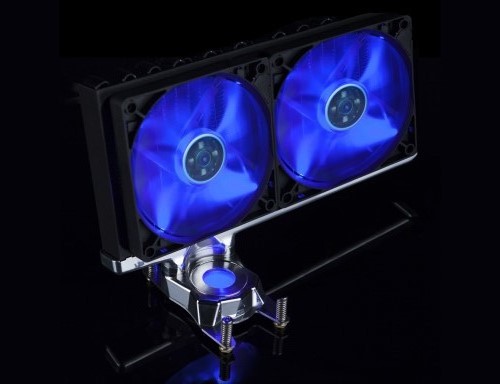 CapTherm said that the MP-1120 would be available in late Q1 or early Q1 2014, but the cooler was never released. When we saw that they were going to be at CES 2015 we were a bit shocked as they had a new cooler called the MP-1240 they would be showing off. The MP-1240 is basically the same thing as the MP-1120 but with improved performance through a larger heat exchanger with the ability to run a total of up to four fans offering leading edge thermal performance. From what we gather the CapTherm MP-1120 is rated to handle up to 275 Watts and the MP-1240 can handle up to 325 Watts. The CapTherms MP-1240 might not be able to fit in many cases due to the position of the fixed heat exchanger.
The only problem is that CapTherm did not have the MP-1240 at CES 2015. Unless you count a cardboard box seen in the images above. That said, the CapTherm MP-1240 won the CES 2015 Innovation award although you need to pay a fee to CEA to win one of those and you don't even have to exhibit to win one of those.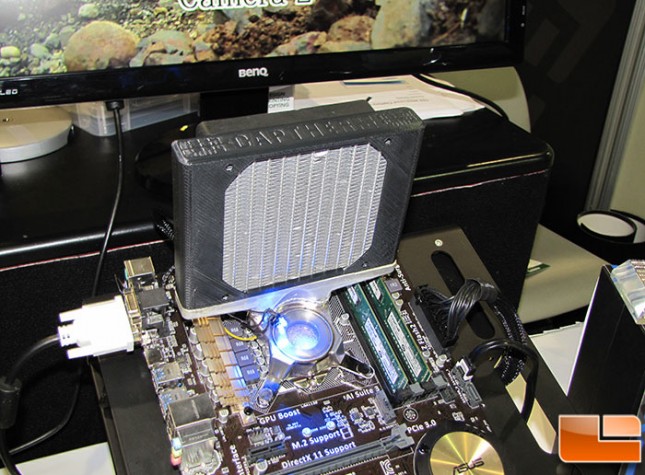 For the second year in a row we got to see the CapTherm MP-1120 running. This year it was on an ASUS Z97 motherboard. It was great to see the CPU cooler in action, but again there were no temperature results or benchmarks to be seen. The CapTherm MP-1120 has been demonstrated for more than a year now, so something seems off to us. If the CapTherm MP-1120 is that great why aren't numbers being shown? Legit Reviews is from the Show-Me State and we feel it is time to see some numbers. CapTherm Systems did tell us that there was an obvious flaw discovered on the MP-1240 and went on to say that anyone would have seen the flaw. Not a good sign for a product that has been in the development phase for nine years now. CapTherm went on to say that they are ramping up production, but it is slow going. Our skepticism of Captherm Systems is also slowing increasing as we've seen them at two Consumer Electronics Shows now and we walked away both years without firm details on pricing, performance, availability or anything like that. Some sites are reporting that there is a $249 price tag on this cooler, which is a bit expensive for a CPU Cooler unless the performance is phenomenal. Even if the CapTherm Systems MP-1120 and MP-1240 Multiphase CPU Coolers can perform 2-3C better than a traditional water cooler would they be worth paying 2-3 times more for one? After looking around we found this document that claims CapTherm has come up wit We are hoping that CapTherm will have review samples ready soon as we are dying to see how these perform and would love to see some hard numbers! After working on something for nine years we think it is time to see some results! Then again CapTherm has over 8 patents on multiphase cooling technology and could just be looking to license the IP versus bringing a full-fledged retail product to the channel themselves.