CES 2014 Zalman Brings Us Many New Products
By
Our friends at Zalman invited Legit Reviews to their suite at the Venetian to see what we can expect to see in 2014 from them. The products that they had on showcase were CPU coolers, a new mouse, a pair of PC cases, a new power supply line, and a new wireless hard drive enclosure.
Starting off with the CPU coolers, mouse, and cases, Zalman was gracious enough to give us a video tour of each of these products and also demonstrate a very neat prototype case. A quick rundown of what youre about to see, is a new active/passive air cooler, a brand new liquid CPU cooler fully designed by Zalman, a new 120mm dual blade fan, a new 8200 DPI mouse, and a case with a very unique feature that theyre testing and do plan on having out around Q2 for approximately $200-250.
[youtube width="640″ height="480″]http://youtu.be/q_Icp-V9E44[/youtube]
The ZM-GM4 mouse in the above video will be available in Q1 2014 for approximately $75, while the Reservator water cooler will be available for right around $150 in Q1. The passive/active CPU cooler, the FX70, can indeed have dual 120mm fans mounted and will run you in the neighborhood of $60-70 in Q1 as well.
Another product that Zalman is going to have available to the consumer market is a set of entry level, non-modular power supplies. These power supplies are all 80 PLUS Bronze rated and come in 500w, 600w, and 700w. There is no pricing on these PSUs just yet, though a Q2 launch is planned.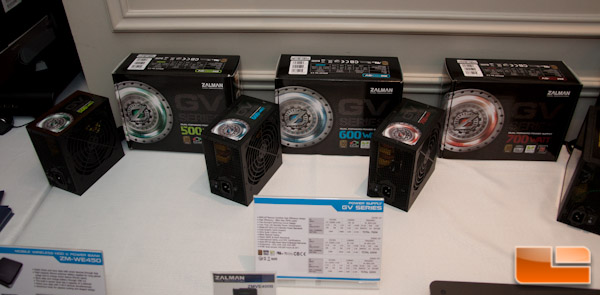 One final product that Zalman was showing off is a hard drive enclosure that has wireless tech built into it and also a 5200mAh power bank to charge your wireless devices. There is no hard drive built into this enclosure, so youre free to drop in whatever you want. This is still a prototype enclosure, but Zalman is expecting to have this on the market Q2/Q3 of 2014.