CES 2014 – Gigabyte, G.Skill and Enermax Overclocking Event
By
On Monday, January 6th, Gigabyte, along with Enermax, and G.Skill hosted an overclocking event. At least seven stations for overclocking teams all using the same motherboard, memory, processor and power supply. Each one had different goals, while using the same process; using liquid Nitrogen.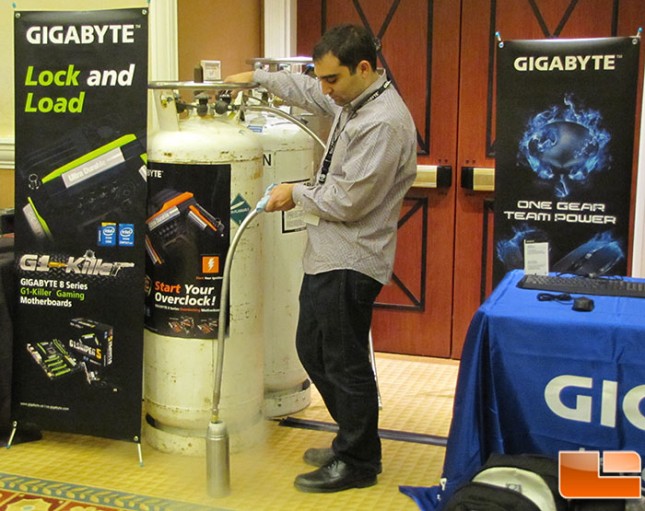 One of the overclockers, Sin0822, was attempting to reach the lowest stable temperature utilizing the Gigabyte GA-Z87X-OC motherboard, with Intel 4770K processor and G.Skill F3-2400C9D-8GTXD memory kit. As he was the first one running and he was able to reach -119.8F before the system would shut down. While our time ran out, he was confident he would be able to get even cooler while running a higher clock speed; reaching 5287.38MHz (53.0 x 99.76MHz) before shutdown.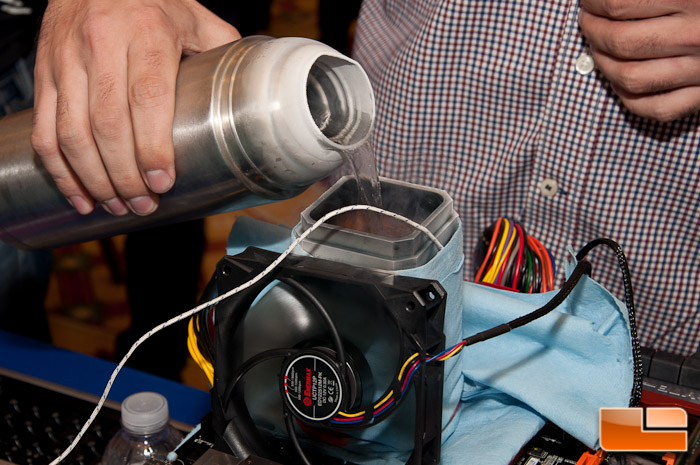 When the system shutdown, Sin0822 had to raise the temperature in order to get the system to boot. To accomplish this in a timely manner, a blowtorch was used. Being careful not to heat the LN2 directly, the temperature raised enough to continue his attempt.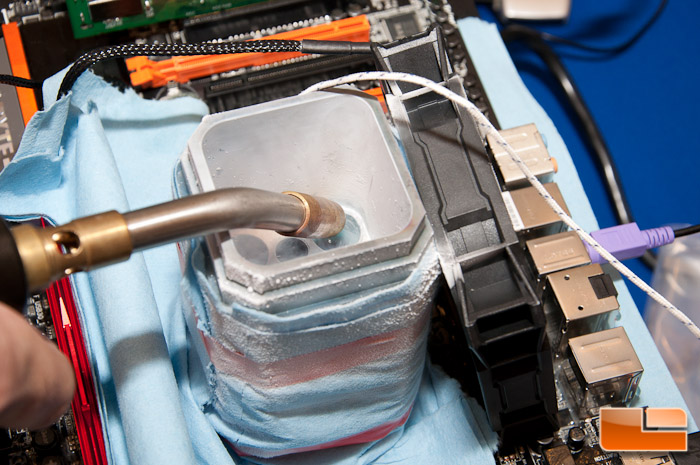 While Sin0822 was using non-modified hardware, others were busy modifying the hardware to suit their specific goals. One team was modifying the GPU in order to overclock the GPU. Another team was busy using Liquid Tape on the entire motherboard to do the ultimate cooling with Liquid Nitrogen in a quad GPU configuration with Gigabyte's Radeon R9 290X Windforce video cards.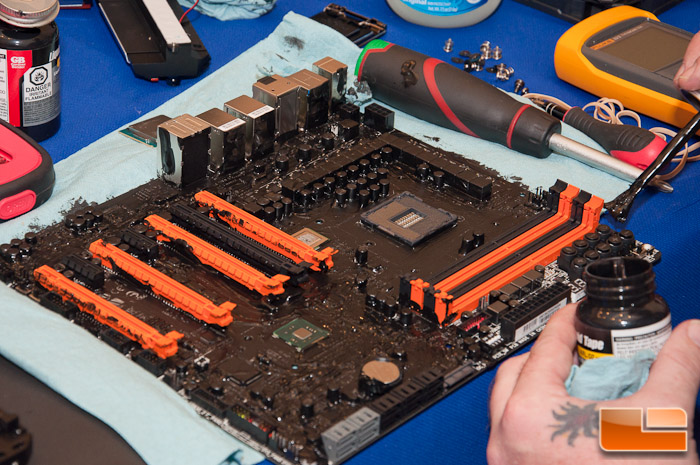 In addition to the Overclocking event, several new products were shown.
Gigabyte was showing off a couple new Intel BayTrail Brix units. One of these is fanless, designed for harsh environments. The other no additional information was available. As both of these are unreleased, no price point was available.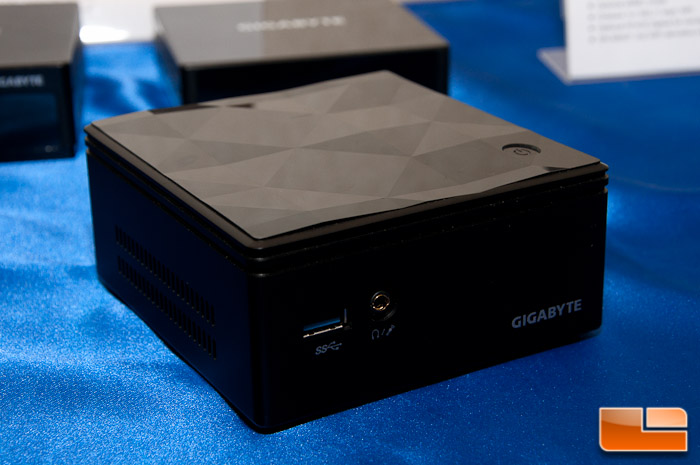 Here is the fanless Brix: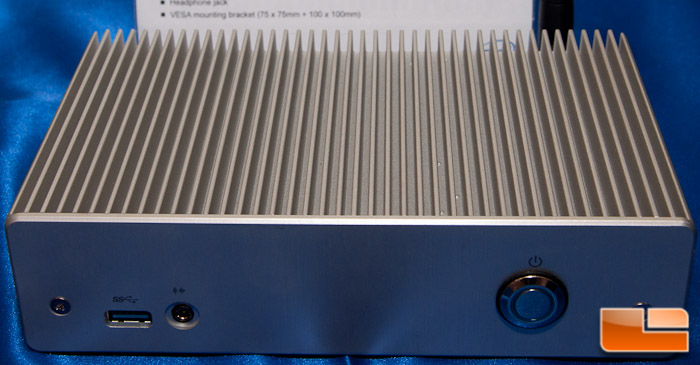 The fanless Brix specifications are as follows: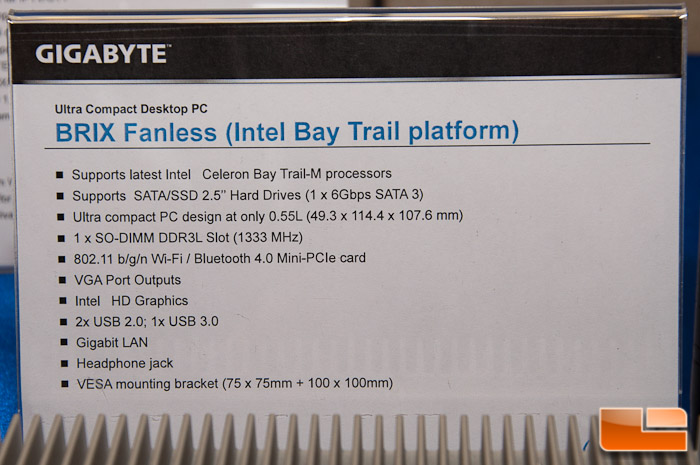 Corsair Obsidian 250B Mini-ITX case is their first Mini-ITX case. No information was available on this new case. Watch for more information on this case as it becomes available.
Enermax DigiFanless digital powersupply uses a Windows interface to monitor temperatures and voltages, allowing the adjustment of the 12V rails from dual 12V rails to a single 12V rail. Available in 550W, it has a rating of 80+ Platinum; currently the only fanless Platinum rated power supply! In addition, it is fully modular allowing the selection cables.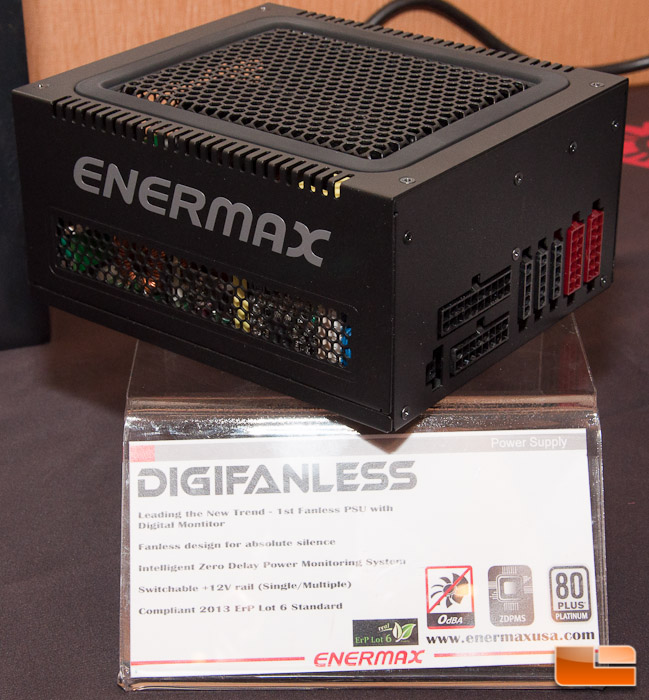 In addition to the new power supply, Enermax also debuted a new fan, their Twister Pressure Fan. Like other Enermax fans, the blades are removable to make cleaning easy. On the back of the fan has an adjustable fan speed controller, allowing the fan to run using PWM at three designiated speeds, Low (500 – 1200RPM), Medium (500 – 1500RPM) and High (500-1800RPM).