CES 2013: Kingston HyperX 10-Year Anniversary Party & StarCraft II Tournament
By
Kingston HyperX Celebrates 10 Years
Kingston Technology kept themselves very busy during CES 2013, as the memory manufacturer released new products, celebrated the 10-year anniversary of the HyperX product line and held the championship match the companies first StarCraft II tournament. Legit Reviews visited Kingston several times this week to keep up with all that the company was doing. In this article we'll be covering the StarCraft II Tournament and some of the Kingston HyperX Products that they had on display.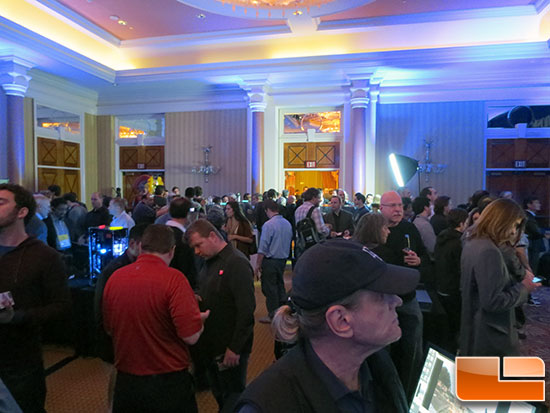 Hundreds of industry insiders showed up for the evenings festivities, which included the crowning of the first-ever HyperX Champion for StarCraft 2!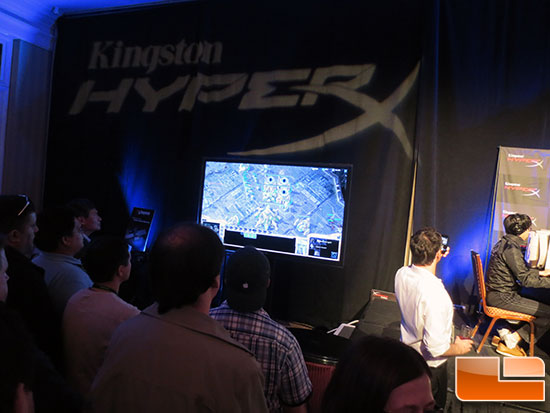 Kingston wanted to give back to the gaming/enthusiast community that has supported them over the past ten years and did so by hosting this competition. The gamers were very serious as they were wanting to win one of four cash prizes totaling $15,000!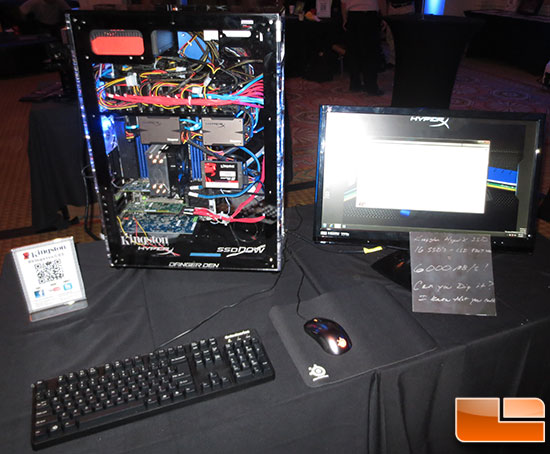 One of the main attractions on display was a desktop PC with 16 Kingston HyperX 3K 120GB SSDs that were hooked up to a pair of LSI 9207-8i SATA/SAS PCI Express 3.0 Controllers on an ASUS Sabertooth X79 motherboard with an Intel Core i7-3960X and 16 GB of HyperX DDR3 DRAM. The boot drive was a Kingston SSDNow V300 120GB and the system was running Windows 7 64-bit.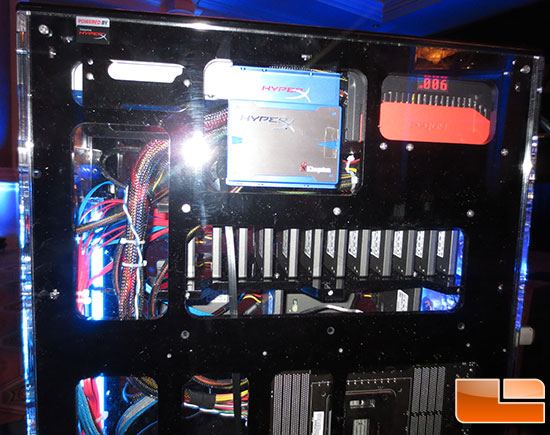 The 16 SSDs were configured in a Windows Software RAID 0 combination, and Kingston was showing that the setup had a transfer rate of almost 6000 MB/s on Iometer 2008.06.18. Pretty impressive stuff, but just the Kingston HyperX 3K 120GB SSDs run $105 each and and the LSI Logic LSI00302 8 Port Controller Cards (9207-8I) run $316.59 each. That means you are looking at around $2315 just for this RAID setup!

Also being shown were Kingston HyperX 10th Anniversary Edition Memory modules. These modules will be available for just this year and are said to be perfect for gamers, enthusiasts, overclockers and PC modders. The feature a low profile design with speccial HyperX 10th Anniversary Edition heat spreaders for enhanced thermal dissipation. The kits are part of the HyperX Genesis series and are available individually as 4GB or 8GB modules and in 8GB, 16GB and 32GB memory kits. Speeds range from 1600MHz all the way up to 2400MHz, so overclockers will be happy!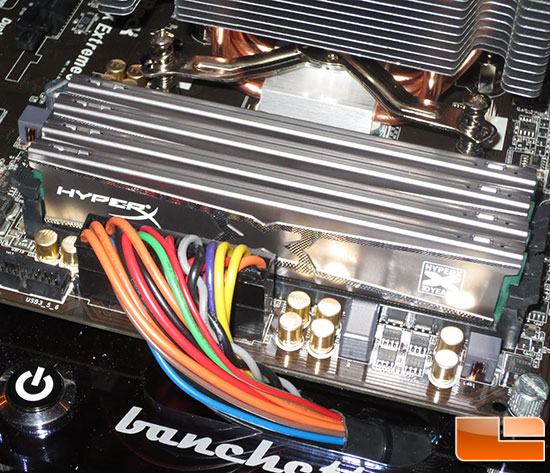 All of the systems that we looked at were running Kingston HyperX 2400MHz memory modules. The image above shows the 16GB kit of 4 running at 2400MHz with CL11 timings in action on an Intel platform. This kit is the flagship model for the HyperX 10th Anniversary Edition Memory line and features part number KHX24C11X3K4/16X.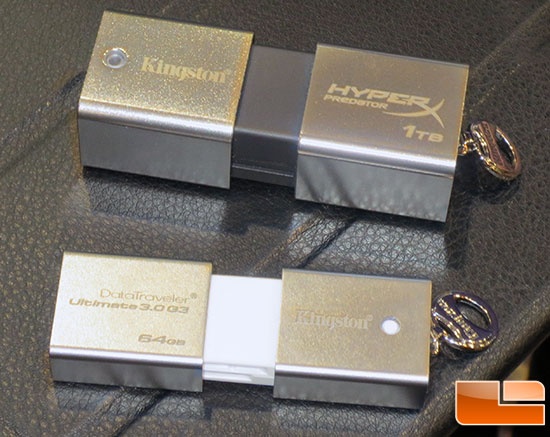 Kingston was also showing off the HyperX Predator USB 3.0 1TB Flash Drive and the DataTraveler Ultimate 3.0 G3 64GB Flash Drive. The Kingston HyperX Predator 1TB USB 3.0 Flash Drive is the worlds largest USB Flash Drive!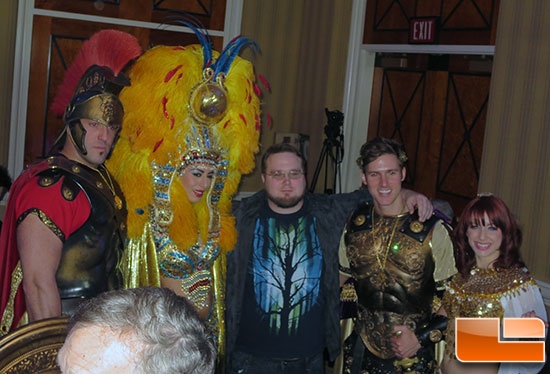 Guests of the party enjoyed tech demos, music, the tournament, adult beverages and and pictures opportunities with some of the folks from Ceasers Las Vegas.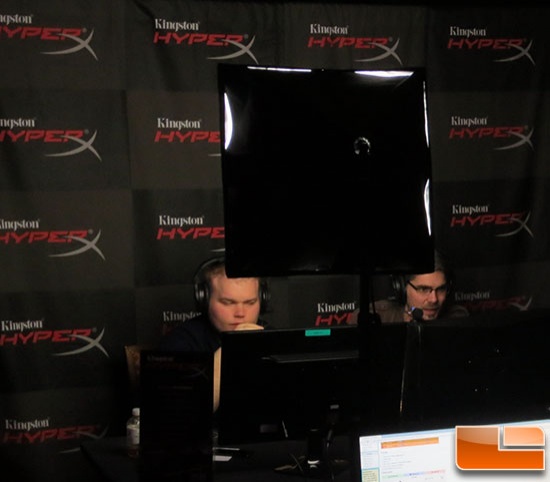 OneMoreGame.TV was at the event and was in charge of doing the live broadcast online, so those online could watch these professional gamers battle it out.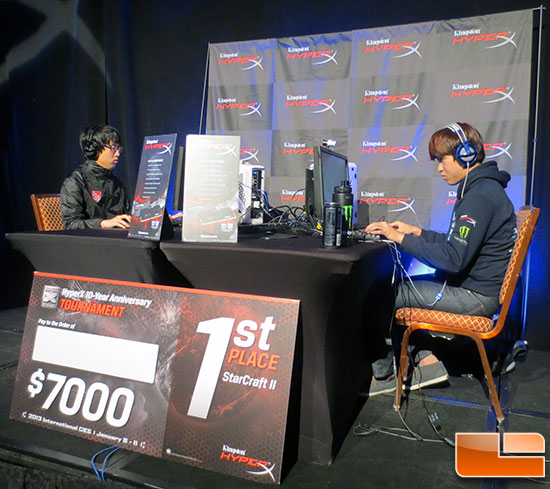 The Kingston HyperX 10-year anniversary tournament featured the top 6 Starcraft II players battling it out for a chance to win part of the tournaments $15,000 USD in cash prizes. The final match was between Jang "MC" Min Chul of SK Gaming and Jaedong from Evil Geniuses. At the end of the night, Jaedong was victorious and took down MC after a 4-2 match. The winners of the Kingston HyperX 10-year anniversary Starcraft II tournament were:
1st Place – EG.JaedongRC – $7,000
2nd Place – SK.Gaming.MC – $4,500
3rd Place – IM.YoungHwa – $2,500
4th Place – EG.PuMaRC – $1,000
It looks like the Kingston HyperX product line is doing very well and should be around for another 10 years!