CES 2013: Intel Says Haswell CPUs Offer Huge Power Savings and Better Graphics
By
Intel Talks New Low Power 4th Gen Core Ultrabook
Today, at Intel's CES 2013 keynote, they talked about the forthcoming Atom powered devices and the new 4th Generation Core Ultrabook reference design.
To start off, Intel was giving a sneak peek at the new Atom "Bay Trail" architecture. This quad core 22nm CPU will offer up to 2x the performance over the current generation. The target availability for these devices, is by the end of 2013. Intel is currently working with Compal, Pegatron, and Wistron to get devices ready for this time frame, both supporting Windows and Android.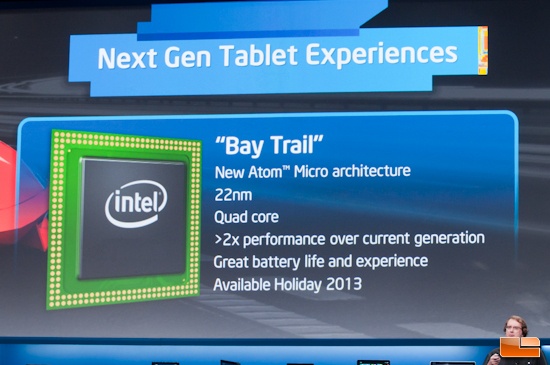 Next up, Intel was showing off the 4th Generation Core (Haswell) CPU, which offers up to 5x the performance over Tegra 3. Intel Core was originally announced at 10 watts back in September, but Intel went above and beyond, as you will find these as low as 7 watts. The lower power consumption will help manufacturers build thinner and lighter tablets, ultrabooks, tablets, and detachables. Intel really feels that the 4th Gen Core Ultrabooks are going to be a serious game changer. We will be able to interact with these devices via touch and voice. A big thing to mention, is that any device that wants to use these new Core CPU's, will have to include touch capability, have WiDi (Intel Wireless Display) technology, and require antivirus and anti-malware, with an announcement coming soon regarding McAfee.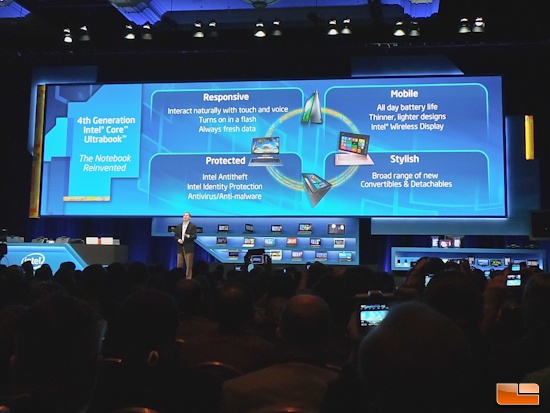 Battery life is always of concern to everyone, so Intel spoke about "All Day Battery Life" with the new 4th Generation Core CPU (codenamed Haswell). This CPU will offer the largest battery life increase in the history of Intel. This is fantastic news, to help keep you wireless and away from power sources. Intel did show off a reference design that will offer up to 13 hours of battery life as a full system, and 10 hours as a tablet.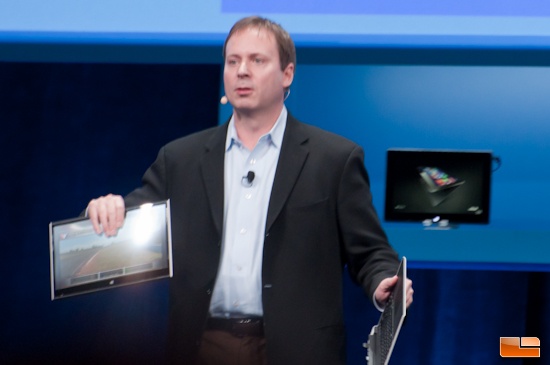 Finally, Intel had a little tidbit about Perceptual Computing. In 2013, Intel wants to allow you to use your eyes, ears, voice, and touch, to interact with the PC. In the image below, you will see a demo of using your eyes to find your target. In this case, they were trying to find Waldo. Keep your eyes out for more on this, as Intel works with manufacturers to make this a reality.