CES 2012: Motorola – Droid 4, Droid Razr Max, and Xyboards
By
Motorola's 2012 Droid Phones and Tablets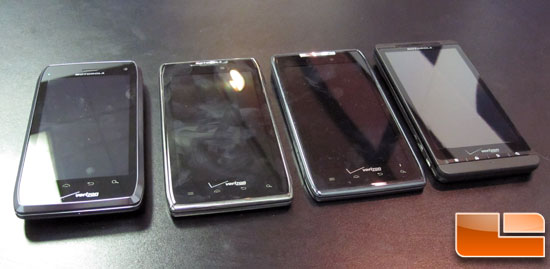 Motorola gave us a hands-on look at their newest generation of Droid superphones. Pictured above, starting on the left is the Droid 4, Droid Razr Maxx, and Droid Razr. The last phone in the picture is the old Droid X for size comparisons. Comparing the old Droid X to the new Droid Razrs and Droid 4 is the curved corners near the top and bottom of the phone. While the new droids are a little wider than the Droid X, it was a little more comfortable to hold in your hand than the boxy Droid X.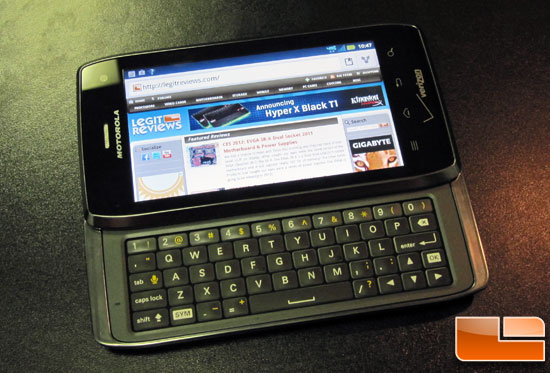 Here is the Droid 4 with the Qwerty slide out Keyboard that we have all recognize on Motorola's popular Droid line. The new keyboard has a full number row so you no longer have to press a function button in order to key a number. The biggest difference over the previous Droids is the tactile keyboard. The keys are domed just enough so it is easy to know when your thumbs glide from one key to the next.
Here is a quick video of Motorola giving us a quick tour of the Droid 4 and all the feature highlights. While the Droid 4 is currently running Android 2.3, we were told to expect an update to Android 4.0 "Ice Cream Sandwich" in the coming months. Online rumors put the release date of the Droid 4 on February 2nd.
The Motorola Droid Razr Maxx is a quick expansion of the new Droid Razr with a 3300mAh battery instead of the original 1785mAh battery that comes with the Droid Razr. The original Droid Razr had an estimated talk time of just over 12 hours and the new Droid Razr Maxx boasts over 30 hours of talk time! The Droid Razr Maxx will be available January 26th according to online reports. Like the Droid 4, both the Motorola Razr and Razr Maxx will be getting an update to Android 4.0 "Ice Cream Sandwich in the coming months.
Motorola gave us a quick overview of their now available 10″ and 8″ Xyboard tablets running Android 3.0 Honeycomb. They did let us know that we should expect Android 4.0 Ice Cream Sandwich on them by the end of the year (along with the Xoom). We do like the feature of adding the IR port in order to make your tablet a universal remote. This will add yet another use to make tablets part of everyday life.